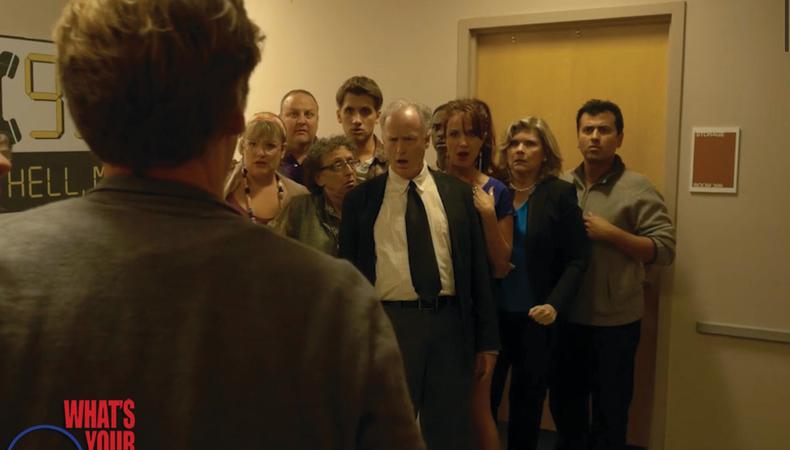 Things should be bustling at the 911 call center in Hell, Mich.—or any 911 call center, for that matter—but they're not. The employees should be treating their jobs like people's lives depend on it (because they do), but instead they're snapping bubblegum, boozing in the office, ignoring calls, and scheming about ways to create their own emergencies to bring up their stats.
But 911 Hell, as they refer to it, isn't your typical call center. From Michael Urie ("Ugly Betty") and online media platform Stage17 comes "What's Your Emergency," an office comedy about inept employees working at a place where competency is not only key, it's a matter of life and death.
"We wanted a low-stakes band of idiots working in a very high-stakes, arguably the highest-stakes, scenario," says Urie, director of the Web series, which premiered Jan. 27. "They say comedy is tragedy plus time. Well, this kind of comedy is tragedy with just the slightest amount of time."
Made up of Ryan Spahn and Halley Feiffer (the show's writers), Sierra Boggess (Broadway's "The Little Mermaid"), and Tony nominee Reed Birney ("Casa Valentina"), among others, the ensemble cast feels similar to that of "The Office" or "Parks and Recreation," each character quirkier than the last. And with guest stars including America Ferrera, Alan Cumming, and Richard Kind, to name a few, "What's Your Emergency" is filled with endless surprises.
However, while stars dazzle onscreen, it's Urie as showrunner who's the one to watch. Having previously directed ("He's Way More Famous Than You"), and with his years of experience on "Ugly Betty," the actor has developed strong sensibilities as a director with viewpoints on everything from auditioning to how to treat his crew.
For example, the Stage17 series didn't hold auditions, as Urie believes it's not the best way to cast a show. "I've been the victim of that auditioning and I've watched brilliant actors give bad auditions before," he says. "We didn't have a formal sit-down, you on one side, me on the other side of the table; we just used the people that we love and then we wrote for them"—a practice he believes makes for better writing.
"Having worked on television, I know that the writing gets way better once the writers know who the actors are," he says, which helped Spahn and Feiffer develop the best scripts possible.
And with a three-day shoot for six seven- to nine-minute episodes, it was all hands on deck for the "What's Your Emergency" team, wherein the 10-person cast and nearly 40-member crew were equals.
"Very rarely have I seen a director alienate an actor, 'cause it's hard to act when you're in a bad mood," Urie says. "So generally, on sets, people keep actors happy. But I have seen directors not appreciate the crew, not respect the crew, not listen to the crew, and I've seen the work suffer because of it.
"So I definitely learned that you should 100 percent trust, respect, and appreciate the crew no matter what," he adds. "I don't know how to do what they do, and I need them so badly."
See the hard work of Urie and the cast and crew of "What's Your Emergency" streaming now on Stage17.tv.
Like this story? See more of our Now Streaming articles here!