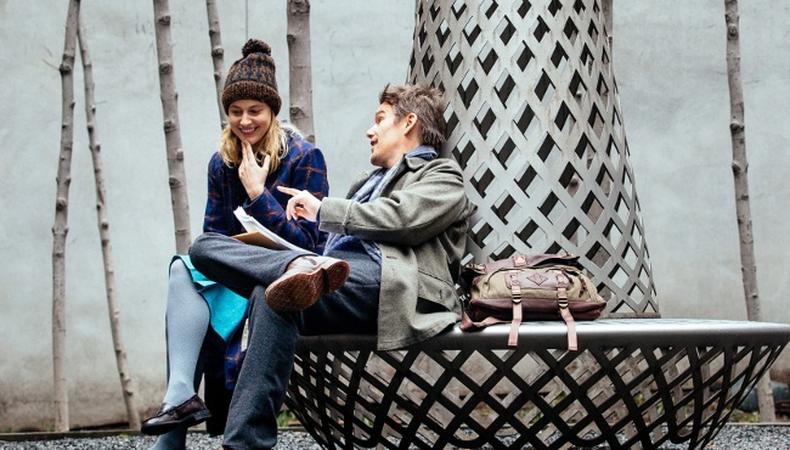 Rebecca Miller talks about her filmmaking collaborators like they're family.
"Sabine Hoffman, my editor for my last four films, she's a genius, I love her," she says. Cinematographer Sam Levy is "perfect, an experienced, seasoned DP but still spreading his wings and fully becoming himself." Her producers get the same reverence: "Rachael Horovitz, she's really interesting and she brings so much perspective. And Damon Cardasis is one of those young people coming up, full of energy and ideas. Michael Rohatyn, we've made all my films together—he's a composer—and we've known each other 30 years. Cindy Tolan has cast all my movies."
The cumulative skill of Miller's core team, what she calls her "wonderful backbone," is on full display in "Maggie's Plan," the writer-director's new indie premiering May 20. Starring Greta Gerwig, Ethan Hawke, and Julianne Moore playing a deliciously unpredictable love triangle in New York City, the film is based on a story that writer Karen Rinaldi sent Miller, and strikes a pitch-perfect balance between Nora Ephron–esque romantic comedy and Woody Allen quirkiness, creating something all its own.
Miller credits that tonal balance to her team, which for this project added several young artists as well. "I like mixing it up a little so you have people who are midcareer and some people who are just coming up and are so hungry and full of ideas," she says, citing costume designer Malgosia Turzanska and production designer Alexandra Schaller. "I took some risks on a couple of younger people; these women are in their late 20s.... Some people get used to shooting films a certain way and they can't go backward anymore. You want people who can work on their feet."
Her familial approach to assembling a crew extends in front of the camera, too. "I went to Julianne very early," Miller says, "but I try never to write a character for an actor because, you know, if you write something too specifically for someone and they can't do it, it's too heartbreaking." But Moore—an old friend—signed on immediately after receiving an early draft of the script. As Georgette, an icily intimidating academic with a thick Danish accent, Moore somehow transmutes both haughtiness and intellectual curiosity into deadpan delivery.
Although the two had admired each other's work, Miller had not met Gerwig until the early stages of "Maggie's Plan." "The moment I met her, within 20 minutes, I just knew I had to cast her," remembers Miller. "She has this combination of intelligence and yet a kind of goofiness; she's very feminine but very strong." Gerwig uses those contrasting qualities onscreen; Maggie gives in to passion when she falls for Georgette's husband, then gradually slides back to rationality as she falls, awkwardly, out of love.
"She really created this wonderful character," Miller says. "From the way she stands to the way she moves to the way she looks, everything is very specific."
Hawke's portrayal of the myopic John, she adds, is convincing because both the actor and character write. "Ethan of course understood the absurdity, the craziness of being a writer, becoming obsessed with something and not being able to let it go." All three leads, in fact, brought a "kind of writerly" approach to the script, Miller says. "Greta and Ethan are actually writers. And Julianne is able to see the whole script in a way that I think is unusual. Sometimes great actors tend to see just from the point of view of their characters. She's able to see from the larger scheme of things."
Because of both the collaborative spirit Miller brings to her set and the trust with which she welcomed her actors' suggestions, "Maggie's Plan" had been tailored impeccably to its cast's talents by the first day of filming. As she says, "It's great to be able to work with actors when their ideas are good."
Like this interview? Check out more from creators and Meet the Maker!