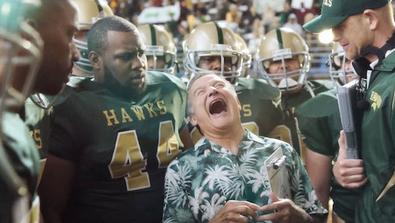 Every ad exec worth their salt knows employing a celebrity is one of the most effective ways to market goods and services. Whether they're playing a heightened version of themselves or inhabiting a character who can't resist the product, actors must bring their A-game when telling a convincing story in one minute or less. Check out these 14 recent performances and get inspired to book the next catchy commercial.
Terry Crews, Old Spice:
When you think of memorable performances in commercials, the first product that may jump—nay, explode—into your mind may be Old Spice. Known for their viral video campaigns featuring the likes of Bruce Campbell and Isaiah Mustafa, The Man Your Man Could Smell Like, Old Spice perhaps most famously featured the belligerent antics of Terry Crews. The "Brooklyn Nine-Nine" actor's utterly bonkers ads for body wash and deodorant are a deluge of sudden explosions, flexing pectorals, and yelling; if you feel like getting your brain melted, just click here.
Amy Poehler, Old Navy:
Old Navy was smart to let Amy Poehler, improviser extraordinaire, riff as a pompous art dealer who discovers the wonders of their jeans. In a series of all-too-brief snapshots, she presents a contemptuous blowhard who could viably appear in any art gallery. The commercial's outtakes reel is an actual master class in comedic timing and immersive character development; look at the way she puffs out her lips and raises her eyes after proclaiming an installation is "about the Civil War...obviously." Yes please indeed.
Tina Fey, American Express:
Poehler's buddy Tina Fey lends her genius to American Express, miraculously turning a credit card company's boring rewards plan into nonstop hilarity. We catch charming glimpses of what could conceivably be the actor-writer-producer's real-life errands, and honestly, who wouldn't want to follow Tina Fey around all day?
Rob Lowe, DIRECTV:
Rob Lowe presents a series of alternative personas in his DIRECTV shorts: creepy Rob Lowe, painfully awkward Rob Lowe, even crazy hairy Rob Lowe. As is made clear with less attractive Rob Lowe, the actor knows how to fugly himself up for the camera, subverting his status as a Hollywood sex symbol with convincing dedication. (The makeup helps, too.)
Quvenzhané Wallis, Maserati:
The quiet ferocity Quvenzhané Wallis brought to her Oscar-nominated film debut "Beasts of the Southern Wild" is put to great use in an extended Maserati ad that wowed viewers during this year's Super Bowl. This isn't just an example of tonally compelling voiceover work; this ad's casting directors should be praised for thinking of featuring such an unexpected and distinctly powerful talent.
James Franco, Motorola:
Is there anything James Franco can't do? (Is there anything James Franco hasn't done?) The idea that he could fall from a rooftop to safety thanks to his Motorola phone is entirely consistent with the actor's image: a multi-faceted artist as clever as he is hard to pin down.
Salma Hayek, "Got milk?":
Countless celebrities have lent their talents to the "Got milk?" campaign, but Salma Hayek's 2012 performance can't be beat. Simple in its conceit and snappishly executed, Hayek shows off her comedy chops, turning milk into the most desirable of commodities with both desperation and charm.
Craig Robinson & Jake Johnson, Dodge:
Actors Craig Robinson ("This Is the End") and Jake Johnson ("New Girl") play exaggerated versions of themselves as neighbors coveting the official Dodge Dart. But are they exaggerated? Their rapport feels so spontaneous and organic, it makes you wonder if their series of commercials are scripted or improvised. Don't miss Robinson's oh-so-subtle Method acting at the very end of this clip.
Ellen DeGeneres, JCPenney:
Lines like "That is a bad smell" shouldn't inherently be funny, but in Ellen DeGeneres' capable hands, it's comedic gold. Whether the actor is playing it with straight-faced consternation or affable awkwardness, she knows how to squeeze the most humor out of a 30-second JCPenney spot. DeGeneres' charisma is so infectious, she even makes those around her somehow funnier. She could probably sell religion to the Pope.
Laurence Fishburne, Kia:
The brilliant thing about Laurence Fishburne's reprisal of his role in "The Matrix" in the Kia K900 Super Bowl commercial is the way it continues to unfold the actor's talents. Fishburne brings all the chilling poise that made Morpheus iconic, but placed in this context—a valet offering a life of deep-voiced luxury—his epic presence carries the ad all the way over into comedy and spectacle. Who wouldn't take the red key?
Robin Williams, Snickers:
The late Robin Williams brought his signature manic energy to a 30-second Snickers commercial that manages to convey a wide swath of the actor's comedic abilities. Jump-cuts suit Williams' frenetic style quite well, and it's clear there was very little scripting involved in this delightful ad.
Betty White, Snickers:
Ditto Betty White's presence in this less recent Snickers ad, which finds the actor hustling, panting, and—in a rather shocking bit of physical comedy—getting pummeled through a brutal football scrimmage. Her line, "That's not what your girlfriend says," fits both the character she's playing and her own brand of tough-as-nails sass.
Matthew McConaughey, Lincoln:
Last but not least—depending on your taste—is Matthew McConaughey's Lincoln ad, which thrives on the Academy Award winner's persona alone. Augmented by the dark musings on "True Detective" that helped solidify his star status, these atmospheric commercials can come off as either shameless or tongue-in-cheek. Regardless, the sumptuous lighting and easy drawl of McConaughey's voice may seduce you into buying a car.
BONUS: Jim Carrey as Matthew McConaughey on "Saturday Night Live":
That is, until you see Jim Carrey's spot-on impression of McConaughey in his recent appearance on "SNL." In a series of escalating faux-commercials, Carrey makes the actor more hypnotized than hypnotic, unfazed to the point of lunacy. Dare you not to laugh.
Inspired by this post? Check out our commercial audition listings!