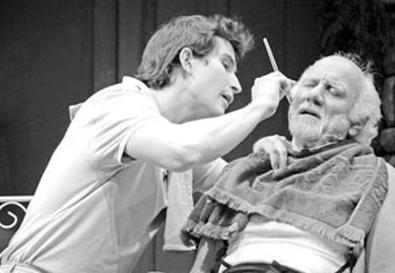 "Producing new plays is always risky, and that's part of what makes the Humana Festival so stunning, because for most theatres, producing one new play a season is a challenge, and every single year this theatre produces several of them. They take a stunning risk by doing this. So I'm incredibly grateful and inspired," says playwright Allison Moore, whose comedy-drama Slasher was one of the works presented at the 33rd annual Humana Festival of New American Plays, which concluded last week at Actors Theatre of Louisville. The economic downturn has not slowed this theatrical juggernaut: This year's fest included six full-length plays, a trio of one-acts, and an evening of short pieces on the theme of rites of passage, commissioned for the theatre's apprentice company.
'Slasher' by Allison Moore
Of the full-length plays, the most promising was Moore's. A wildly funny satire skewering feminist rhetoric and the conventions of the horror genre, Slasher examines the empowerment of women and the increasing violence against them in popular entertainment.
When sleazy filmmaker Marc (Mark Setlock) offers impoverished waitress-student Sheena (Nicole Rodenberg) the starring role of "last girl alive" in his latest gory epic, she's proud of herself for holding out for more money and a percentage of the gross. But when her radical, wheelchair-bound, pill-addicted mother (Lusia Stus in a no-holds-barred performance) gets a peek at the script, she vows to shut the production down for its exploitive treatment of women. The genre's clichés are turned inside out as the mother joins forces with a fanatical anti-abortion activist (Christy McIntosh, who also played several other cartoonish roles) to stalk the director.
Moore barely straddles the line between sketch-comedy humor and restrained political and character observation. Telling details, such as the mother's anger at her social worker and the soccer practice schedule of Sheena's younger sister (Katharine Moeller), show us this is a real family with day-to-day needs. But as the mother gets crazier, the satire loses its edge and veers into caricature. If Moore were to rein in the lampooning a bit, Slasher would be both real and funny.
'Absalom' by Zoe Kazan
Zoe Kazan's Absalom offers another dysfunctional family. But the Webers, a clan of authors and editors, inhabit a different economic and cultural sphere, and their conflicts have different motives.
During a gathering at the family's home in the Berkshires, a slew of long-hidden resentments come to a boil. Patriarch Saul (Peter Michael Goetz), a ferocious lion of the arts not unlike Kazan's own grandfather, director Elia Kazan, has eviscerated eldest son Adam in a new memoir. Adam (Todd Weeks) is also dealing with a recent cancer diagnosis and the death by drowning of his teenage son. Saul's younger son, Teddy (Ben Huber), is having marital problems with wife Julia (Stephanie Janssen). Meanwhile, Saul's daughter Sophia (Katie Kreisler) frets that she's doomed to the role of nursemaid to her aging father. Into this mayhem walks estranged adopted son Cole Maddox (J. Anthony Crane), a successful TV writer locked in a legal dispute with Saul. During a long weekend of attacks and recriminations, each manipulates or tries to steal the work of one of the others. "This isn't a family," cries Adam, "it's a pack of wolves."
Kazan is one of our best young actors; she just completed a run on Broadway in The Seagull, and her impressive film work includes Revolutionary Road and the upcoming The Exploding Girl, which will premiere at the Tribeca Film Festival. And she proves to be a promising playwright too. While she depends a little too heavily on dramatic devices -- forged letters play too crucial a role in the denouement, and a flirtation between Julia and Cole seems forced -- there are several scenes of biting wit and keen observation. A simple dialogue between Julia and Sophia over missed opportunities and relationships rings with bittersweet regret and acceptance. Kreisler was especially moving as the melancholy Sophia; like Chekhov's Sonia in Uncle Vanya, she rebels against the role of caretaker and yearns for romance with an unavailable man. Absalom isn't on the level of that Russian masterpiece, but it's a solid effort.
'The Hard Weather Boating Party' by Naomi Wallace
Naomi Wallace's The Hard Weather Boating Party is less successful than the other plays. It attempts to wed environmental concerns to solid dramatic structure. The festival program says Wallace researched the effects of industrial pollution on the Rubbertown section of Louisville. "This play is not an 'environmental play,' " she wrote in a program note. "It's a play about the poisoning of our bodies in the very neighborhood where we live and love and play." Unfortunately, instead of a credible look at the impact of unchecked industrialization, Wallace delivers a collection of clichés and familiar plot points.
Set in a cheap motel room, The Hard Weather Boating Party gathers a white middle manager and two of his blue-collar employees -- one African-American and one Latino -- all of them suffering from the fatal effects of chemical exposure at work. This unlikely trio, who barely know one another, bond in a plot to murder the head of the company. Act 1 consists of an hour of Mamet-like tough-guy games and challenges. After intermission, they return to the room to dissect their botched assassination, and events take a bizarre turn as fantasy and reality clash. But even within Wallace's surrealistic parameters, the lengths to which these three go for one another is just not credible. Despite the sturdy performances of Michael Cullen, Jesse J. Perez, and Kevin Jackson, their meeting comes across as a product of dramatic contrivance rather than human need.
It's interesting to note that all three of this year's conventionally structured full-length plays are by women, after Theresa Rebeck noted in October that last season she was the only female author of a new play on Broadway.
'Ameriville' by Universes
The festival's other full-length works employ a collage structure rather than linear plots and conventional characters. Ameriville is the creation of the performing-playwriting collaborative Universes (Gamal Abdel Chasten, Mildred Ruiz, William Ruiz, and Steve Sapp). Combining elements of jazz, hip-hop, rap, and poetry, it starts as an examination of New Orleans in the aftermath of Hurricane Katrina but branches out to include issues affecting the entire country, such as health care, the economy, and homelessness.
After success with their earlier piece Slanguage, which played Off-Broadway's New York Theatre Workshop in 2001 and L.A.'s Ivy Substation and Actors Theatre of Louisville in 2004, the group toured the country and began work on a new project. "Our initial thought was to look at the state that the country was in, this fear about everything," Sapp explained in a program note. "We were interested in exploring the history of fear in America. And then Katrina happened." They wrote and performed small works about the storm's impact on New Orleans, and those eventually grew to include other social inequities.
Fluidly directed by Chay Yew, Ameriville moves seamlessly from segment to segment, offering brief and startling glimpses into a struggling society. Highlights include a man getting a haircut during a pause in his search for his missing mother; an enterprising artist making masks for tourists out of leaves felled by the hurricane; and two elderly men suddenly stopping a comic bit about the crumbling healthcare system to recall their personal tragedies.
'Wild Blessings' and 'Under Construction'
The other two plays share Ameriville's structure but little else, taking opposite worldviews. Wild Blessings, based on the work of poet Wendell Berry, is rooted in the soil, hearth, and farmland of the author's native Kentucky: Four actors and an actor-musician recite Berry's verse, reflecting simple values and individualism in an ever-changing country.
In Charles L. Mee's Under Construction, directed by Anne Bogart, a Norman Rockwell view of America is seen through a shattered lens. Pasting together narration from 1950s educational films on dating and "fitting in at school," excerpts from pulp novels, musical numbers, blog posts, snatches of cell-phone conversations, and other found material, Mee depicts an evolving country full of alienated and insecure drifters. An ethnically diverse company of nine added depth to some of these rambling, unconnected scenes. Ellen Lauren was particularly amusing as a prostitute with a microphone asking audience members intimate sexual questions. For every moment of insight, however, Mee gives us a vignette of baffling self-indulgence, such as a meaningless montage of one actor wrapping himself in plastic while another is covered in duct tape.
Both Wild Blessings and Under Construction deliver abstractions rather than story line or characters with whom to identify.
One-Acts and 'Brink!'
Surprisingly, the festival's most consistently satisfying evenings were the three 10-minute plays and Brink!, the apprentice-company anthology.
Of the one-acts, Marco Ramirez's 3:59 a.m.: a drag race for two actors was the most affecting. Essentially two alternating monologues, the play gets inside the heads of two desperate young men as they match autos in the middle of the night. As the race heats up to a shattering finish, Daniel Reyes and Matthew Baldiga, both members of the apprentice company, gradually increased their intensity, then cooled down for the exhausting resolution. Actors looking for fresh material for auditions or scene study should take a look. Alex Dremann's On the Porch One Crisp Morning sharply satirizes inane mother-daughter commercials and spy thrillers, while Michael Lew's Roanoke takes piercing aim at aspiring actors and historical re-enactors.
Brink! was a fun showcase examining rites of passage, including birth, bat mitzvahs, college, weddings, and death. I particularly enjoyed Grandpa's Cologne, a sweet mini-musical by Kristoffer Diaz and Greg Kotis, about a fifth-grader's first date; Evolution, Deborah Zoe Laufer's hilarious sketch about an adventurous fish striving to walk on land; and Peter Sinn Nachtrieb's Internal Audit, which manages to combine a superhero's existential crisis with a tax examination.
The Humana Festival's plays are published annually by Playscripts. Equity principal auditions for Actors Theatre of Louisville's 2009-10 season, including the 2010 festival, will be held in Louisville, Ky., on May 18 and Sept. 14. EPAs for the festival are also held in New York in December. Actors may email headshots and résumés to
[email protected]
.
For David Sheward's interviews with Allison Moore, Zoe Kazan, and Universes, go to
www.backstage.com/blogstage
.