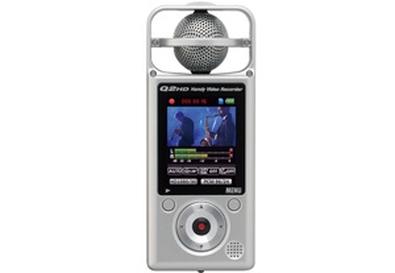 What It Is
Zoom Q2HD Handy Video Recorder
What It Does
A 1080p video camera with advanced sound and editing features.
Where to Buy It
Check you local electronics retailer
What It Costs
$199.99
Whether it's shooting for your web series or documenting your music and acting classes to track your progress, video recorders are indispensable. But finding a good balance between how your footage looks and how it sounds can be challenging, especially if you don't have a huge budget at your disposal. Zoom plans to change all that with the release of its new $199 Q2HD Handy Video Recorder, which comes out at the end of this month.
As its name suggests, the Q2HD shoots in full 1080p HD, though 720p is also an option. To help you better realize your vision, there's 4x digital zoom and three "lighting selection" modes (Auto, Concert Lighting, and Night) so you can fine-tune your results regardless of how dark an environment you're in. You can perform simple editing tasks (such as dividing or trimming clips) wherever you are using the camera's built-in touch screen—no computer required. Or, if your laptop is handy, you can connect the camera to it with a USB cable and send your videos straight to the Web in real time.
The Q2HD offers enhanced sound benefits, too. The camera's Mid-Side stereo recording combines bi- and unidirectional microphones to obtain the most accurate audio possible. You can even control the width of the stereo field to match your particular requirements, based on whether you're recording a rehearsal in an echo-prone room or dialogue in a noisy public area. Add gain to your recording by using one of three presets (Concert, Solo, or Meeting) or have the Q2HD do it for you automatically. An internal reference speaker means you don't need to use earphones to check sound quality. (You can also use the Q2HD as strictly an audio recorder to produce 24-bit PCM or lower-quality AAC files.)
A separate accessory bundle provides additional tools for improving your creations, including a windscreen and a tabletop tripod. Otherwise, as long as you have an SD card (a 2GB card, which can hold 40 minutes of video, is included; anything up to 64GB in capacity should work) and a source of power (the camera runs on two standard AA batteries, which are included, or you can use the AC adapter in the accessory pack), you're all set—basic editing software even comes standard. About all you don't get are good ideas for how to use all this to promote your abilities and creativity—but chances are you can provide those yourself. Once you do, the Q2HD will help them look and sound as good as they do in your head.