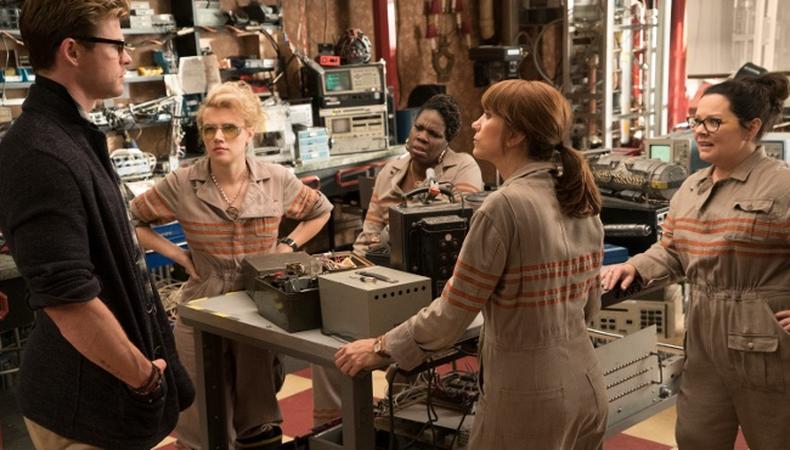 Creating comedy requires something of an alchemical reaction. The combination of writing, directing, and acting that made the 1984 film "Ghostbusters" an instant classic, for example, can hardly be replicated. But as a co-writer and co-producer, Katie Dippold knew how to help make the stars align, for a completely original reboot—this time starring four of today's best female comedians.
"We just kind of started from scratch," Dippold says, remembering how writer-director Paul Feig approached her during Comic-Con not long after the two worked together on the blockbuster comedy "The Heat." "When he thought about doing ['Ghostbusters'] with four women and doing it as a reboot, that became exciting to him: bringing in a new story, new characters, having a new origin story."
So with Dan Aykroyd, Harold Ramis, and Ivan Reitman's big shoes to fill, the two got to work. Dippold says trying to re-create Peter Venkman, Bill Murray's iconic character in the original, would have been futile. "It became, Who are the characters? And I started off thinking about how today, scientists don't really believe in the paranormal. So what would that mean, in 2016, to believe in ghosts as a scientist? That started the first character, played by Kristen Wiig."
Wiig plays Erin Gilbert, a theoretical physicist and aspiring academic ashamed of her past life pursuing the paranormal. Her old partner and fellow author Abby Yates (Melissa McCarthy) still believes in ghosts—and is proven right. Together the two recruit Abby's nuclear engineer friend Jillian Holtzmann (Kate McKinnon) to defeat a mysterious and growing paranormal force taking over Manhattan.
"And then we really wanted to have that everyman," explains Dippold. "Someone who feels like iconic New York. Someone working for the MTA felt really fun to us—someone who sees a ghost, someone who is incredibly intelligent in their own ways." Subway operator Patty Tolan (Leslie Jones) unites the four as a team, providing the ghostbusters with a sense of family.
WATCH: " 'Ghostbusters' Is Back With Kristen Wiig, Melissa McCarthy"
Developing each character individually is an important first step in the writing process, says Dippold. But their interpersonal dynamics are what really give the audience a sense of who they are. "All of my favorite movies and TV shows, comedies, are seeing people work together. That's what makes them special. We tried to really think about, OK, who would butt heads? In what ways? What sides do they bring out in each other?"
Feig made final decisions when it came to casting, but Dippold found herself emailing drafts with different actors in mind. "He said, 'Let's just write the script first and then figure it out.' Certain people would pop into my head and it's kind of fun to write that way."
Especially, of course, McCarthy. "I just think she's so goddamn funny," says Dippold with a laugh. "She has such an amazing range. And Melissa being scared is really funny." In fact, she adds, several drafts were written with McCarthy in mind for the role of Patty.
The fact that McCarthy and her co-stars are particularly adept at improvisation meant Dippold and Feig had to craft a screenplay that allowed room for it. "I try to make the script as sound as possible, but then I hope that they can fly with it and bring their brilliance in," Dippold says of the actors. "Having the four funniest people, you want them to just do their thing.
"I feel like 'Ghostbusters' is so important to everyone involved in this movie," she adds. "Everyone grew up loving it, the cast and crew. It just felt way more collaborative. The original had a lot of improv on set, and we wanted that same spirit. When you have a cast who are not just hilarious but very gifted improvisers—I mean, Melissa and Kristen are like improv gods—especially for this project it was really, really welcome. Not even welcome—begged for!"
Inspired by this post? Check out our film audition listings!