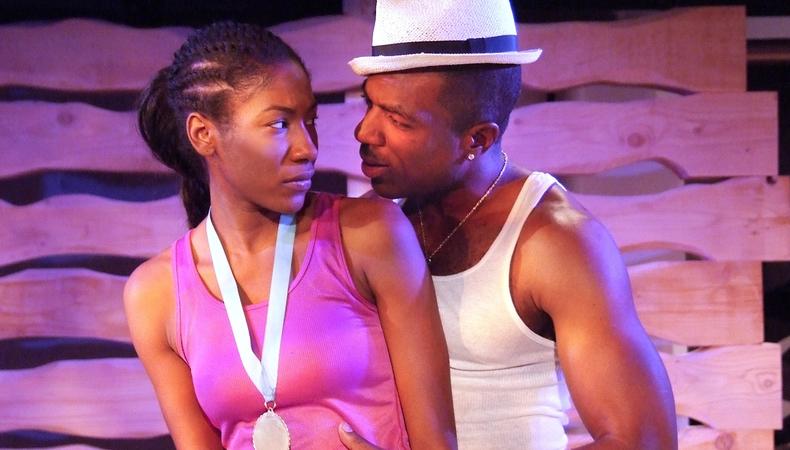 Life is fluid. As it pushes you forward, you can float on top of it or rush through it, and when you find you've been holding your breath for too long, you have to find a way to exhale. Or that's what it's like for Oya, the young woman at the center of Tarrell Alvin McCraney's "In the Red and Brown Water." The play is the first part of McCraney's acclaimed trilogy "The Brother/Sister Plays." For Los Angeles audiences it's a thrilling introduction to a distinctive new voice, delivered in a production that explodes in sounds, images, and extraordinary performances.
McCraney's play is not so much about telling a story as it is about exploring and elevating one, looking under it and inside of it through African folklore and bold theatricality. The tale is that of Oya (Diarra Kilpatrick), a young black woman whose gift for running is her way out of a life full of dead ends in the Louisiana projects. From the opening moments of "In the Red and Brown Water," director Shirley Jo Finney infuses the story and the playwright's heightened language with marvelous layers of music and movement (credit to composers Dejah Gomez and Brenda Lee Eager, who also provided vocal direction, as well as choreographer Ameenah Kaplan).
So Oya's story of hope, joy, and heartache is a song we can feel down to our bones, rendered loud and clear by an incredible ensemble. It's difficult to take your eyes off of the long, lean Kilpatrick as Oya is confronted by caring questions and difficult roadblocks along her journey of discovery, first by her Mama Mojo (a sly Peggy A. Blow), who's looking to protect her wide-eyed daughter with her old-world ways. The appropriately moonfaced Theodore Perkins is a delight as Oya's naughty but loving stand-in brother Elegba. As the other men who appear and reappear in Oya's life, Gilbert Glenn Brown brings it as the devastatingly smooth Shango, and Dorian Christian Baucum is wonderfully complex as the too loyal Ogun. Iona Morris takes a dynamic turn as Oya's truth-telling Aunt Elegua, and without missing a beat Maya Lynne Robinson, Simone Missick, Justin Chu Cary, and Stephen Marshall complete the finely tuned ensemble.
Finney's visceral staging offers arresting images on Frederica Nascimento's stylized set, and José Lopez's lighting is in appropriately big, broad strokes. We could use some help at times clarifying time and space, however, and what doesn't work are a lot of extraneous, confusing set-dressing elements—baskets, bottles—littering the stage, which muddle the strong design choices. Still, this production draws us deep into the playwright's world, finds us gasping for breath just when we thought we were comfortable, and leaves us wanting more.
Presented by and at the Fountain Theatre, 5060 Fountain Ave., L.A. Oct. 20–Dec. 16; Jan. 5–Feb. 24. (323) 663-1525 or www.fountaintheatre.com.
Critic's Score: A-