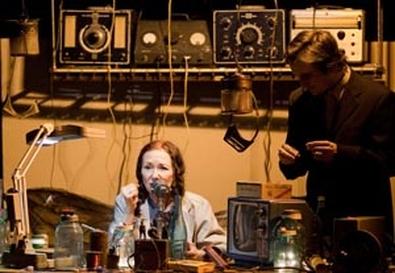 Taken as a kind of live version of a concept album, a concert with multimedia input from all corners and an overarching story line,
Red Fly/Blue Bottle
has much to offer. But despite its high-impact music and visuals, the premise and focus on minutiae can seem dramatically inaccessible and insubstantial.
Red Fly/Blue Bottle
is a dark radio-era wonderland where everyday objects such as pins, teacups, and springs taking on epic proportions. Peter Norrman's video and Mirit Tal's live video combined with Jim Findlay's set are constantly stimulating. Clarissa (a dazed-looking Jesse Hawley, whose clear, soothing voice is the strongest of the cast) tries to come to terms with the fact that the Man (Chris Lee) is away fighting a war. The Old Lady (Black-Eyed Susan) fixates on entomology and makes frequent allusions reminiscent of Emily Dickinson to a buzzing fly. The Operator narrates into a microphone and occasionally aides her confused characters. Fittingly, composer Christina Campanella plays this role.
Stephanie Fleischmann's words are intriguing but often oblique, and characters can seem overly precious as they devote themselves to tiny tasks. Director Mallory Catlett keeps performances almost blankly simple, compounding the sense of the set and music as primary. Campanella's compositions envelop the audience, with densely, dexterously woven textures often pulling together heavy rock rhythms, throwback sounds of a toy piano and an accordion, and elegiac cello and vocal patterns. Droning electronics saturate the space. Taken together, the often lugubrious, depressed songs can seem to drag, but each holds interest.
An especially compelling scene, pulling together the enigmatic songs that surround it, comes when the cast acknowledges war and its victims. Faces flash briefly across multiple video screens; names are recited. These remembrances come quickly in succession and overlap one another like raindrops. Only here does one feel drawn into the entire experience, the theatrical element as strong as the rest.
Presented by Here Arts Center and Latitude 14
at Here Arts Center, 145 Sixth Ave
.,
NYC
.
April 12
–
May 2. Mon
.,
7 p.m
.;
Wed
.–
Sat
.,
9 p.m
.;
Sun
.,
4 p.m
. (
Additional performance Sun
.,
April 19, 7 p.m
.) (
212
)
352-3101
, (
866
)
811-4111, www.theatermania.com, or www.here.org
.