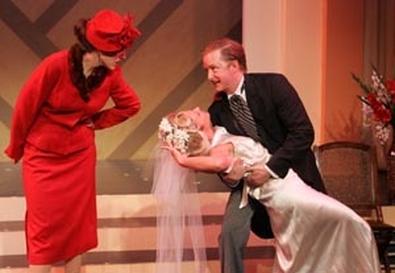 The individual oeuvres of composer-lyricist Cole Porter (
Kiss Me Kate, Can-Can
) and book-writing partners Howard Lindsay and Russel Crouse (
Call Me Madam, The Sound of Music
) include some of the most beloved musicals in Broadway history. So this rare revival of a 1936 bon-bon by this trio is a tantalizing prospect. Consider the stars of the original production—Ethel Merman, Jimmy Durante, Bob Hope, Vivian Vance—and curiosity about this relic becomes even stronger. Unfortunately, director-choreographer Joe Joyce and music director Brian O'Halloran have fashioned a lumbering resurrection of this piffle. It's unlikely to engage anyone beyond voracious musical-theater historians.
Though the score introduced a few memorable Porter standards—most notably "It's De-Lovely"—the songs feel shoehorned into the plot and most come across as tepid here, victims of generally unremarkable singing and mediocre staging. Even considering the simplistic conventions of book musicals from this era, the inane libretto leaves much to be desired. When was the last time you saw a musical charting the quest of a grown man (Kyle Nudo as attorney Bob Hale) to find the long-lost girl he had a crush on when he was 6 and she was 4? She accidentally sat on a hot waffle iron when he tried to kiss her, branding her behind for life. That's the backstory for a tale about a widowed philanthropist (Allyson Turner), who is smitten with Bob. She establishes a nationwide lottery per Bob's suggestion, offering a prize to whoever can show up and prove she's the gal with the toasty derriere.
On opening weekend, the production was short on polish, with fumbling line readings and a general air of unevenness. The finest singing comes from Nikki Tomlinson in a token second-banana role. Her love duets with Matthew Reis are charming, but the librettists failed to give these characters sufficient reasons to be in the story. Richard Horvitz is a talented comedian, but in the role of a fast-talking prison convict, he unwisely mimics Durante. This approach feels contrived and quickly becomes monotonous. Turner and Nudo make valiant efforts in the lead roles but are continually hampered by the archaic material.
Presented by By George Productions at the Whitefire Theatre, 13500 Ventura Blvd., Sherman Oaks. May 29–July 5. Fri.–Sat., 8 p.m.; Sun., 3 p.m.
(800) 838-3006.