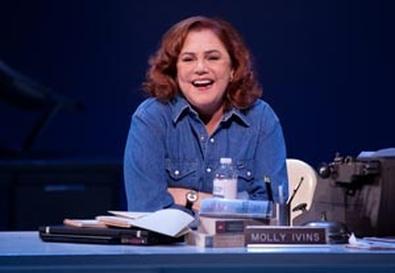 Husky-voiced Kathleen Turner has mastered her share of audacious characterizations, from her sizzling breakthrough turn as a femme fatale in the film "Body Heat" to her bravura emoting onstage as the braying alcoholic harridan Martha in "Who's Afraid of Virginia Woolf?" It seems that Turner would be the ideal actor to capture the essence of the shrewdly sardonic renegade journalist Molly Ivins, a two-fisted drinker who was as famous for her swaggering Texan bravado as for the scathing political jokes that made her a celebrated crusader for liberals. She referred to President George W. Bush as "Shrub." She also delivered delectable quips such as "Alcohol may lead nowhere, but it sure is the scenic route."
The good news is that Turner appears to be having great fun bringing this character to life in "Red Hot Patriot: The Kick-Ass Wit of Molly Ivins," a 75-minute solo play written by two journalist sisters, Margaret Engel and Allison Engel. Much of Turner's joie de vivre proves infectious. Yet crucially, the actor deftly taps into the script's occasional opportunities for poignancy as we gain insight into how tragedy and familial stress played a part in the fury that is veiled beneath her raucous humor. Particularly affecting is her description of the death of her boyfriend during the Vietnam War. Less fortuitous is the uneven quality of the script, which largely comes across as a series of episodes, lacking a sense of continuity.
Ivins, who lost her life to breast cancer in 2007 at age 62, was one of the few women staffers at the Houston Chronicle during the 1960s, and she also worked at the Texas Observer and The New York Times. She broke ground for women journalists and developed a huge following of readers for the unparalleled drollery in her muckraking.
Designer John Arnone's minimalist set—dominated by stacks of office furniture that eventually serve a dramatic purpose—is enhanced by Maya Ciarrocchi's superb projection design, which provides evocative glimpses of Ivins throughout the years, along with views of people and locales mentioned in the text.
Ivins, who imparted a larger-than-life charisma, might have felt at home on a stage. Under David Esbjornson's solid direction, Turner brings humanity and depth to this portrayal of her, sidestepping caricature in favor of a finely shaded portrait.
Presented by and at the Geffen Playhouse, 10886 Le Conte Ave., L.A. Jan. 11–Feb 19. Tue.–Fri., 8 p.m.; Sat., 3 and 8 p.m.; Sun., 2 and 7 p.m. (310) 208-5454. www.geffenplayhouse.com.