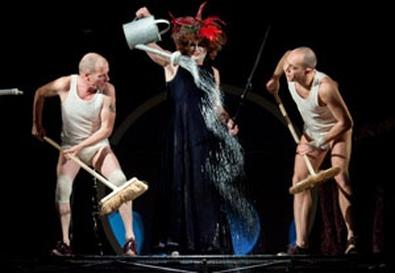 Seemingly experimental in its audacious intermingling of diverse performance genres, varied musical styles, and wide-ranging historical references, "The Red Shoes" is actually heavily reliant on the tried-and-true for the minimal amusement it offers. Though hampered by long passages of repetitive, unentertaining silliness, the bizarre 90-minute production is good for a few laughs, most of which stem from the brilliant execution of traditional vaudevillian, mime, and physical-comedy antics by the show's five-member cast of first-rate comic actors. Presented by Britain's Cornwall-based Kneehigh Theatre in Brooklyn's cavernous, coldly unwelcoming St. Ann's Warehouse, the show puts forth a darkly ludicrous brand of humor and a disjointed aesthetic that make the overall proceedings difficult to embrace with consistent attention or genuine concern.
Directed and adapted from the Hans Christian Andersen fairy tale by Emma Rice, this version flavors the narrative, about a girl whose red shoes force her to dance incessantly, with allusions to unrelated people and events. Accompanied by two versatile musicians—Ian Ross and the show's composer, Stu Barker—the actors, clothed near-nakedly in white men's underwear, take on various roles through the adroit manipulation of their physicality and symbolic props and costume pieces that they extract from informatively labeled beat-up suitcases.
Performed as an outrageous cabaret show narrated by a preposterous host, Lady Lydia (delightfully rendered in drag by Giles King), the story incorporates suggestions of such disturbing images as concentration-camp victims and a shell-shocked World War I amputee who hears explosions each time his dance partner's foot taps the floor. One is even reminded of "Sweeney Todd" when, in the evening's funniest scene, a butcher (hilariously portrayed by Mike Shepherd) solves the girl's red-shoes problem by sawing off her feet at the ankles while exhibiting throughout the "surgery" a most lovely bedside manner.
Kudos to Patrycja Kujawska for her sturdy depiction of the girl, to Robert Luckay for his affecting interpretation of the soldier, and to Dave Mynne for conjuring the different character types composing a church congregation, which he does in under two minutes with the assistance of just a ring of black fabric that he speedily shapes into all sorts of hats.
Presented by St. Ann's Warehouse in association with Piece by Piece Productions at St. Ann's Warehouse, 38 Water St., Brooklyn, N.Y. Nov. 23–Dec. 12. Tue.–Fri., 8 p.m.; Sat., 2 and 8 p.m.; Sun., 2 and 7 p.m. (No performance Thu., Nov. 25.) (212) 352-3101, (866) 811-4111, www.theatermania.com, or www.stannswarehouse.org.