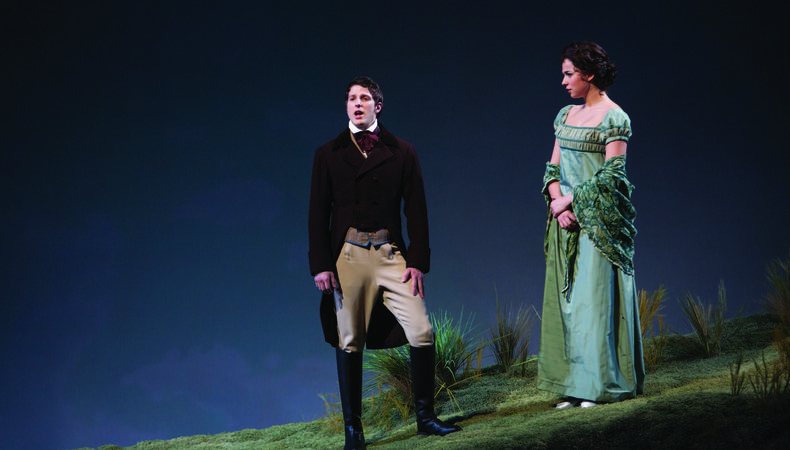 Many a Broadway musical spent time at a regional theater to iron out the wrinkles; current Broadway smash "Kinky Boots" had a well-received run in Chicago last year. Not every out-of-town production finds its way to a New York City premiere, but here is a roundup of regional shows to keep an eye on.
"Being Earnest"
This TheatreWorks production—playing in Mountain View, Calif.—boasts an impressive cast. Based on Oscar Wilde's comedy "The Importance of Being Earnest" but set in swinging '60s London, the production stars Tony and Olivier Award nominee Euan Morton, Hayden Tee, and Maureen McVerry. The music was co-written by Emmy nominee Jay Gruska and Tony nominee Paul Gordon; Gordon also penned the book and lyrics. The production, which opened April 6, is slated to run through April 28. Casting by Leslie Martinson.
"Fly by Night"
The New York City blackout of 1965 provides the backdrop for this comic rock musical by Kim Rosenstock, Will Connolly, and Michael Mitnick. "Fly by Night" follows two sisters and a sandwich maker who pine for love even when the lights go out. "Fly by Night" will play May 2­–26 at the Dallas Theater Center before moving to Playwrights Horizons in the spring of 2014. Local casting was done by Tiffany Hobbs; Cindy Tolan and Adam Caldwell did the New York City casting.
"Honeymoon in Vegas"
Based on the 1992 comedy starring Nicolas Cage, Sarah Jessica Parker, and James Caan, the musical version has been adapted by the film's original writer-director, Andrew Bergman, with a score by Jason Robert Brown. Starring Rob McClure ("Chaplin") and Tony Danza ("Who's the Boss?"), the show will run Sept. 26­–Oct. 27 at the Paper Mill Playhouse in Millburn, N.J., prior to a not-yet-announced Broadway production. Telsey + Company handled the casting chores.
"Sense & Sensibility The Musical"
Jane Austen's novel has been adapted multiple times, but this Denver Center Theatre Company production marks the first time the tale of the Dashwood sisters has been set to music. With a book and lyrics by Jeffrey Haddow, music by Neal Hampton, and directed by Tony Award nominee Marcia Milgrom Dodge, "Sense and Sensibility" opened April 11 for a run through May 26 and has already elicited a New York Times piece on costume designer Emilio Sosa. Stephen Kopel cast the show.
"Zorro: A New Musical"
"Zorro: A New Musical" premiered in 2008 in London; a revised production will make its American debut at the Alliance Theatre in Atlanta on April 10 for a limited run through May 5. With a score by the Gipsy Kings and John Cameron, actor Adam Jacobs stars as the black-masked Zorro who fights corruption and falls in love with many women along the way. Christopher Renshaw directs the new version. The Alliance has promised some dramatic theatrics for the production, including flamenco dancing, sword fighting, stage magic, and elaborate stunts. Casting is by Jay Binder and Jody Feldman.
In addition to keeping tabs on these regional productions, to see which shows are casting in your area check out Backstage's "Regional Auditions at a Glance" for April 18–May 22.