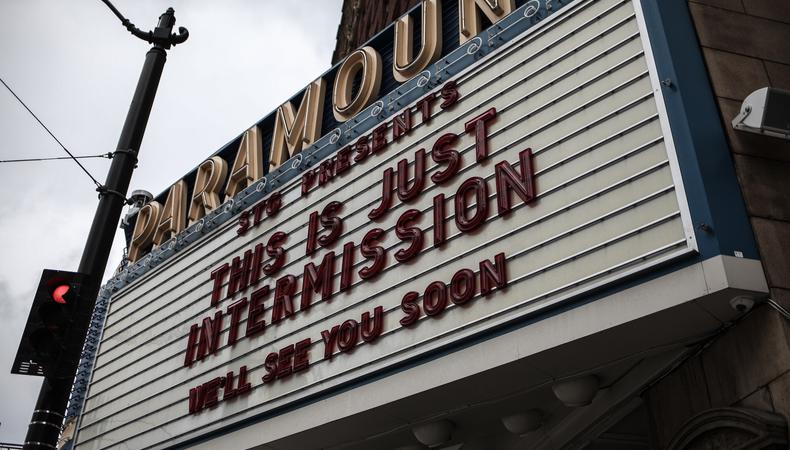 Life changed fast in the United States.
As the nation reckons with a novel coronavirus that can't be ignored away, retailers, restaurants, and small businesses have all felt the economic impact of a freefall, which has led to roughly 17 million Americans filing for unemployment. For theater artists, the sudden disruption is particularly brutal.
"Theater is all about gathering," Pam MacKinnon, artistic director of San Francisco's American Conservatory Theater (ACT), told Backstage. "All of a sudden, gathering together, in space, became officially dangerous." With the West Coast on the frontlines of the infection, MacKinnon's theater was one of many to call off its season.
"It was like slamming on the brakes while going 60 miles an hour," said Jonathan Luke Stevens, a member of the acting company at the Oregon Shakespeare Festival (OSF). "I went from working 40-hour weeks to absolutely nothing." Considered one of the nation's largest and oldest classical theaters, OSF ceased operations until Labor Day and laid off 80% of its staff due to COVID-19 concerns. "We have all been mourning the loss of jobs for many of our company members," said Stevens.
It's commonly known the life of an actor can be financially brutal. According to the most recent report from Actors' Equity Association, the union for stage actors and managers, the average salary of employed actors is $7,730. For performers who traditionally rely on restaurant gigs to pay the bills, the wide-reaching COVID-19 shutdowns have been a disorienting double whammy for actors, dancers, and the performance community at large.
In May, Chicago-based writer and director Monty Cole was set to make his OSF debut, directing "Black Odyssey" by Marcus Gardley. The show was cut by the company because of the virus. "I had a phone call with Nataki Garrett, the artistic director at OSF, who personally called me between meetings," said Cole. "Something told me this was gonna happen, and I totally understood."
'New Pathways' to the New Normal
Currently, the only sight on American stages is a ghost light—and it could stay that way for months. Artistic directors of the nation's 75-membered League of Resident Theatres, known as LORTs, now find themselves in the same boat navigating uncharted waters.
"Everything we are doing right now is about moving through this crisis toward a space and a place that can hold as many artists and artistic experiences as possible, recognizing that audiences aren't going to behave like they did before this happened," said Susan V. Booth, artistic director of Atlanta's Alliance Theatre. " 'Social scarring,' a friend called it last night. I think that's right, and I think that's real. Our job is not to ignore, not to pretend it'll all just pass like a storm, but to make new pathways."
ACT's MacKinnon shares the concern of a slow return to a new normal. "This virus has attacked us in our more core human way," she said to Backstage. "Will people immediately want to gather in large groups? I think some people will, and some people will be very reluctant."
Now isn't the first time stages in the States have been forced to close. The 1918 influenza forced theater closures en masse. During the Great Depression, Congress approved (and later defunded) the Federal Theatre Project to put thousands of jobless actors to work on stages in their community.
Although theatergoing is a timeless act, the stages of 2020 are unrecognizable to those of 1918 or 1935. Besides the proliferation of media entertainment, American theaters have changed. The regional theater movement of the 1960s created a system of stages that operate as nonprofits, an industry of artistic outposts contributing $135.2 billion to the nation's economy, according to Theatre Communications Group.
With palatial buildings and multimillion-dollar budgets, some have taken frustrations about sudden artist firings online. "When I see members of our industry calling out organizations for the choices they are making in the midst of this moment, my heart breaks a little," said the Alliance's Booth. "If there were ever a time to assume good intent and support each other, it'd be now."
"We're not making any money; there are no ticket sales," said ACT's MacKinnon, who emphasized her theater's desire to support and compensate artists. "I sometimes feel that in our field, individuals attack institutions and institutions sometimes feel like they're attacking individuals. Maybe there's something that as we go through this, we learn how to be in better communication and be less trigger-happy in this social media world.... Institutions are actually just collections of people."
The Show Must Go On(line)
While the past weeks have caused grief over canceled productions and fear of unemployment, there have been some glimmers of hope. The history-making $2.2 trillion stimulus package recently passed by Congress included funding for the arts, nonprofits, and freelance workers.
When it comes to adaptation, according to Equity, some 80 theaters have started streaming productions online since the shutdowns. ACT was one of the first to adopt the practice. "We got some great union concessions," said MacKinnon—a former union president herself—of streaming. Equity crafted temporary agreements loosening restrictions on streaming in light of the crisis.
"We are testing the balance right now between protecting our artists and losing our audiences," said Booth of the Alliance's streaming efforts. "I think there will be a new calculus on that front when this is over."
One play that's going online is "Are You There?" by Gab Reisman, Vivian Barnes, and Jonathan Norton. The production was commissioned by the Actors Theatre of Louisville for its annual Humana Festival of New American Plays, which had to be postponed because of the virus.
Reisman, who splits her time between New Orleans and New York, had flashbacks to Hurricane Katrina when she heard the news about Humana. "It was helpful, especially that first week, to remember what it was like to rebuild after Katrina—how people made do and adapted and cared for each other in the midst of devastation," Reisman told Backstage. However, she noted: "This disaster is such a different shape than that one."
Actors Theatre will also stream its premiere production of Jeff Augustin's "Where the Mountain Meets the Sea," featuring New York–based actor Allan K. Washington. "Like many theater companies, we had become a little family while working on the play," said Washington. "And as we were filming the show, it just sunk in that this may be the last time I'm able to perform on stage [for] a long time."
Keep following Backstage for the latest updates on how COVID-19 is impacting the industry.