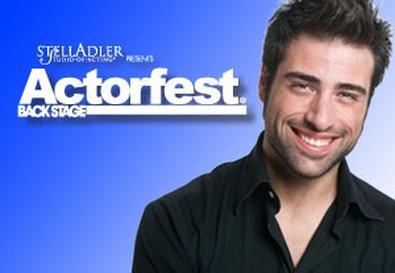 Once again, Back Stage will take actors to the next level in their career at
Actorfest Los Angeles
. Now in its 18th year,
Actorfest LA 2010
will be the most spectacular ever.
REGISTER TODAY -- SPACE IS LIMITED.
Attendees will be able to:
--
Attend workshops
hosted by casting directors, agents, managers, and acting teachers.
-- Visit the Exhibit Hall where performers can find the tools they need to advance and invest in their careers
--
Participate in Casting Calls with top networks and studios
-- Take part in "Meet and Drop" sessions with popular casting directors
-- Interact with peers in the Networking Cafe
Basic Admission is FREE
--
Everyone Must Register to Get into Actorfest
With basic admission you can attend the Exhibit Hall, audition at one of the Open Casting Calls, and socialize in the Networking Café. Workshops are $35-$45 (package deals are available). Seating for workshops is on a first-come basis. Meet and Drop sessions are FREE to attend with the purchase of any workshop.
Exhibit Hall
The Actorfest Exhibit Hall is FREE to attend and filled with companies offering products and services to build an acting career. It provides an energetic and friendly environment where actors can dialogue and compare notes with acting teachers, headshot photographers, temp services, fitness companies, financial specialists, voiceover coaches, and more. The Exhibit Hall is the place where performers can find all the business tools they need to take their career to the next level.
Open Casting Calls
The Open Casting Calls at Actorfest are FREE to participate in. Actorfest partners with various major studios, networks, and casting directors to provide calls for "real" jobs. Detailed information on 2010 casting opportunities will soon be available on our Casting Opps page. Please be sure to read casting notice to ensure that you are qualified.
Meet & Drop Sessions
The Meet & Drop sessions at Actorfest provide you with the opportunity to have a 5 minute one-on-one session with a well know casting director. This is a great opportunity to meet casting directors, ask questions you have been eager to know answers to and get critical feedback on your presentation. Meet & Drop sessions are available to attendees who have purchased one or multiple workshops. When you purchase a workshop you will be given a pass to attend the Meet & Drops for FREE.
Workshops
The Back Stage editorial team seeks out talented industry professional to participate in the workshops and provide an enhanced and coveted learning experience for all attendees. Actorfest has four types of workshops:
Panels, Master Classes, Intensives, and Focus Sessions
. Each workshop is programmed with top casting directors, agents, managers, coaches, and more. Detailed information and definitions are posted on our Workshops page.
REGISTER NOW -- SPACE IS LIMITED!