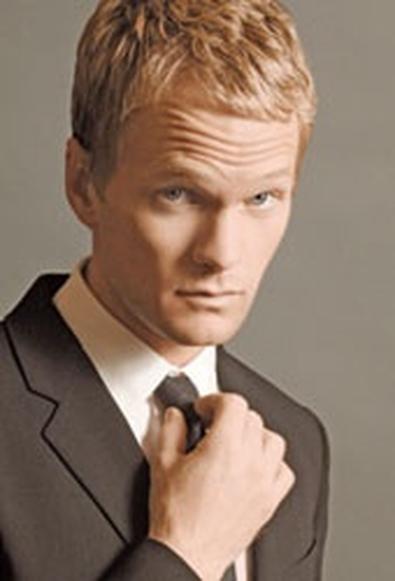 It's ironic that Neil Patrick Harris revealed a new facet of his talent by playing himself. In last year's stoner comedy Harold & Kumar Go to White Castle, he stole scenes as the satirical "Neil Patrick Harris": a stripper-loving party animal with a penchant for spewing profanity and stealing cars.
"To be written into a movie [where] you don't even know [the writers of] the movie was very flattering and kind of nerve-racking but inevitably was a great opportunity," says Harris. "I mean, who knew that two days of work would have legs like that?"
People still mention the role to Harris. Barney, his character on CBS's new sitcom How I Met Your Mother, is a nattily dressed, bad-advice-dispensing womanizer—a sort of cousin to his Harold & Kumar alter ego. Series creators Carter Bays and Craig Thomas were fans of Harris' performance in the film. "I think when I came in to read, they were stoked that I was there, just because they liked [Harold & Kumar]. But also it sparked something in them of the idea of Barney being my type, as opposed to what they originally thought, which was sort of a Jack Black-y, overweight, dark-haired, cigar-smoking kind of guy," says Harris.
His bold work on the show is going a long way toward demolishing the image of earnest, baby-faced teen Doogie Howser, M.D., the iconic title character he played on the critically acclaimed early 1990s TV series. He's been slowly but surely erasing Doogie from our collective consciousness with decidedly grownup turns in offbeat comedies such as Harold & Kumar and Undercover Brother. "I was always a bit of a jokester and a prankster, but I'm not physically the kind of guy that you think of for being the big punch-line guy, especially having done Doogie Howser," he says. "I was sort of [a] very average, all-American kind of straight man in the comedic context, so I just wasn't ever offered anything like that—until Undercover Brother, probably."
His synonymity with Doogie hasn't completely gone away, but it's starting to fade. "I think my face is pretty recognizable as that character, and that name is a pretty recognizable one, so it sort of sticks with you," says Harris. "But I suspect that Barney in How I Met Your Mother will sort of update that, because I'll be in people's living rooms weekly for hopefully a little while.... I mean, you have to look at someone like Sally Field, who was the Flying Nun for ages and [Gidget] for ages. But, you know, she's Sally Field, so she just keeps doing good work, and then eventually that kind of goes away when another thing comes up."
Make It Obvious
Harris is matter-of-fact, but it's no small feat to get audiences and industry decision-makers to see you in a different light. Many actors yearn for this sort of reinvention, and some accomplish it brilliantly: serious leading men who take on colorful character parts, child stars who have matured into legitimate performers as adults, beloved sitcom staples who show off their chops by spouting Shakespeare. Reinvention is a constant part of an actor's life: Honing your craft by playing different roles in different venues enhances who you are as a performer and extends the lifespan of your career. But getting the opportunities and the roles that will spotlight your diverse talents can be a challenge.
Charlize Theron spent years doing films that showcased her beauty more than her acting ability: Mighty Joe Young, The Cider House Rules, Sweet November. It wasn't until she hid that beauty—undergoing a radical transformation to play serial killer Aileen Wuornos in 2003's Monster—that she floored critics, audiences, and the industry with her talent. Theron asked Monster writer-director Patty Jenkins why she was chosen for the role that would ultimately net her an Oscar. "I said, 'By the way, why me? This stuff doesn't happen to me, like, these kind of projects don't come to me,'" she told Back Stage West in 2003. "'These are, like, usually the things that I have to go out there and sweat blood and kill somebody for.' [Jenkins] said, 'Honestly, I just looked at you, and I looked at everybody else, and I said to myself, "I could kick their asses. You, I'm not so sure"'.... I just loved it. I knew that she had seen The Devil's Advocate and loved what I did in that, and I find it very interesting that she, a woman, saw me that way, because I've never worked with a female director. She saw me that way. She saw all those elements that I think a lot of men are scared to acknowledge in a woman. She saw that strength and wasn't afraid of it, and she wanted to celebrate that."
The process of reinvention doesn't end with one wildly different role, as Theron is proving with her latest part as a coal miner facing sexual harassment in North Country and as the title action heroine in the upcoming Aeon Flux. Expanding one's horizons sometimes means branching out from the genre you're known for into a new realm of projects. "Musical theatre actors are a great example of people who sometimes feel that they need to grow beyond doing [those] roles," says casting director Stephanie Klapper, whose credits include Terrence McNally's Dedication or The Stuff of Dreams. "It's not that they don't have those abilities; it's just they haven't had the opportunity to [show them]."
Brian d'Arcy James is probably best known for his musical theatre roles, such as his Tony-nominated performance in Broadway's Sweet Smell of Success alongside John Lithgow. Recently, however, James won raves for his role in the Rattlestick Playwrights Theater production of Craig Wright's dramatic play The Pavilion. "There is a certain notoriety one might achieve in terms of being involved in musicals, and I think it takes effort on the part of the individual to perhaps try to counteract that with roles or with projects that aren't necessarily cut out of the same cloth," he says. "And that's up to the individual. Ultimately it comes down to what you want to do to challenge yourself, or what you want to do to satisfy yourself in terms of acting."
James has also always done nonmusical plays, including a role in Kenneth Branagh's Public Enemy in 1994. If people see you in a new light, he notes, it may not be because you've reinvented yourself but because they're finally taking notice of what you've always been able to do. "I think sometimes people will see me do something in a play, and they'll just say, 'Wow, you're acting.' And I just think, 'Yeah. [That] doesn't necessarily mean that I'm not acting when I'm singing,'" he says. "It's just funny. I don't let that bother me as much as I used to; I just see it for what it is. I think it's a good thing. People like to see new colors; they like to see new things about someone."
And while reinvention—or the perception of reinvention—may stem from the act of seeking new horizons, it can also be born of necessity: A physical change, such as weight loss or aging, automatically puts a performer in a new category. Lacey Chabert first gained fame as Claudia, the youngest of the angst-ridden Salinger siblings on Fox's 1990s drama Party of Five. Chabert was 11 when the show started and is still thought of by some as that sweet-natured little girl. "One of the biggest things is, 'Well, isn't she 12?'" says Chabert, laughing. "It's, like, 'No, now I'm 23, and I look different than I did when I was 12.'" The actor took time off after the show to finish school and recently made an impression with adult and teenage parts such as Gretchen Wieners, one of the hilariously bitchy queen bees in last year's Mean Girls.
Take the Time to Grow
Chabert, who passed on a lot of teen-focused films before Mean Girls came along, says patience is key when it comes to redefining yourself. "I've learned over the years to be patient and to wait and to attempt to choose the right roles versus just working to work," she says. "[That] is something that has become really important to me. Coming from Party of Five, I definitely wasn't on the top of their list for Mean Girls [or] projects like that, because people thought of me as more of a dramatic actress.... They were very open-minded once I was in the room and to see my take on the character. To me, reinventing yourself is really all about just being willing to prove yourself over and over and over again and having no expectations for people to have that open mind, but being willing to go into the room and say, 'Okay, I know that my previous work says that I'm this type of actress, but I'm kind of rising to the occasion to prove that I can do other things.' Sometimes it works out and sometimes it doesn't, but you have to take that risk."
If you're looking to make a change—or anticipating one in the near future—keep certain things in mind. First, make sure your representation understands what kinds of roles you want to play and that they have faith in you as an actor. Your agent and manager will be the ones working to get you in where you might not normally be seen, so they need to share your vision. "Talk to your agent, tell them what you want to do, make sure you're all on the same page, and then vigorously [use] whatever connections you have, being the actor or the agent or manager, and [try] to get that opportunity to be able to show yourself in a different light," says Ellie Kanner, a director and casting director (The Dead Zone and Sex and the City). "If you're a TV star and you're working on a series, and you want to make a big change and reinvent yourself, then you may have to take less money and work on a project that's maybe not on the same level that you're used to. But it would give you tape; it would give the industry a different view on you."
Convincing casting directors, producers, and others that you're capable of something different may mean taking on a role in a venue that's unfamiliar to you. "I have a character actor in his early 30s who's that lovable, chubby, wonderful guy," says manager Phil Brock, president of Studio Talent Group. "He's had a ton of commercial success this year, but he also needs to be able to play those other roles, so that may mean a theatre production; it may mean an independent film; it may mean working against that and making sure his representatives will see him in that other direction and submit him in those other directions."
According to actors and talent reps, theatre and independent film are the venues with the greatest potential for actors to branch out. Harris initially reinvented himself in the theatre. Rather than jumping immediately into another television series post-Doogie Howser, the actor built a successful, critically lauded career with diverse roles in such productions as Rent, Cabaret, Proof, Assassins, and Tick, Tick...Boom!.
"What seemed really intriguing to me [after Doogie] in sort of a full-body-freedom kind of way was the theatre, because it was such a different discipline, and it allowed for a lengthy rehearsal process, which you don't really have the luxury of on television," says Harris. "It allowed for sort of continuous, on-the-spot potential improvisation when things might go wrong or people forget lines or you forget lines or whatnot, so I just liked the different energy of that."
This is another key part of reinvention: the willingness to educate yourself and do your best to balance different kinds of roles in the process. The theatre became a training ground and outlet for Harris. "Because I got to do some nice gigs one after another, I was given the opportunity to sort of stretch myself as an actor more in the theatre than I would have had an opportunity to do on film," he says. "You have producers and financers, and they're not going to take a big chance on you to do some role that they wouldn't expect you to do. But in the theatre it's a bit different: They think it's an interesting idea to play against type."
If you're having trouble finding your outlet, it's not impossible to create your own. "These days it's so easy to just go out and make a movie. You can make a short film; you can find other actor friends that want to, maybe, change their image a little bit or reinvent their careers," says Kanner. "And with all the talent that's out there, with so many directors that just want an opportunity to direct, you can put together a short film, and maybe it can make the rounds at festivals, or maybe it's just something to show your agent and manager and something they can show to casting directors. It's at least a piece of film that will be able to prove to people that, yeah, [you] can do something different."
Having this kind of work under your belt, no matter how low-profile, can come in handy when you're trying to land something in a similar vein. With her wholesome, sugary roles in such series as Clueless and 7th Heaven, Rachel Blanchard didn't seem the most obvious choice for a sexy part in Atom Egoyan's noirish new film, Where the Truth Lies. Egoyan, however, had seen one of her lesser-known credits: an edgy turn in the little-seen indie The Wild Dogs. "[It] was different from most of the commercial things I'd done," says Blanchard. "I think good casting directors and good directors realize that people change and people grow, but it's very convenient to keep people pigeonholed."
Have Passion and Persistence
Even if you've landed an audition for what could be that crucial, career-changing part, you still have to perform in the room. Once there, showing your passion for a role can go a long way toward convincing someone you're the actor for the job, no matter what else may be on your résumé. When Hilary Swank—whose credits at the time included cheesy roles in The Next Karate Kid and Beverly Hills, 90210—went in to audition for the dramatically hefty part of cross-dressing teenager Brandon Teena in Boys Don't Cry, she impressed the filmmakers with her commitment to the part. "I was totally dressed as a boy," she told Back Stage West in 1999. "I went to the building where I was auditioning, and the doorman asked why I was there. I told him, and he said, 'Hang on.' He picked up the phone and said, 'There's this guy here. He says he has an audition. Should I send him up?'"
Similarly, Courteney Cox was determined to nab the role of neurotic neat freak Monica when she auditioned for Friends. Cox was mostly known for playing one of Michael J. Fox's girlfriends on Family Ties, and producers thought she was better suited to the role of Rachel; they saw Monica as more of a Janeane Garofalo type. "We let her come in for Rachel, and then she wanted to come in for Monica, [so] we let her come in for Monica," remembers Kanner, who cast the pilot. "And then when she tested at the network, she expressed to us that she really wanted the part of Monica, not Rachel. We thought, 'Well, let her come in and read for the network as Monica, and then we'll just end up offering her Rachel.' But she was so passionate about the role and really came in and just nailed it, and we couldn't deny that she was, in fact, Monica. So I think an actor's passion and connection to a character can really open people's eyes."
Just as Jenkins immediately picked up on Theron's inner strength, sometimes a casting director, producer, or director will see something in the actor that no one else has. Taylor Hackford, director of Ray, saw something new in Curtis Armstrong, who was known for comedic character parts in projects such as Revenge of the Nerds and Risky Business. Armstrong says he went in for the flashy part of Jerry Wexler, but Hackford ultimately wanted him for the quiet, weighty role of Atlantic Records founder Ahmet Ertegun. "Taylor said that I had class, which was an awfully nice thing to say.... No one has ever called me classy before, so I don't know where that came from; it must have been in the script," says Armstrong. "I mean, I had a suit, but apart from that, I can't imagine what it was that he saw. But he said that I was classy and it reminded him of Ahmet."
Jump When Asked
There's a common denominator in these actors' reinventions: When key opportunities came along, they were ready. "Make sure that you have a diversity of training that reflects the fact that you want to do those roles," says Brock. "I think that's really important—that you're training for those roles, [and] when they come up, you're ready to reach out and grab [them]."
Harris was certainly ready when it came time to audition for How I Met Your Mother. Having honed his comedic chops in a variety of projects, the actor went in with a definite take on Barney and a go-for-broke attitude. "I just was going for it; I was going for it in a big way," he says. "The audition was a scene playing laser tag, and it was another scene just talking a bunch of nonsense.... I did a dive roll and was a little bit off my rocker in the audition, and I think it amused them that I was so committed to it."
That, more than anything, may be the key to reinvention: the complete commitment to the opportunities that come your way and the pure, simple joy in expanding your craft. "As actors, all we live is little finite chapters," says Harris. "And I guess you want to have as many of them as you can, obviously, and as many different ones as you can—so whoever reads your book doesn't get bored."
Connection Code HFH-868