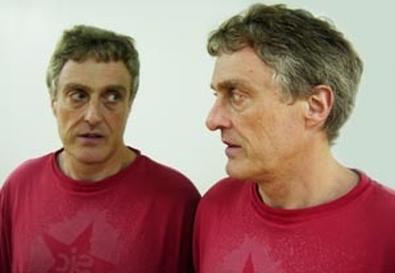 Who can fathom schizophrenia's terrors? "Remission," a solo play performed by Dan Berkey, who wrote the piece with playwright-director Kirk Wood Bromley, thus dispenses with explanations. Instead, Berkey narrates his life's journey in and out of schizophrenia (he says he's in remission) as if reliving actual psychotic episodes. Inflections, gestures, expressions all seem normal, yet the words rarely cohere.
Bromley's poetic hand burnishes the text: "Israel is wherever I'm squatting" "I feel like the wish list of a reformed minimalist" "I spent my 40s trying to relive my 90s." Leah Schrager's choreography is a panoply of graceful violence.
Still, the conceit can be mind-blowing: Berkey's interaction with a blowup doll is crass; a long slideshow of X-rated images of women is inexplicable as Dada. Berkey also cooks on stage—steel-cut oats, it turns out, a symbol of the way Berkey now cherishes life's little things. We
can
fathom the wonders of remission.
Presented by Inverse Theater Company as part of the New York International Fringe Festivalat the Players Loft, 115 MacDougal St
.,
NYC
.
Aug. 14
–
29. Remaining performances
:
Wed
.,
Aug. 19, 6:45 p.m
.;
Fri
.,
Aug. 21, 10:30 p.m
.;
Sat, Aug. 22, 1:30 p.m
.;
Fri
.,
Aug. 28, 8:45 p.m
.;
Sat
.,
Aug. 29, 2:30 p.m
.(
866
)
468-7619 or www.fringenyc.org
.