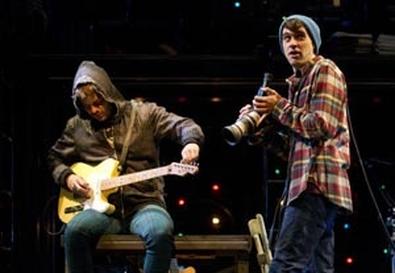 "Dec. 24, 9 p.m., Eastern Standard Time" is a phrase "Rent" fans know well. And they have no doubt been yearning to hear those opening words sung again on the New York stage ever since the show's original Broadway run shuttered in 2008. As documentarian Mark Cohen begins shooting without a script, the bohemian epic "Rent" starts rolling Off-Broadway in a reinterpreted version. However, this time there's a working camera and a strobe light.
"Rent"-heads might not be ready for a new look for Mark or a new wig for Angel, but director Michael Greif keeps the early 1990s thriving in his period-piece reinvention of Jonathan Larson's Pulitzer Prize–winning musical. Greif also directed the original 1996 production, initially at New York Theatre Workshop and then on Broadway. It was the first show I ever saw on the Great White Way, and I will always remember winning the ticket lottery and then looking up as the magic came to life on stage. That magic is still alive and well at New World Stages, thanks to a bright cast and a skilled creative team, many of whom worked with Greif the first time around. Though some change feels jarring, one has to move forward sometime. It has been three years after all.
Mark documents a season of love with a clunky camcorder (this is before iPhones and Flip cams) that projects real-time footage onto TV boxes and projection screens, creating a raw effect that informs the subject matter well. Mark Wendland's convertible set fluidly transforms into downtown fire escapes, and the backdrops also accommodate photos and video of the Life Café, tent cities, and Santa Fe. Greif's original blocking remains almost perfectly intact, aside from a few adjustments to use more of Wendland's elevated platforms and putting the orchestra upstairs.
The quintessential sweater, blue leather pants, and sexy Santa suit are gone, but Angela Wendt's new costumes appear inspired by her original designs. The character who sees the most change is Angel, who now looks like a Lady Gaga forerunner, donning trains, capes, and silver hair.
Iconic numbers like "La Vie Boheme" and "Seasons of Love" retain their original essence, and the cast reinvigorates them with a new energy. Tamika Sonja Lawrence delivers an affecting rendition of the "Seasons" solo, forgoing the expected overpowering belt while still hitting the important note. Her homeless woman is also the best I've seen. Instead of regurgitating the original cast recording, she builds a real empathy for this woman. I kind of wanted to give her a dollar.
Much of what made the original "Rent" great was the discovery of young theater stars like Idina Menzel, Taye Diggs, and Anthony Rapp, who also starred alongside most of the original cast in the generally panned 2005 film. Once again, youthful faces lend the show a much-needed vigor. Led by the talented Adam Chanler-Berat as Mark, the cast inhabits these characters while staying true to the original incarnations.
Matt Shingledecker's balladic vocals infuse Roger's rock-man persona with beautiful emotion, while Annaleigh Ashford effectively steals every scene as Maureen. Her platinum-haired Dixie Chick style adds a new flair to the outspoken lesbian, and Ashford balances ditz and attitude with an infectious belt. As Benny, Ephraim Sykes looks like a young Diggs, and Arianda Fernandez, as Mimi, shows off Lawrence Keigwin's choreography in her number "Out Tonight," singing with a voice that belies her size. M.J. Rodriguez embraces Angel's new look and showcases new moves while grasping a profound depth. Corbin Reid and Nicholas Christopher round out the main ensemble as a pleasing Joanne and Collins.
Though 11th Street and Avenue B is now a trendy address, "Rent" will always be the anthem of the outlier. This production is certain to create a new generation of "Rent" fans, and though the scenery may have changed, the show's mantra of love and acceptance carries on.
Presented by Jeffrey Seller, Kevin McCollum, and Allan S. Gordon at New World Stages, 340 W. 50th St., NYC. Opened Aug. 11 for an open run. Mon., Wed.–Fri., 8 p.m.; Sat., 2 and 8 p.m.; Sun., 2 and 7:30 p.m. (212) 239-6200, (800) 432-7250, or www.telecharge.com. Casting by Telsey + Company.