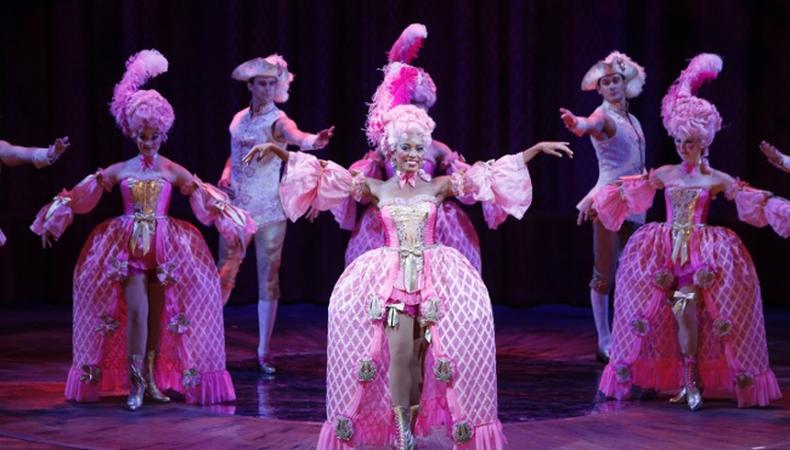 For some theaters, an anniversary is a time for reflection and tribute. For the Repertory Theatre of St. Louis in Missouri, its 50th anniversary is a time to party. And for its artistic director, Steven Woolf, this season is the time to go big. So he programmed Stephen Sondheim and James Goldman's musical "Follies."
"It did what we set out to do," he says. "Plant the flag and say, 'This is a big deal anniversary.' "
And plant a flag they did. The theater's critically acclaimed production of "Follies" closed on Oct. 2 and featured a 29-member cast, a 12-piece orchestra, and costuming that just "killed" the Rep's costume department. It starred Tony-nominated actor Emily Skinner. But that's not the only large-cast show the Rep is doing in 2016–17. "We're closing with 'Million Dollar Quartet,' because we should have a party in the room," says Woolf. The musical by Colin Escott and Floyd Mutrux will run March 15–April 9, 2017.
But it's not just fun and games. An anniversary is also a time for reflection, which is why the season also contains classics such as Arthur Miller's "All My Sons" (Jan. 4–29) and Christopher Sergel's adaptation of "To Kill a Mockingbird" (Feb. 8–March 5), which have both been produced at the theater before. There are also newer plays, including Terrence McNally's "Mothers and Sons" (Oct. 26–Nov. 13) and Nick Payne's "Constellations" (Jan. 18–Feb. 5). The Rep also has three children's shows, which tour locally and operate on a separate Equity contract: the theater for young audience contract.
The rest of the season's shows operate on a LORT B (for the main stage) and D (for the black box). Most of the shows at the Rep feature a mix of local and nonlocal actors (at a ratio of 11 to 1 for LORT B and 7 to 1 for D). The theater holds two open calls a year, one in St. Louis and another in Chicago or New York City, in addition to some casting on a show-by-show basis. While the out-of-town auditions are for Equity actors, the local auditions will see nonunion talent. In addition, "beyond the open calls, if the director is available to us, we bring them into St. Louis to look at the local actors," Woolf says. They also sometimes draw student talent from the local Webster University.
READ: "Explaining the LORT Contract"
Another focus for the Rep's 2016–17 season was African-American issues, mounting "Mockingbird" and "The Royale" by Marco Ramirez (March 8–26), the latter about boxer Jack Johnson. Its second show of the season is a world premiere, "Until the Flood," written and performed by Pulitzer finalist Dael Orlandersmith (Oct. 12–Nov. 6). The Rep commissioned the work soon after the shooting of Michael Brown in nearby Ferguson. For "Until the Flood," Orlandersmith interviewed local residents. "It's significantly evenhanded," says Woolf. "She's not yelling at anybody or blaming anybody. But she constructed a story of a very complex community."
Woolf didn't necessarily intend for three shows of his season to speak to concerns within the African-American community. "I thought these were all worthy stories to tell," he says simply. "I thought there were a lot of issues to address. I thought we could do it in a way that's not hammering politically. It is storytelling, and engaging all parts of the community."
Inspired? Check out our theater audition listings!