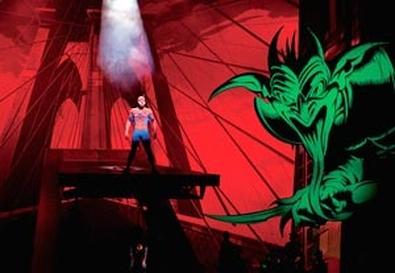 Producers of the troubled Broadway musical Spider-Man: Turn Off the Dark are looking to revise the script and have approached a comic book writer/playwright for help, according to the New York Times. They have reportedly asked Roberto Aguirre-Sacasa, a playwright who has written Spider-Man stories for Marvel Comics, if he would be willing and available to help with the script revision, the Times reported, citing sources.
At this point, there is no deal, but the Times reports that Aguirre-Sacasa was interested and has seen the musical at least twice.
Spider-Man, the most expensive production in Broadway history, has been panned by critics from The Hollywood Reporter, The New York Times and The Washington Post, among others.
After the reviews ran online, Spider-Man producers went on the defensive, slamming critics for running reviews ahead of the official March 15 opening.
They also said director Julie Taymor was working with Glen Berger on changes to their script's story line, while composers Bono and the Edge were writing new music.
The slew of negative reviews was just the latest hurdle for the long-plagued $64 million musical, which has suffered creative setbacks, opening-night delays and multiple cast injuries that caused two performers to drop out.
Aguirre-Sacasa declined to comment to the Times, while a show rep had no immediate comment.
Aguirre-Sacasa most recently worked on a script rewrite for a revival of the musical "It's a Bird … It's a Plane … It's Superman" for a production last summer in Dallas. He is now worked on a new musical project based on the novel "American Psycho."
In addition to writing issues of Spider-Man for Marvel, he has penned Fantastic Four comics.
His plays also have a comic bent: "Golden Ag"e features characters "very much like the comic teenager Archie Andrews and his Riverdale friends," the Times notes, while "Based on a Totally True Story" is about a DC Comics writer experiencing relationship problems just as he's about to hit the big time.
– The Hollywood Reporter