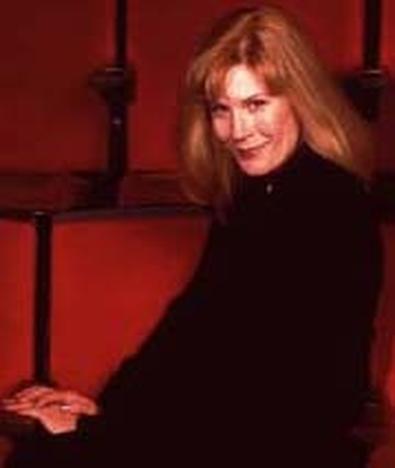 She is perhaps the hardest working woman in Chicago show business; at the very least, she is one of the most consistently-booked actors I have ever met. More impressively, her versatility continues to expand as she challenges herself with roles in the classics, avant garde theatre, musical theatre, and new plays; and now her long-awaited solo CD, "Make Someone Happy," is finally ready to be released. She is the blood and sweat of Chicago theatre: Hollis Resnik.
The fact that she has work lined up as far as the eye can see is not unusual for Resnik. Currently about to open at The Goodman as Anne Hathaway in "The Beard of Avon," she then will move on to "The Dead" at Court Theatre, where she is an artist-in-residence. From there, she moves on to Writers' Theatre in Glencoe, where she will appear in Tom Stoppard's "Rough Crossing." How does she do it?
"Well, it's just longevity," she modestly reasoned. "I've developed relationships with a lot of people over the years." That's true, but it's the way in which she has cultivated and nurtured those relationships, combined with her dedicated professionalism, that makes people eager to work with her. Having had the opportunity to perform with her a few years ago (well, I played a maid in that show? I had two lines), I came to understand that Hollis' relationships with her colleagues are not just for the sake of business? she is a generous performer and friend who is genuinely concerned with your well being. If she's worked with you, even once, she's likely to remember you. And given the number of people she's worked with in this town, that can't be easy.
Also not easy is finding the time to record an entire CD while constantly in rehearsals. "I recorded the CD over a period of two years," Resnik said. "When you're working all the time, it's hard. It was just a labor of love." The engaging, emotionally charged compilation includes some of Hollis' musical theatre favorites: "I chose these songs because I love to sing them. Most of it is very character-based, which I feel is what I'm best at. This is me, who I am."
From classics like "How do you Solve a Problem Like Maria" by Rodgers and Hammerstein, to "Lion Tamer" by Stephen Schwartz, to "This is What it Is" by Michael John LaChiusa, Resnik chose material that challenges both the mind and voice, and her performance of each song lives up to the challenge. In the liner notes, LaChiusa writes, "Notice the incredible care she takes with a lyric. Notice, too, the chameleon voice that adapts to a variety of songs, yet never becomes something it's not. Hollis is the quintessence of what a musical theatre performer once was (think Merman or Martin) and ought to be--and I dare you not to be charmed by her."
Hollis takes the high praise with stride: "It's how I make my living," she rationalized. And she's been making that living for a good long time. In a business that prizes twenty-five year old girls, Resnik, a strong, sensual, and grounded woman, has no desire to let up. "I'm always putting it out there... What else can I do? I have to work. And I'm almost always challenged. You can't help but be, when you're creating someone or something new."
"Make Someone Happy," released by M.A.M. Records, is now available online at www.CDBaby.com.
Chicago Shakespeare Theater will host a CD release party for "Make Someone Happy" on Monday, October 14 at 8:00 p.m. Hollis will perform a special concert of selections from her new CD, then autograph copies during a post-show reception. Tickets are on sale at the Chicago Shakespeare Theater box office at (312) 595-5600.