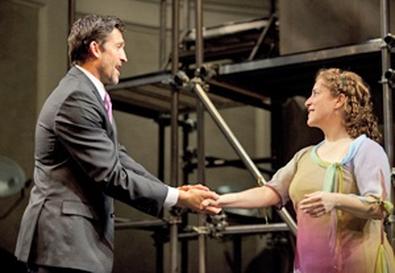 Playwright-actor Claudia Shear made a hit at New York Theatre Workshop in 2000 with "Dirty Blonde," her fascinating rumination on the sultry film legend Mae West. She returns to the same theater with a meditation on another iconic sex symbol: Michelangelo's David. Shear stars as Giulia, an Italian-born, American-bred art restorer given to bluntly speaking her mind and losing commissions as a result. After surviving a scandalous lawsuit, she wins the career-saving opportunity of cleaning the gigantic sculpture for its 500th birthday.
As she goes about her yearlong task at the Academia in Florence, the antisocial Giulia develops a grudging friendship with hunky chief of security Max and thaws toward Daphne, the haughty and glamorous head of public relations for the museum. These may sound like Hallmark TV movie plot threads, but the core of the play is Giulia's relationship to her charge—the statue—and by extension, the relationship of the viewer, whether casual or fanatic, toward art. Just as she examined the relationship between the devoted fan and the object of obsession in "Dirty Blonde," Shear takes a long and complex look at how an incomparably beautiful object can affect the aficionado who has fallen under its spell.
She occasionally allows inconsistency to creep into her script. Max's hiding his appreciation for the masterpiece behind macho bluster doesn't make sense and seems to be placed in the early part of the play only in order for him to be in conflict with Giulia. But Shear is such an entertaining dialogue writer, we scarcely notice the flaw. When Max asks Giulia why she's not married, she replies tartly, "Because I'm weird, aggressive, successful, and picky." After uttering doubts about her talent, her elderly mentor chides, "Self-pity is the personality equivalent of chewing with your mouth open."
Christopher Ashley—who staged Shear's solo show "Blown Sideways Through Life," also at NYTW—does a masterful job of balancing the funny bits with the more serious musings on the nature of art. As both actor and author, Shear slowly and movingly reveals Giulia's aching loneliness beneath her hard exterior. Jonathan Cake gives Max seductive charm and compassionate warmth. Tina Benko exposes the soft center of the seemingly bitchy Daphne. Natalija Nogulich adds sturdy supports in three diverse roles, and Alan Mandell lends bite to Giulia's fatherly former professor.
Set designer Scott Pask cleverly conveys the impression of the entire statue with a huge box displaying sections of David's anatomy. When Giulia is finally finished, a replica of the classic work is revealed in all its glory. The effect, aided by David Lander's lighting, is truly beautiful.
There are a few spots on this "Restoration," but as with the statue at its center, we see past them to appreciate the artistry in its creation.
Presented by and at New York Theatre Workshop, 79 E. Fourth St., NYC. May 19–June 13. Tue., 7 p.m.; Wed.–Sat., 8 p.m.; Sat., 3 p.m.; Sun., 2 and 7 p.m. (No performance Thu., May 20. Sun., May 30, 2 p.m. performance only.) (212) 279-3200 or www.ticketcentral.com. Casting by Jack Doulin.