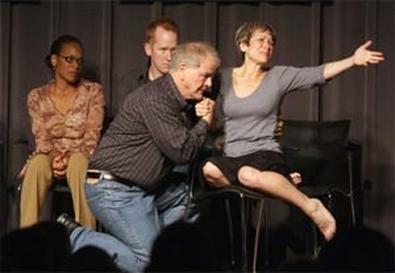 Corporate chieftains do it. Governors, senators, and representatives do it. But hey, what about actors? When do they go on retreat—and where? What about expenses? One such retreat is available at the Ten Chimneys Foundation in Genesee Depot, Wis.
Ten Chimneys is the sprawling, bucolic estate of Alfred Lunt and Lynn Fontanne, widely acknowledged as the greatest acting couple of the 20th-century stage. Though they made only a few films, the husband-and-wife team reigned on Broadway from the 1920s to the late 1950s. Since the creation of the foundation in 1996, it has successfully preserved several buildings on the 60-acre site, including the main house, cottage, and studio, which sport the titular 10 chimneys between them. In 2003 the foundation completed building a sleek program center for public events and exhibits.
Last fall, Sean Malone, executive director of Ten Chimneys, unveiled the Lunt-Fontanne Fellowship Program, which honors prominent regional theater actors with an invitation to visit the estate for a weeklong, all-expenses-paid retreat and master class. For the inaugural event held July 13–19, the master teacher was Lynn Redgrave, who is named for Fontanne and whose storied family history was highly intertwined with that of the Lunts.
Funded through a lead grant from the Greater Milwaukee Foundation, 10 actors were nominated for the fellowship by artistic directors of theaters with whom they enjoy ongoing relationships.
The class of 2009 fellows included Suzanne Bouchard (via Jerry Manning, Seattle Repertory Theatre); Dan Donohue (via Bill Rauch, Oregon Shakespeare Festival); Lee Ernst (via Joseph Hanreddy, Milwaukee Repertory Theater); Mary Beth Fisher (via Steve Scott, Chicago's Goodman Theater); Jon Gentry (via David Ira Goldstein, Arizona Theatre Company); Donald Griffin (via Susan Booth, Atlanta's Alliance Theatre); Francis Guinan (via Martha Lavey, Chicago's Steppenwolf Theatre Company); Naomi Jacobson (via Molly Smith, Washington, D.C.'s Arena Stage); Kim Staunton (via Kent Thompson, Denver Center Theatre Company); and Jack Willis (via Carey Perloff, San Francisco's American Conservatory Theater).
All the actors received $2,500, according to Ten Chimneys, "in recognition of their exceptional contributions to their home communities and to the overall quality of American theater." Equally valuable, they spent a week—in and out of class—with the formidable Redgrave, examining not just technical acting challenges but how to maintain and burnish their careers.
Fear No More
"I think when we all got here together as a group," Willis says, "we were kind of scared to death. Then Lynn asked, 'Who's scared? Who's nervous?' and everyone raised their hand." Not that the actors were unaccustomed to working at a high level with their colleagues; but doing so in a rural setting, away from producers, agents, casting directors, and all the creature comforts of home, created a sparkling new dynamic—one in which no judgments or jobs hung dangling in the air.
Despite an impressive résumé that includes playing major roles in ACT productions of "Cat on a Hot Tin Roof," "The Little Foxes," and "Rock 'N' Roll," Willis says the actors were "very conscious that everyone was going to be dealing with very good, very talented people—you wanted to be on your A game." Redgrave, he comments, "put us on at ease. She said not to worry about a final product, that we were to reexamine ourselves as actors, what roles we wanted to do, to have a comfortable space to explore questions and to explore process."
In addition, Willis adds, "We talked about serious economic questions affecting LORT theaters, questions about aging, and about getting work. The great thing was posing questions without fear of judgment or reprisals, or worrying it's a week from audiences seeing us and we're teching. It was battery-charging, getting rid of cobwebs."
When not immersed in class and discussion, actors were also furnished with quality time to roam the Ten Chimneys estate, to soak up the atmosphere and generally to reflect.
It was, says Donohue, a moment of pure revelation. "The first thing I did was go up to some of the guest rooms in the main house and open up the closets in rooms where the Oliviers, Helen Hayes, and Noël Coward had stayed. Now, why I did that is important: I kind of realized somewhere inside that maybe I might stumble across a secret of acting."
Donohue, who as a member of the company at Oregon Shakespeare has played more than 30 roles in 23 plays, also describes another experience that was spiritual in nature.
"It was in the studio, not the main house," he explains. "I went in there and I was sort of left alone for a half hour or 45 minutes. My plan was to sit and just read in there. Well, we'd been working on these Shakespeare monologues as well as some scenes, so I decided to start working on some of that material. Sitting there, knowing the great rehearsals the Lunts used to have in there, knowing the great plays that been written—more like rewritten—in there, it was a case of the goose bumps, knowing the studio had been used the same way I was using it in that moment. That's inspiring, I can't tell you how much."
Trust and Verify
For Guinan, who originated the role of Charlie Aiken in Steppenwolf's production of Tracy Letts' "August: Osage County" and reprised his performance on Broadway, the retreat was not only a moment to recharge but to refresh some of the basic fundamentals associated with an actor's toolkit.
"When I heard Lynn Redgrave wanted us to show up and have pieces memorized and ready to go, I thought, Fuck, I
really
haven't done this in a while," he says, laughing. "Frankly, neither had many of the other fellows, it turns out. All of us are well-established in our communities; we're fortunate in that we all work constantly. But finding the similarities in our work ethic, in our career situations, and in our approaches, however, was so striking.
"In one case," Guinan adds, "we were doing scenes and monologues and in several instances someone was asked to go up and sit silently with the actor or actors. We were there to react to them—what a strong sense of support! It was 'I will not let you fail.' It was 'I will not let you down in this scene.' It was 'Whatever you need me to do, I'm there to do it'—that automatic trust that actors place in one another."
Like Willis and Donohue, Guinan was disarmed by Redgrave's attitude toward the group. "She began the week," he says, "by eschewing the idea of a master teacher among acolytes. Lynn was much more interested in being considered a colleague and in what we had to say. Now it turns out her collegial attitude and gentleness was much that of a master teacher. But it didn't matter—it didn't feel like that."
Guinan offers the example of a different class in which the scene work was especially challenging. "Understand: the actors were taking very big risks emotionally, working on things they might not be cast in or might want to be cast as, or were attempting to reinvent themselves, in a manner of speaking. Some of the emotions were ungovernable, but the gentleness—talk about Lynn's laserlike insight into approaching a scene."
Asked about the fellowship's future—guidelines for 2010 nominations will be released in the fall—Willis responds he cherishes most the series of "aha" moments that punctuated his week at Ten Chimneys.
"We had one fellow with health issues who had to leave early. The night before he left, we were scheduled to have a two-and-a-half-hour conversation, led by Lynn, about issues in the theater, sort of this open-mike type thing. Because this fellow was leaving us, he said he wanted to have the chance to do something for us, perform something. He started a piece—a monologue. Well, you could just see the recuperative power acting had on him. You could see him starting to feel better. That's an 'aha'—when you're in the business for 30 years and you suddenly remember what a joy, what a spiritual thing, acting can be."