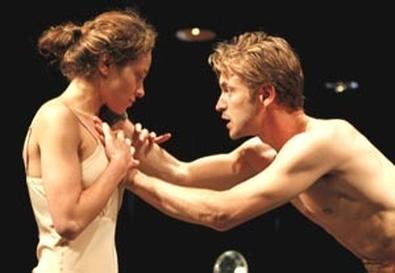 A band of Holocaust survivors decides justice requires killing Nazi prisoners of war, especially S.S. members. This is the kind of red-meat drama audiences lap up, what with disconcerting moral questions and a naturally dramatic backdrop. Setting aside Leigh Silverman's customarily spare, elegant staging, however, Daniel Goldfarb's "The Retributionists" feels neither natural nor believable. And this is a play, mind you, inspired by historical events.

Dov (Adam Driver) is the group's ringleader, an angry poet based on Abba Kovner, a radical postwar figure whose anti-German plots were hatched under the aegis of a group called the Avengers. Like Kovner, Dov aims to poison the German water supply and enlists help from Anika (Margarita Levieva) and Dinchka (Cristin Milioti). The former is a too-willing disciple; the latter is, for lack of a better phrase, a revenge agnostic. Dov has carnal history with both women (and they with each other), all stemming from their time in the Polish ghetto and hiding from the Nazis in the forest near Vilnius (now in Lithuania), where they sabotaged German efforts as World War II concluded.

Whereas this part of the tale, drawn from history, intrigues, Goldfarb overlays romantic (and presumably fictional) entanglements that prioritize melodrama over politics or, indeed, retribution. Thus there's Jascha (Adam Rothenberg), another survivor (presumably fictional) who was at least nominally part of Dov's little group. Jascha loves Anika, and she professes reciprocation, but it's a ruse: She leads him on so he'll agree to execute Plan B should Dov's Plan A fail. Plan A does fail (historically true), so Jascha must go to Nuremberg, land a job at the bakery supplying bread to the POWs, and find the chance to bake arsenic into the dough. To do so, he must gain the trust of bakery owner Gustav (Hamilton Clancy) and his helpers Ute (Lusia Strus) and Christine (Rebecca Henderson).

When Goldfarb hews to history, the dramatic quotient rises: Jascha's scenes in the bakery are frightening, and only once does the play slide into the potboiler realm. What's impossible to stomach, however, is the stilted dialogue. End-of-line appellations like "my love" and "my darling" smother the play like a paprika carpet bomb. And overacting reigns. Levieva seems to be confusing this post-Holocaust play with an episode of "As the Reich Turns." Driver and Rothenberg are grounded, but often it's as if they're fighting the script, not coalescing with it. Rothenberg, whose character lost fingers during the war, projects so much bitterness and braggadocio that Driver, looking 10 years younger, seems like the cute leader of a nice revenge cult. Maybe that's what the Avengers were, but the real thing must have been more threatening.

Presented by Playwrights Horizons in association with South Ark Stage at Playwrights Horizons, 416 W. 42nd St., NYC. Sept. 14–25. Tue.–Fri., 8 p.m.; Sat., 2:30 and 8 p.m.; Sun., 2:30 and 7:30 p.m. (212) 279-4200 or www.ticketcentral.com. Casting by Allaine Alldaffer.