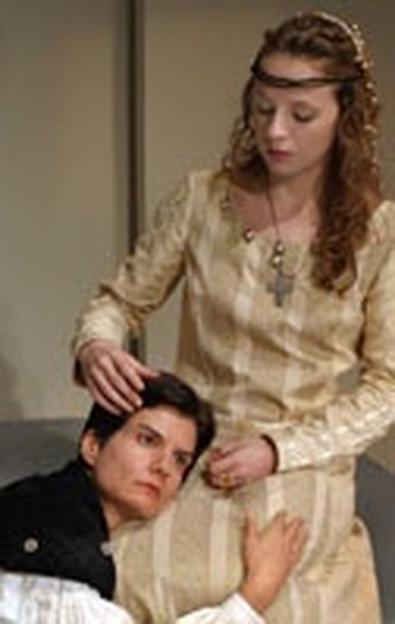 Aspects of Shakespeare's Hamlet have tantalized critics through the ages, most notably the troubled young Dane's indecisiveness. Freudian critics have placed the blame for that on Oedipal impulses. Others describe a mortal flaw in Hamlet's behavior.
There is also a theory that Hamlet was really a female disguised as a male, posited by Dr. Edward P. Vining in his 1881 book, The Mystery of Hamlet, which became the basis for a 1921 film featuring Danish silent screen star Asta Nielsen in the title role. And it's the book and film that director David Hansen draws upon for his gender-bending Hamlet, which stars Cleveland actor-playwright Sarah Morton in the titular role.
As in a silent film, a video screen announces each scene change with melodramatic music and key words that preview the action, adding a dose of levity without ruining the classic tragedy. But to better understand Hansen's work overall, you need more than an inkling of what Vining's theories were. In his book, Vining suggested that Hamlet was born a female who was disguised as a male to preserve her ascension to the throne. To support this notion, he attributes Hamlet's waffling to that of a woman unable to kill, someone who chooses words as her weapons rather than the sword. Hamlet's praise for the opposite sex ("What a piece of work is man") -- and the vilification of her own sex -- is also evidence, Vining wrote, of Hamlet's female origins. The mother-son conflict thus is really a mother-daughter conflict in which the daughter condemns her mother for her unseemly behavior and hasty remarriage.
As the androgynous Hamlet, Morton makes a strong case for what you might call Hamlet's feminine side. Her Hamlet is a weepy, brooding Dane who contemplates suicide early on, having extolled the virtues of her dead father and railed against her mother marrying with "such dexterity to incestuous sheets." The confrontation between a terrified Gertrude (Anne McEvoy) in her bedchamber and a physically violent Hamlet is explosive.
Morton's understated rendition of the famed "To be or not to be" soliloquy strikes just the right tone. The play-within-the-play, whereby Hamlet will "catch the conscience of the king" is presented in pantomime with masked actors. It's very effective and extremely well choreographed by Alison Garrigan.
Wearing a bonnet and shapeless gown, George Roth is almost childlike as the doddering old Fool and meddlesome father of Laertes (a hot-headed Joshua D. Brown) and Ophelia (a fluttering, birdlike Rachel Lee Kolis). Laertes' readiness to avenge his father's death is nicely contrasted with Hamlet's indecision, emphasizing the differences between their male and female personas.
The excellent Nicholas Koesters is the even-tempered Horatio whom Hamlet secretly loves more than as a friend. In the final scene, a dying Hamlet places a kiss on Horatio's lips, revealing her true feelings. It's a poignant moment in a credible production of the fiendishly difficult, challenging play, one that keeps the integrity of the language and drama intact.
Hamlet runs Sept. 29-Oct. 22 at the Beck Center for the Arts, 17801 Detroit Ave., Lakewood, Ohio. Tickets: (216) 521-2540. Website: www.beckcenter.org.