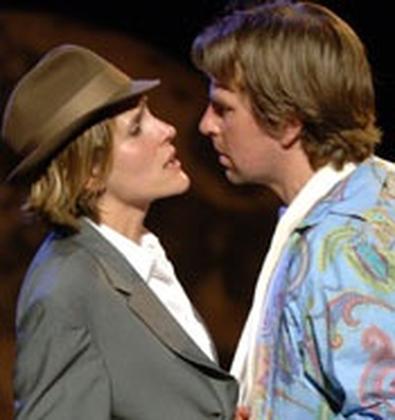 The enamored couples in artistic director Jonathan Moscone's California Shakespeare Theater production of As You Like It swoon, pant, bawl, stagger, gasp, hyperventilate, shout, and practically salivate — and all for love, requited and unrequited. This is the lustiest, sexiest, most impassioned version of one of the Bard's cross-dressing comedies that I remember seeing. Moscone, as usual, gleans the very essence of the text and brings it to vibrant, theatrical life. Every time the word love is spoken, it seems to add new meaning to our understanding of this most basic human emotion. "How many fathoms deep I am in love!" a melting Rosalind croaks to her cousin Celia, and you can almost feel Rosalind's weak knees and pounding heart.
Set in an apple orchard that morphs into the forest of Arden, as well as on a multiuse platform, this is a production in which the relationships are deep and true — the sisterly cousins, for example, kiss each other on the lips — and the outward trappings are deliberately artificial: double-cast actors change roles in full view with the swift addition of a pair of glasses or the removal of a cape (amusing modern-dress costumes by Katherine Roth). Designer Kris Stone's set, too, is occasionally dismantled by the actors themselves. And when banished Rosalind decides to disguise herself as a boy, she and Celia strip down to their undies before dashing offstage to change.
As Rosalind, long and lean Susannah Schulman appears almost androgynous, her larger-than-life longing for Orlando utterly palpable. And Stephen Barker Turner is alternately adorably woebegone and comically confused as the yearning suitor who's tricked into believing Rosalind is the boy Ganymede but nevertheless finds himself erotically drawn to her.
In supporting roles, standouts are Dan Hiatt's wonderfully limber, goofy, and grey-grizzled fool Touchstone; Delia MacDougall's pert, petulant Phoebe, a good match for Max Gordon Moore's abashed and awkward Silvius; Domenique Lozano as the slovenly shepherdess Audrey, hauling a large and vocal stuffed goat; a forceful L. Peter Callender cast as both the good and bad duke; Hector Correa's smirky-smooth bad brother Oliver; and Julie Eccles' graceful Celia. And among several small and precisely defined roles, James Carpenter is the funniest and most perfectly calibrated drunkard I've seen in recent times.
A spirited Balkan musical trio — accordion, violin, and bass — not only provides onstage background music but also accompanies the various songs (Shakespeare's lyrics set to a series of alternately somber and buoyant compositions by Gina Leishman with Dan Cantrell, Lila Sklar, and Djordje Stijepovic) and gypsy-like dances (movement by MaryBeth Cavanaugh). And in the second half, an enormous golden moon, enhanced by Alexander V. Nichols romantic lighting, contributes to the magical atmosphere in Shakespeare's pristine forest.
When, toward the end, Phoebe grabs a standup microphone and warbles the "what it is to be in love" soliloquy, with Orlando, Silvius, and Rosalind-as-Ganymede chiming in, it's both funny and wistful — two moods that pervade Moscone's glorious production.
As You Like It runs Sept. 13-Oct. 15 at the Bruns Amphitheatre, Orinda, Calif. Tickets: (510) 548-9666. Website: www.calshakes.org.