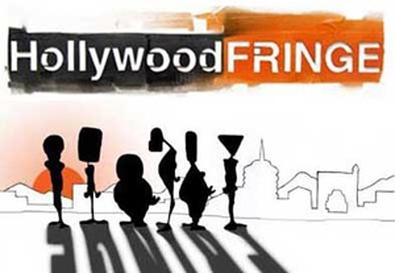 The Hollywood Fringe Festival presented a daunting challenge for local theater coverage. How could Back Stage narrow down choices among the more than 160 offerings and then get its critics to even a quarter of those shows?
In a happy conjunction, my greatly admired colleague Steven Leigh Morris, critic-at-large at LA Weekly, and I pooled our critics and agreed to publish as many reviews as we could in print, the rest online.
Los Angeles theater came out a winner, thanks to the dizzyingly busy organizers of the festival, the devoted critics who caught two or more shows over the weekend, and the wonderful artists who brought their fares to Hollywood.

Dany Margolies
Executive Editor
**Critics Pick
Back to Babylon
(Back Stage)
In this self-crafted solo show, Gregg Tomé starts and ends as a man who refuses to attend his 10-year high school reunion but then spends his increasingly inebriated evening recalling many of his friends.
Back to You, a Dear John (Mayer) Letter
(LA Weekly)
Writer, director and featured performer Brianne Hogan takes aim at the cult of celebrity in this callow comedy that reimagines the private life of musician and tabloid personality John Mayer.
**Critics Pick
The Bad Arm: Confessions of a Dodgy Irish Dancer
(Back Stage)
Trained as an Irish dancer, Máire Clerkin is also a gifted writer-actor, whose tales (directed by Dan O'Connor) of growing up the imperfect daughter of a perfectionist dance teacher touch the underappreciated in all of us.
Betty
(Back Stage)
Writer Shelby Bond's crafty concept does the trick, with Hutton (Kellydawn Malloy) discussing her life and mercurial career with the audience as a press corps.
Bonnie in Brighton
(Back Stage)
A recent college graduate from Texas, hiding behind her alter ego "Bonnie," lives a crazed year's existence on the British seaside.
The British Invasion
(LA Weekly)
The production features a series of stand-up comedians from Britain at IDA on Hollywood Boulevard.
**Critics Pick
Brownsville Bred
(LA Weekly)
With fashion-model beauty and a smile that can melt iron, Puerto Rican Del Valle tells a mostly affectionate tale of living in and breaking out of the Brooklyn housing projects where she grew up.
**Critics Pick
Burton
(Back Stage) (LA Weekly)
In his 75-minute solo drama, Welsh actor Rhodri Miles delivers a brilliant and gripping full-length portrait of fellow Welshman, actor and movie star Richard Burton.
**Critics Pick
Bye-Bye, Bombay
(LA Weekly)
"Bye-Bye, Bombay" is Cara Yeates' solo show about defying her Indo-Canadian mother by visiting, and reliving, her mom's Bollywood experiences in Bombay.
Can You Hear Me Now?
(LA Weekly)
The DMV waiting room provides the comic fodder for playwright Phoebe Neidhardt's workmanlike series of character portraits of the denizens and customers at the government office.
Christmas in Bakersfield
(LA Weekly)
Les Kurkendaal's solo performance tells of his visit to his boyfriend's family in "California's armpit," at their Bakersfield manse.
The Deadly Sin Bingo Show
(LA Weekly)
This is just a bingo game, and without a few drinks and your most fun friends, it feels like a promised date with your grandmother.
Deicide: A Sort of Musical
(Back Stage)
If you've ever yearned for a feel-good musical about Holy Wars and the end of civilization, this is it. Sorta.
**Critics Pick
Delilah Dix and Her Bag of Tricks
(Back Stage)
Part standup and part cabaret, this character-driven hour of outrageously maniacal chaos is the brainchild of performer Amy Albert.
**Critics Pick
Ecdysis, a Dance Performance
(LA Weekly)
Written by Homa Dashtiki and set to music by composer and musician Solitari, this beguiling dance piece celebrates womanhood as it relays one individual's transition from jejune youth to weathered maturity.
**Critics Pick
Eco-Friendly Jihad
(Back Stage) (LA Weekly)
Irish comedian/social satirist Abie Philbin Bowman is supercasual, but his jokes come thick and fast.
Elevator
(LA Weekly)
One might expect seven strangers trapped in an elevator for nine hours to begin their ordeal with an attempt at reserved civility and end it tearing out each other's throats. Not playwright-director Michael Leoni.
Escalator Hill
(LA Weekly)
Though they're from Echo Park, this five-piece outfit sounds like the band with a standing Thursday-night summertime gig on the back porch of a fraternity bar in a college town.
**Critics Pick
The Event
(Back Stage)
Written by John Clancy, directed by Ian Forester, and starring the mesmerizing Paul Dillon, this production is destined for the status of a classic—if you tolerate Beckett and the like.
**Critics Pick
Euripides' Medea
(LA Weekly)
Coups de théâtre abound in this haunting adaptation from wunderkind director Michael Burke and his Indianapolis-based paperStrangers Performance Group.
Feeling Sorry for Roman Polanski
(LA Weekly)
Chicago import, Sideway Theater and Taco Dog Productions production of Sue Cargill's amusing comedy about victims and the people who love them.
**Critics Pick
55 Minutes of Sex, Drugs, and Audience Participation
(LA Weekly)
Howard Lieberman and Loren Niemi's storytelling tour de force plants its tent pole deep in the territory of 1970s mythos, with the two men improvising earthy tales that are hilarious yet strangely melancholy.
4 Clowns
(LA Weekly)
Here be four clowns and, as an announcer intones, they've lived, died, and resurrected, never changing, since "Before the earth trespassed across the sky."
The Funeral Crasher
(Back Stage)
Writer-performer Stacy Mayer's concept of collecting funeral stories from friends as she mines the field of dark comedy is clever.
**Critics Pick
I Laughed So Hard I Cried
(LA Weekly)
As you might expect from a comic who dubs himself "the Goth Comedian," Mark White tells jokes that edge toward the darker and more disturbed side of the spectrum.
Invisible
(LA Weekly)
The art of self-deprecation is beating the critic to the criticism in order to sidestep public embarrassment. Twenty-four-year-old writer-actor Anya Warburg takes that art to an audacious new level.
**Critics Pick
Kill Your Television
(Back Stage)
Writer-performer Jeff Gardner's dialogue-free solo comedy packs a wealth of trenchant pop-culture satire and technical wizardry into a lightning-paced 40 minutes.
LA Lights Fire
(Back Stage)
With elements of humor and crude carnality, Joe Calarco portrays 12 men, as a fire rages in the Hollywood Hills.
Lost Moon Radio, Episode 6
(Back Stage)
A too-rare theater occurrence, this latest episode of a serialized variety show that's been appearing every few months at Los Angeles clubs is funny and intelligent.
Love & Sex in the Earth's Spin Cycle
(Back Stage)
Directed by David Ford, Sterling's rather random musings on her misdirected life course after growing up in the South—"the buckle of the Bible Belt"—begin with a clever, spreadsheet-ready breakdown of proper mate selection.
Love Has No Gender
(LA Weekly)
Pacoima-based The Unusual Suspects presents "Love Has No Gender," written and performed by local youth, with guidance from adult artists.
The Minute Hand
(LA Weekly)
In writer-director Stephen Kaliski's play, officers Rip (Lloyd Mulvey) and Charles (Christopher Salazar) are bound to uphold a law that demands women remain confined indoors because of "the war" outside.
Mission of Flowers
(LA Weekly)
Australian actor Leof Kingsford-Smith's solo performance of Gerry Greenland's biographical drama is based on the life and diary of English-Australian aviator Bill Lancaster.
**Critics Pick
The Most Dangerous Woman in America (Machine Guns, Coal Dust, and the Making of the American Dream)
(LA Weekly)
Eighty years after her death, Mother Jones' howl for safe mines and responsible corporations still echoes. Therese Diekhans' hell-raising one-woman show captures the lioness shaming a field of miners about needing an 83-year-old woman to fight their fight.
The Packer
(Back Stage)
Take away the geographical and cultural specifics and remove the heavy Australasian accents, and Dianna Fuemana's gritty solo show starring Jay Ryan and directed by Jeremy Lindsay Taylor could easily take place in any American setting.
Pink Champagne
(Back Stage)
Writer-performer Dylan Jones heads an offbeat musical entertainment, supported by four able dancer-singers (Jay Willick, Addison Witt, Tara Norris, Kaiti Tronnes), under Aryiel Hartman's direction.
The Stories Of César Chávez
(LA Weekly)
Writer-director Fred Blanco's heartfelt, one-man show about the late civil rights leader, labor organizer and United Farm Workers founder seeks to put a human face on the enigmatic and provocative Hispanic messiah.
**Critics Pick
That's What She Said
(Back Stage)
This lesbian-themed, cabaret-style piece, featuring the abundant talents of vocalist Amy Turner and keyboardist-singer Kathryn Lounsbery, is first-rate fun.
**Critics Pick
That's Funny. You Didn't Sound Black on the Phone
(LA Weekly)
African-American actress Jacquetta Szathmari explains that for many years she had "given up on being black," not out of any internalized racism but because she had always disapproved of the narrow definition.
**Critics Pick
T-O-T-A-L-L-Y!
(LA Weekly)
In Kimleigh Smith's one-person show, she portrays herself as a 17-year-old virgin, an ingratiating cheerleader who speaks in Valley-girl cadences, where every sentence is peppered with "totally."
True West Girl
(LA Weekly)
Barbara Lee Bragg's solo show is akin to being accosted by a passionate PETA activist: you believe her genuine emotion, but the unchecked gusher of words and imagery spewing at you is a little hard to take.
**Critics Pick
Unbuttoned
(LA Weekly)
At the end of Andreas Beckett's musical solo show, from backstage he reemerges sporting a Bavarian alpine hat, and then dons a baseball cap as he sings "God Bless America."
**Critics Pick
The Wasteland
(LA Weekly)
Nothing is simple about T.S. Eliot's seminal modernist poem, and co-directors Hilario Saavedra, Jason Bonduris, Celeste Den, Tane Kawasaki and Carla Nassy use it as inspiration for a provocative performance piece.