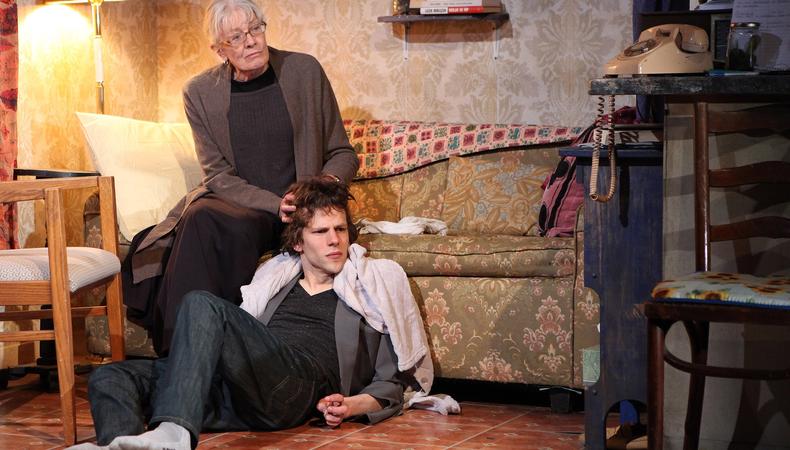 The opportunity to see Vanessa Redgrave act onstage in the intimate confines of Off-Broadway's historic Cherry Lane Theatre is a theatrical event in and of itself. The fact that Jesse Eisenberg not only has written her a meaty role in a nimble play but also performs opposite her ups the ante even more. They make a terrific team in "The Revisionist," a potent consideration of the nature of family.
Septuagenarian Maria lives in a tiny, well-worn flat in the Polish city of Szczecin, on the Baltic Sea. She lost her entire immediate family in the Holocaust, so it's no surprise that some distant American relatives matter to her enormously. One of those is David, a 20-something science-fiction author suffering from a crippling case of writer's block. Neurotic, self-absorbed, and childish, David has had the bright idea of visiting his second cousin in the hope that the radical change of scene will allow him to concentrate and get his new novel back on track. Maria is overjoyed by his visit, thinking that he has come to get to know her, but even though she quickly learns otherwise, she welcomes him. Their divergent agendas, combined with cultural and culinary differences, lead to a spiky, combative relationship that deepens over the course of about half a week. Then a night of vodka drinking brings a revelation that changes everything.
I missed Eisenberg's 2011 debut play, "Asuncion," which Rattlestick Playwrights Theater also produced, but "The Revisionist" proves him to be an imaginative playwright who's not afraid to ask his audience to work. The connect-the-dots script keeps us guessing about this mismatched pair, and what isn't said is as important as what is revealed. At 100 intermissionless minutes, the show might be just a tad too long and a bit structurally repetitive, but these are minor flaws mitigated by Kip Fagan's astute direction, which knows exactly when to linger and when to move.
Redgrave and Eisenberg work together with effortless aplomb. Her Maria is magnetic, full of joy and judgment, funny, hungry for connection, formal but approachable. Redgrave endows her with the weight of the past and a sense of mystery and scales her performance perfectly to the venue. Her use of physicality is striking in its definition of character, and she is remarkable in her ability to switch emotional extremes instantly. His David is a lost soul, ill at ease in his own skin and afflicted with self-hatred. Eisenberg admirably doesn't shy from the character's unattractive qualities, but he also gives David a boyish vulnerability that keeps us from dismissing him.
Also in the cast is the reliably first-rate Daniel Oreskes, as Zenon, a burly divorced taxi driver who has befriended Maria. Oreskes delivers most of his performance in Polish yet expertly conveys the essence of this brash, self-dramatizing, cynical, warmhearted man, whose presence indicates Eisenberg's intelligence as a playwright.
A shout-out to John McDermott's detailed set, which gets a lot of mileage out of a minuscule space. "The Revisionist" is proof that good things often come in small packages.
Presented by Rattlestick Playwrights Theater at the Cherry Lane Theatre, 38 Commerce St., NYC. Feb. 28–April 27. (212) 352-3101, (866) 811-4111, www.theatermania.com, or www.therevisionistplay.com. Casting by Calleri Casting.
Critic's Score: A-