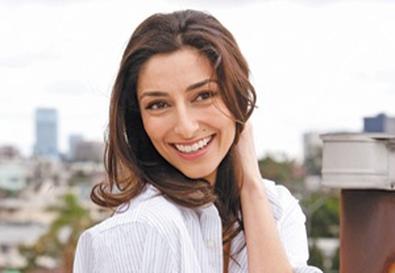 Here I am again, backstage in my dressing room, preparing to go on as the leper in "Bengal Tiger at the Baghdad Zoo." We had a run of the show last year at the Kirk Douglas Theater in Los Angeles, and I have been with this show through every rewrite, new endings, and all kinds of blocking changes; it is a world premiere, so these wonderful sorts of things happen. I know the leper very well. I dare say I know her even better than Rajiv Joseph, and he wrote her. So here we are again, but this time, it's at the Mark Taper Forum in L.A.
It is interesting, revisiting a character who has been hibernating in your inked-up copy of the script for a year. I was also eager to see what would be different, what wouldn't. We had about two weeks of rehearsal this time before we jumped into previews. I guessed we wouldn't be changing much. Boy, was I wrong. Back to work with a full run-through appointed by our director, Moisés Kaufman; a new ending Rajiv had whipped up; and a whole new scene at the top of Act 2. You really gotta love that.
I had this new information I could give my character, not to mention this whole year of life that I had been living. Our first days of rehearsal are intermixed with my last days of shooting on "24" as the so-very-elegant first lady–turned-president, Dalia Hassan, the role I have been portraying for the past year. The characters could really not be further apart. So I must start again, trying to find the leper again.
I remember everything, of course—all my actions and intentions—but the leper exists in this world of magical realism. How can I keep her grounded and real within the imagery? I try harder to remember and re-create what I did, but there is still something inside me, naggingly trying to reach her but unsuccessful, and I become consumed by it, thinking on it constantly, looking for inspiration in the minutia of my day. I tackle her externally, trying different things, first releasing completely the posture I developed all year for Dalia and finding my new footing in the leper. I put on her old necklace, a personal piece I adore that I thought could fit her and that the audience doesn't see but I have tucked under her costume because it's hers. This is good; we are moving closer, but that thing still nags me.
We are in previews, maybe four days from opening. Moisés changes the blocking. It's a thrust stage this time; we have to make adjustments. I go home that night and mull over my leper with my fiancé. He is an actor and possibly sick of hearing about my latest obsession, but he listens and tells me to just do what I want to do. Then it clicks. All the calculations I've been making finally come together, and I realize I don't just have to bring her back; I can also make her new. I have to make her new because I have grown, so she must too. I allow the new blocking to drive my freedom; her character deepens. She also has a new necklace. I fall back in love with the leper, and then, we open.
A graduate of the University of California, Santa Barbara, Necar Zadegan has performed across the globe. Among her screen credits, she can be seen in "Unthinkable" opposite Samuel L. Jackson, and she stars this season on Fox's "24." "Bengal Tiger at the Baghdad Zoo" runs through May 30. www.centertheatregroup.org.