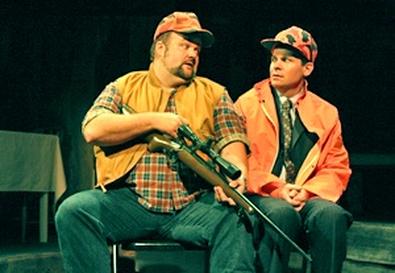 Call Samuel Brett Williams a playwright on the verge. His new play "The Revival" makes for an often absorbing yet ultimately unfulfilling evening. The story of a minister caught between personal desires and public duties is like an incomplete sentence, neither intellectual enough to qualify as a Shavian disquisition on faith and morality nor emotional enough to come across as fearful and moving. Watching someone struggle to reconcile his warring halves ought to be more intellectually and emotionally engaging. The evening suffers from insularity and at times incredulity. Though the characters are drawn with quirks, their wants feel remote.
With roots that go back at least to Shakespeare's "Measure for Measure," Moliere's "Tartuffe," and on through "Elmer Gantry," Williams probes into the nature and varieties of sin. He's not dealing with religious hypocrisy but the roots of ambition. Harvard-educated Eli is a Southern Baptist minister who tries to instill in his congregants the idea that faith is not a sudden emotional conversion. "To rationally choose the irrational," he preaches, "to really think about it, convert, and then keep thinking about it, that I believe is more powerful." His wife, June, is implacable in her faith, while his chief church supporter, Trevor, has his eye on the cashbox, desiring not only to enlarge church membership but turn the institution into an "old-time hellfire-and-brimstone" mega-church.
Eli, rejecting both extremes, has a flaw: He falls for a teenage drifter named Daniel. In line with similar tales, he's faced with a Hobson's choice: Take it or leave it. What he does is the play's crux, of course, in a work filled with cruelty and violence toward both animals and humans. At one point, Daniel likens reading and by extension life to "trying' at get at a ball yaw can't quite reach."
Director Michole Biancosino skillfully emphasizes things the play merely hints at: Eli's concern that his education was for naught, June's anxieties, Daniel's desperation, Trevor's brutality. Trent Dawson's Eli, Aidan Sullivan's June, David Darrow's Daniel, and Raymond McNally's Trevor clearly evoke people walking a tightrope. Despite the script's flaws, Williams could develop into a playwright to watch.

Presented by Project Y Theatre Co. at the Lion Theatre, 410 W. 42nd St., NYC. Sept. 14–25. Tue., 7 p.m.; Wed.–Fri., 8 p.m.; Sat., 2 and 8 p.m.; Sun. 3 p.m. (No performance Wed., Sept. 22.) (212) 239-6200, (800) 432-7250, or www.telecharge.com. Casting by Judy Bowman Casting.