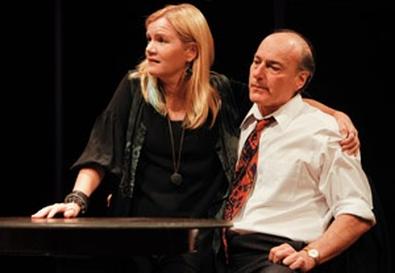 Amy Herzog's "After the Revolution" sounds, from both its title and plot synopsis, like a political drama. But while politics are most definitely involved, at its heart it's a family story of generational conflict. And as delivered by a crackerjack cast under Carolyn Cantor's trim direction, it's a damn good one.

It's 1999, and new law-school grad Emma Joseph is proudly carrying on the Marxist politics of both her father, Ben, a high school teacher, and her recently deceased famous grandfather, Joe, whose political career was destroyed by the anti-Communist witch hunt of the 1950s. Emma has even started a foundation named for her grandfather and taken on the cause of African-American radical activist Mumia Abu-Jamal, sentenced to death for his alleged killing of a Philadelphia police officer. Some of the Joseph family—Ben's second wife, Mel; his brother, Leo, a college professor; and Vera, Joe's second wife and his widow—have gathered to celebrate Emma's graduation. Their happiness is soon undermined by the news that a book about the blacklisting era proves that Joe passed classified information to Soviet agents during World War II. Worse, Ben knew he did but has never told his daughter, who is devastated by the revelation. She doesn't understand why her father, uncle, and stepgrandmother view Joe's behavior as understandable and even moral, given the context of the times, and she's terrified that all she has built is now at risk. How everyone, including Emma's boyfriend Miguel, deals with the wreckage (or doesn't) constitutes the rest of the play.

Politics may drive the characters' behavior, but the conflict is personal. Ben has taught Emma to question authority—except his. He seems to have kept quiet for a selfish reason: Emma is the only child of his or Leo's to carry the family torch. Now daddy's good girl has to stop and take stock. What's really motivating her? Who does she want to be? Katharine Powell beautifully charts Emma's course from confident certainty to bewildered shock to tentative growth. As Ben, Peter Friedman radiates both the conviction of a true believer and a father's deep love for his daughter, and the actor ably limns Ben's torment when they collide. Mark Blum's wry Leo is notable for a subtle sense of detachment mixed with a familial warmth. Lois Smith is a formidable, ruthlessly unsentimental Vera, particularly effective in the play's ambiguous closing scene, when Vera chastises Emma for her choices. Mare Winningham's brightly appealing, sympathetic Mel is a welcome oasis of level-headedness in this high-strung family.

In smaller roles, David Margulies shines as the avuncular Morty, an old friend of Joe's and one of Emma's primary financial supporters; Elliot Villar quietly accents Miguel's greater emotional maturity in his interactions with Emma; and the bewitchingly sandpaper-voiced Meredith Holzman gives Jess, Emma's rebellious sister, who has been in and out of rehab but is currently doing well, an attractive modesty about the hard-won wisdom she's gained from life.

Lighting designer Ben Stanton ingeniously highlights individual objects hanging on the back wall (posters, bookshelves, framed records, etc.) to cue us as to where we are on Clint Ramos' spiffy unit set. Kaye Voyce's period costumes are well-observed and indicative of character (I particularly liked Ben's Keith Haring T-shirt emblazoned with the word "Resist").

"After the Revolution" may not break new ground, but it crackles with intelligence and is laced with welcome wit. I was thoroughly captivated throughout.



Presented by and at Playwrights Horizons, 416 W. 42nd St., NYC. Nov. 10–Dec. 12. Tue.–Fri., 7:30 p.m.; Sat., 2 and 7:30 p.m.; Sun., 2 and 7 p.m. (Additional performance Mon., Nov. 22, 7:30 p.m.; no performance Thu., Nov. 25.) (212) 279-4200 or www.ticketcentral.com. Casting by Alaine Alldaffer and MelCap Casting.