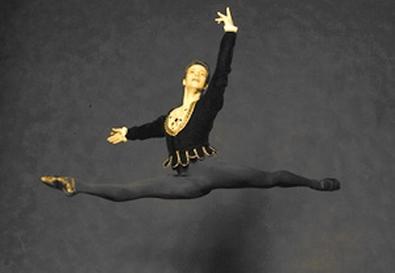 Outstanding technique, an arsenal of awesome physical skills, and mastery of a wide variety of dance styles will get you only so far. If you want to establish and maintain a career as a professional dancer, you need much more than just the ability to dance better than anyone else in the room. Back Stage recently spoke with three successful dance pros, who explain what it takes—besides dance ability—to make it as a professional in Los Angeles, on the ballet stage, and as a Rockette.

One Step Ahead

"You have to be able to stay positive and take rejection well," says Kelly Connolly, an L.A.-based dancer who has performed in musicals at the Kodak Theatre and the Hollywood Bowl, as well as in feature films, music videos, television shows, and on cruise ships. "You can't get discouraged when you don't get a job you really want. For example, I really wanted the 'Fame' movie and I didn't get it. But now I'm on hold for the 'Footloose' film. If I had gotten discouraged after the 'Fame' audition and not gone right out to audition for the next movie, with a positive attitude, I would never have gotten 'Footloose.' "

Connolly also emphasizes the importance of cultivating good relationships with all your co-workers. Through the choreographer of an industrial show Connolly did for a cosmetics company, she booked four episodes of the TV show "Glee." "That choreographer and I had built a relationship," she says. "He trusted me to be professional, to come in and do my job, to be respectful and positive and easy to work with. So when he got hired to work on 'Glee,' he brought me in as a dancer, and then the same thing happened again when he got 'How I Met Your Mother.' So if you can establish good professional relationships, one job just leads to the next."

Good research skills are another necessary asset for a dancer. "I go online every day to see what's out there," Connolly says. "I research upcoming dance movies—that's how I found out about 'Footloose.' You can't be someone who just sits at home and waits for your agent to call. You have to find out as much as you can about what's going on and always be thinking about what you're going to do next." Unlike in New York, where dancers may get long-term jobs in Broadway shows or with concert-dance companies, professional dancers in Los Angeles typically build their careers through a multitude of short-term jobs. A gig in a film, TV show, or commercial may last only a few days, or even a few hours. So to succeed in L.A., a dancer needs to be continually looking ahead to the next project.

"You really have to hustle here," Connolly says. "We have quicker, shorter jobs. So if you're not a hustler, you need to think about picking a different kind of career path." It's the constant hustling that will get you the most-lucrative kind of dance work in L.A.: film and television jobs that pay residuals. Yet if you're someone who prefers a steady paycheck and the consistency of a long-term project, it's still possible to carve out a professional dance career, though Los Angeles may not be the ideal place. "You would probably be happier on Broadway," says Connolly, "though in L.A. there are also live shows you can do. And cruise ship jobs, which usually last from six months to a year, are also a possibility."

Regardless of the path you set for yourself, as a professional dancer you will always need to be a very hard worker, sharply focused, self-motivated, and self-assured. You'll need to approach your dance work as a business and not let criticism or casting decisions affect you personally.

"It's a lot about positive energy," says Connolly, "and about working on yourself. It takes a lot of maintenance. For example, you always have to have your hair looking good and your body in shape. And you have to take the time to dress yourself appropriately for each different audition. While it might be okay in New York, in L.A. you don't usually go to an audition wearing just your dance tights. You have to work more on looking like the type of character they want. If you're auditioning for a Swedish girl, for example, you might put braids in your hair. Or if it's a burlesque movie, you would want to dress like a woman who works in a burlesque house. If you're going on a commercial call, you'll put on a solid-color T-shirt and try to look more like the everyday girl. Looking the part really helps you to nail the job."

Organization Is Key

Born and raised in St. Petersburg, Russia, Mikhail Ilyin has been a member of American Ballet Theatre since 2008. He is also an artist-in-residence with Ballet Mississippi and has danced with the Boston Ballet and as a principal dancer with the Miami City Ballet. "Organization is the key," says Ilyin when asked what, besides his phenomenal technique, has allowed him to build a successful ballet career.

"And I mean organization in many different aspects," he adds. "First, I mean it in terms of organizing an atmosphere and a sequence of opportunities to develop, in which you as a dancer feel comfortable as well as inspired." According to Ilyin, creating and sustaining a professional dance career requires tremendous self-examination and continual re-assessment of your progress. If you can't step back and look at yourself and your work objectively on a regular basis, you may not be able to make the right decisions to further your career.

"I also mean organization of your time," Ilyin says, "realizing what you want, what you need, what needs improvement, what needs maintaining, and setting out the schedule to do all of that." Professional dancers must be acutely sensitive to the needs of their bodies. "You must know when you need to rest or to recover and make sure to take the time out to do that properly," he advises. It's easy to get caught up in a hectic schedule of performances, classes, and auditions, he warns, and to let that dictate how you organize your time rather than your own physical needs: "It is easy to overschedule yourself and overdo it and get injured."

Like Connolly, Ilyin emphasizes the importance of maintaining a positive attitude in the face of the many rejections, disparagements, and disappointments that one is likely to encounter. "You need to be able to turn obstacles into opportunities," he says. For example, he suggests treating a criticism as a chance to improve an aspect of your dancing that may need attention. "You need to be able to organize your mind, as well as everything else. You must feel good—mentally as well as physically—in order to be able to move forward in your career."

Ilyin feels that it's particularly crucial for dancers in New York to possess this strong sense of organization. "This is a very fast-paced city, and it's easy to get scattered or overwhelmed," he explains. "You can easily lose your focus and then get tired, stressed, frustrated, and ultimately injured. It's about pacing yourself and being the kind of person who can stay organized within such a stimulating environment."

Road to the Rockettes

Before she achieved her childhood dream of becoming a Rockette at New York's Radio City Music Hall six years ago, Alyssa Epstein performed in musical theater productions at the Muny in St. Louis and the Paper Mill Playhouse in New Jersey. "I auditioned three times for the Rockettes before I finally got it," she says. "So determination—never taking no for an answer—is what I would say is the most important quality you have to have in order to succeed as a professional dancer."

Epstein also feels it's important to be very "aware." When dancing, particularly as a Rockette, it's vital that you be conscious of every detail and nuance of your own movements and those of the dancers next to you. "We really need to pay attention to the specifics of arms and fingers and elbows and where your eyes are and where your cheek is," she says. "Learning all of that in the auditions and really paying attention is what I feel really helped me book the job." To be a professional, she adds, "you really need to be a smart dancer," which means extending that awareness to everything you can learn about potential jobs. For example, Epstein had to learn the details of the Rockette technique while auditioning, but now Radio City offers intensive summer training so that aspiring Rockettes can study and practice the technique beforehand.

Another required quality on Epstein's list is discipline—regular dance classes, a healthy diet, and always staying in the best physical shape possible. "A lot of people would love to be Radio City Rockettes, so I have to always be on my game," she says. "We have to re-audition for our job every year. There could be a thousand girls vying for my position, so I have to prove each time that I still deserve to be a Rockette."

As a Rockette, Epstein executes more than 300 kicks per show, and during production season the troupe typically performs four shows a day. So no matter how skilled a dancer you are, if you don't have the stamina for such rigorous work, a professional career—at least as a precision dancer—might not be for you. "One of the things we've started to do over the past couple of years is to take ice baths, just like a professional athlete would," Epstein says. "Because we dance six days a week, we only have one day off, and that's a really short time for your muscles to heal, but an ice bath can speed up that process. We go in from our waist down, in about 45 degree water, and sit there for about 10 minutes every day after our rehearsals and shows."

Two other traits necessary for success in the professional dance world, Epstein believes, are a willingness to "put yourself out there" and the courage to ask for feedback about your work. "This is a business where a lot of times you're not sure how you do in an audition or a class, so you can't be afraid to go up to a teacher or a choreographer and ask them what your strengths or weaknesses are, or what they think you should work on," she says. "Most importantly, however, you must be mentally strong, have an inner toughness, and never let the business get you down. You have to believe that if you love it enough and are willing to stick it out, you will eventually find the success you're looking for."