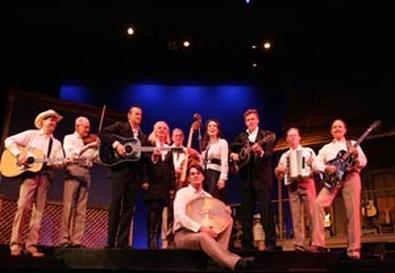 Stage biographies are often tripped up when the actor portraying the celebrity bears little resemblance to that person or, worse, attempts an impersonation that falls flat. Created by Richard Maltby Jr. and William Meade, this revue about the life and music of Johnny Cash neatly sidesteps that problem by using a variety of actors, and even some of the onstage musicians, to portray the Man in Black for nearly three dozen of his songs. By doing this, the show gets at the core of Cash's being and his artistry as a performer. Bits and pieces of Cash's life are dribbled out in brief accessible doses by the 10-person cast (four singer-actors and six musicians), beginning with Cash's birth in Arkansas and culminating in his rise to stardom, romance with June Carter, and death at his lakeside home in Tennessee. Evocative black-and-white photos offer scenic vistas and portraits of Cash at key points in his life.
As a performer, director Jason Edwards' appearance and style most closely approximate Cash's charisma. Edwards is frequently tapped to recount parts of the singer's biography, as in the "Man in Black" segment where Cash describes why he wears black before singing the iconic number. Edwards is most frequently paired with Michelle Duffy, who lends legato phrasing and an expressive tone to "All Over Again." Troy Burgess' emotional tenor captures the lonesome feelings of the introspective "Sunday Morning Coming Down," and Christa Jackson adds a Southern twang and saucy demeanor to "Cry Cry Cry."
Tom Mason's work on guitar and harmonica, Brantley Kearns' fiddle work, and John W. Marshall's percussive style of bass contribute mightily. Some of the best set pieces involve all 10 performers, such as a hoedown-style treatment of "Will the Circle Be Unbroken." Jeff Lisenby's music direction and Jane Lanier's musical staging enliven Lisenby and Steven Bishop's inventive orchestrations, and John Iacovelli's versatile set encompasses a backwoods shack, a prison, and the Grand Ole Opry. This is a superb show not just for Cash's fans but for all fans of the genre and anyone who loves music.
Presented by McCoy Rigby Entertainment at La Mirada Theatre for the Performing Arts, 14900 La Mirada Blvd., La Mirada. June 5–21. Tue.–Thu., 7:30 p.m.; Fri., 8 p.m.; Sat., 2 and 8 p.m.; Sun., 2 and 7 p.m. (562) 944-9801
.
www.lamiradatheatre.com
.