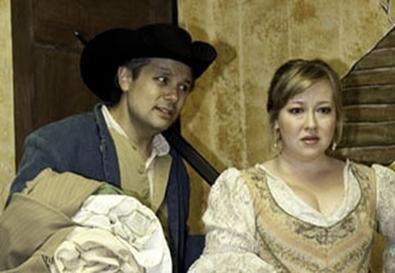 Dan Furman's "Rip!" is an overstuffed but estimable piece of work. Taking Washington Irving's oft-dramatized tale "Rip Van Winkle" as a starting point, composer, lyricist, and book writer Furman—with the help of additional lyrics by Mary-Liz MacNamara—ladles on heavy doses of poignancy along with philosophical meanderings on the nature of redemption, incredibility versus possibility, and other mighty matters, not to mention the political foundations of the American Revolution.
It puts a lot of weight on Irving's slender but durable story of Rip, a playful but shiftless denizen of the pre-Revolutionary Catskills who retreats into the hills from his nagging wife, runs into gnomes playing nine-pins, drinks their liquor, and falls asleep for 20 years. Awakened, he returns to his village, finds his wife dead and America a free country, and settles down into his golden years cared for by his daughter.
In Furman's retelling, Rip's wife, Rebecca, is still alive upon his return, and after some argumentative moments she is ready to start life over with him. He also discovers that a daughter he never knew is dead, as is his best pal, Ben, whose demise in a military skirmish seems to have something to do with Rip's long slumber. Some of this works, but some is simply too much embroidery, as when Rip sings a duet with the ghost of his little daughter about how he should have been a better dad. Megan Cooper directs the show skillfully, but its implied scope puts a palpable burden on the budget limitations of festival showcase presentation.
Rewardingly, though, the production shows off Furman's score, graced with bountiful musicality. It's delivered with aplomb by a generally excellent cast headed by Rob Langeder, who imbues Rip with an easy charm and sings in a fluid baritone. There are impressive performances by Christopher Vertel, playing both a knowing townsman and the ghost of explorer Henry Hudson, who, like a soothing pusher, lures Rip into his long nap, and Chris Gunn, doubling as a boyish Ben and the town's pompous mayor. Sarah Cooney makes a sympathetic Rebecca, and Quinn Shadko has a freshness as her friend Jenny. The accompaniment—with musical director Erik James on piano, David Shenton on violin, and Peter Prosser on cello—is impeccable.
There are plentiful echoes of Sondheim in the lyrics and music—urgent rhythms under extended melody lines—but they come across mostly as inspiration rather than imitation. There's an ear-tickling ode to fishing, and a lively number in which Rip teaches Ben to dance that's probably more Jerry Herman than Sondheim. However, when the awakened Rip sings of the changed landscape "There Used to Be a Tree," it's almost a flip side of Sondheim's "Finishing the Hat." And when the whole company gathers on stage for the hymnlike finale, "Things Are Possible," it's like watching "Sunday in the Park with Rip."
Presented by Wildly Productive Productions and Massimine/Roytman/Presentations as part of the Midtown International Theatre Festival at the June Havoc Theatre, 312 W. 36th St., 1st floor, NYC. July 22–31. Remaining performances: Sun., July 24, 3 p.m.; Wed., July 27, 8:30 p.m.; Sat., July 30, 5:30 p.m.; Sun., July 31, 12:30 p.m. (212) 352-3101, (866) 811-4111, or www.midtownfestival.org. Casting consultant: Jamibeth Margolis.