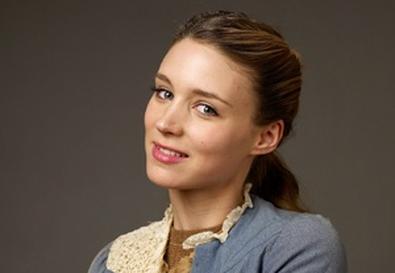 Rooney Mara Where you've seen her before:
In 2009, Rooney Mara made Filmmaker magazine's list of "25 New Faces of Independent Film" after appearing in the indies "The Winning Season," opposite Sam Rockwell; "Dare," with Emmy Rossum; and "Youth in Revolt," with Michael Cera. Those performances led to the leading role of Nancy in Samuel Bayer's remake of "A Nightmare on Elm Street." Mara is currently onscreen in David Fincher's "The Social Network" as Erica, the character who breaks up with Mark Zuckerberg (Jesse Eisenberg), motivating him to start the networking site Facebook.
Upcoming projects:
It was announced in August that Mara would play the much-sought-after—and speculated about—lead role of Lisbeth Salander in Fincher's next project, "The Girl With the Dragon Tattoo," based on Stieg Larsson's international bestseller. Mara is currently in Sweden working on the film, which is set for release in 2011.
Meeting Fincher:
Mara and her elder sister, actor Kate Mara, had been on the radar of casting director Laray Mayfield ("Fight Club," "Zodiac," "The Curious Case of Benjamin Button") for years. "There's always something going on underneath the surface with Rooney," says Mayfield. "She's incredibly intriguing. Not only as an actor, but as a person." Mayfield first introduced Mara to Fincher for "The Social Network." "Rooney's name came up very early on in the casting process," Mayfield says. "Her personality and her take on the character were very right on to what David was already thinking and to what Aaron [Sorkin] had already written, so she got the part."
Always Prepared:
"Rooney is always at the top of her game," says Mayfield in describing the actor's auditions. "She is always prepared, she always has a great attitude, she listens, she takes direction very well, and she incorporates the direction into what she's doing. I think that for any actor, that's the key. You just have to do the work and be prepared as best as you possibly can. She is a very talented, special young girl. I expect lots of big things out of Miss Rooney Mara."
—Jessica Gardner
Bill HeckWhere you've seen him before:
Bill Heck came to the attention of New York theatergoers last season with his moving performance as Horace Robedaux, the lead character in "The Orphans' Home Cycle," Horton Foote's nine-play epic set in rural Texas, presented Off-Broadway over three evenings by the Signature Theatre Company. Heck won the Clarence Derwent Award and was nominated for a Drama Desk Award for his sensitive portrayal of Horace, who goes from young manhood to marriage to fatherhood while dealing with the sorrow of his own father's death and his mother's subsequent rejection. Heck followed that impressive performance with supporting roles in the Public Theater's repertory productions of "The Merchant of Venice" and "The Winter's Tale" at the Delacorte Theater in Central Park.
Upcoming projects:
Although "The Merchant of Venice," which stars Al Pacino, is transferring to Broadway, it will go without Heck. The actor had a previous commitment to return to Signature for another multipart program: a revival of Tony Kushner's two-part play "Angels in America." Heck will play Joe Pitt, the conflicted Mormon who comes to terms with his homosexuality while working for the notorious homophobe and closeted lawyer Roy Cohn. The show is now in previews and will open Oct. 28.
On playing a part made famous by others
: The role of Joe Pitt has already been interpreted by David Marshall Grant (in the Broadway production) and Patrick Wilson (in the TV version on HBO, directed by Mike Nichols). How did Heck face this challenge? "I didn't see the original production," he says, "and I've seen scenes from the movie, but not in any kind of studious, concentrated way. So I have relatively little precedents to work with in my head. That being said, I certainly understand how the play, the movie, and whatever productions people have experienced are a standard part of theatrical vocabulary in our culture. There are a lot of people who are very familiar with it. I understood that was the circumstance, so I have to control my own fears about people's expectations for myself and trust that my take is as valid as another actor's and that I have an excellent director and cast, as well as Tony Kushner, who is working closely with us. I just had to quiet the demons in my mind that said, 'Everyone already knows who Joe Pitt is,' and try to be as true to the character as I was able to be."
N.Y. vs. L.A.:
When Heck graduated from NYU's graduate acting program in 2004, he started working in New York but moved to Los Angeles in 2007. "The Orphans' Home Cycle" brought him back. When asked to compare the two acting centers, Heck offers an anecdote: "When I got to L.A. and went to a Kinko's and it was just filled with young aspiring actors printing and copying résumés, it struck me that is the motor of that town, the entertainment industry, in large part. At least it felt that way to me. In New York, there is clearly a deep and expansive acting community, but it feels much more concentrated, and it feels easier to get out of it if you need some time for yourself."
Remaining open to possibilities:
Heck plans to remain bicoastal and suggests to younger actors that they stay open to all possibilities. "What I really learned since coming out of school is that there's no template for how an acting career works," he says. "The nature of the business is so changeable and flexible that there's no one way about it. That can be very frustrating because there's less concrete to hold on to, but it was useful to me when I finally accepted that. As long as I was staying active and maintaining my ambition and desire, then I was able to be okay with where my path was leading me. It made me feel there were more options available to me. It didn't mean I was doing wrong if I wasn't following a standard set of options. Accepting that there was no single way about it opened me up to more possibilities and made the variety of possibilities all the more satisfying."
—David Sheward
Joshua HenryWhere you've seen him before:
Joshua Henry literally burst onto Broadway when he popped out of an Army recruitment poster in "American Idiot," the rock musical based on Green Day's best-selling album. His explosive rendition of "Favorite Son" made him a standout in the show's ensemble. His only previous Broadway credit was "In the Heights."
Upcoming projects:
Henry will graduate from that ensemble role to the lead in the Broadway transfer of "The Scottsboro Boys," directed and choreographed by Susan Stroman. The controversial musical, based on a true incident in the 1930s in which several young African-American men were unjustly accused of raping two white women, ran at Off-Broadway's Vineyard Theatre last season. When plans were announced to move it to Broadway following an engagement at the Guthrie Theater in Minneapolis, leading man Brandon Victor Dixon dropped out to take the title role in "Unchain My Heart: The Ray Charles Musical," and Henry stepped in. "The Scottsboro Boys" is currently in previews at the Lyceum Theatre and will open Oct. 31.

On taking over a role:
Henry faced the particular challenge of taking over a major role with a company that had already worked together. "You're stepping into it fresh and you want to put your spin, your take on it," he says. "That's the great thing about Susan Stroman and the rest of the creative team: From day one of rehearsal, the first thing they did was they sat me down and said, 'This is your role. If there is anything we need to change, if it doesn't feel good coming off your lips or a key to a song just doesn't feel right, we're going to change it, because you don't have to do anything that's been existing before.' So they automatically gave me that freedom to try things and to just fall flat on my face from the first day, which really helped."
Adjusting to different styles:
Before leaving for Minneapolis, Henry would rehearse "The Scottsboro Boys"—which features a traditional Broadway-style score by John Kander and the late Fred Ebb—by day and perform "American Idiot" by night. "Kander and Ebb and Rodgers and Hammerstein call for very broad legato singing," he says, "while the punk for 'American Idiot' is just whaling at the top of my lungs, really high singing and head-banging as well, just thrashing your body around. I loved that musical; it was amazing to do that. With Susan Stroman's style, it's more placed physically and a little more in control vocally. It was night and day. I felt really blessed to be able to do those different styles at the same time."
Giving it your all, even for free:
When asked for his advice to struggling performers, Henry's answer is immediate: "Always do your best, no matter what the project. You're going to do a lot of things for free. I always tell the story of how I was cast in 'American Idiot.' I did a free benefit, a night of James Brown songs, at Birdland once. Three years later, I auditioned for Michael Mayer, the director of 'American Idiot,' and he hired me. He said, 'We saw you singing that James Brown song and we knew right then that we had to have you.' That just made me think: Since I was doing it for free and there were only 20 people in the audience, I could have easily thrown it away and walked through the motions. You never know who's watching you, so give it everything. You're really blessed to be a performer, so why not give it all you have at every moment?"
—David Sheward
Billy GardellWhere you've seen him before:
Since he was 19 years old, Pittsburgh native Billy Gardell has been a working standup comedian touring the country and the world. As an actor, he has specialized in larger-than-life characters who sport an equally large heart. Gardell made headway as a go-to comedic actor in 2003—on the big screen with a small role as a sarcastic security guard pitted against Billy Bob Thornton in "Bad Santa," and on the small screen with a major supporting role in the John Corbett–starring series "Lucky." He then portrayed the jocular Billy Colavita on the CBS comedy "Yes, Dear," Det. Billy O'Brien on the NBC crime dramedy "Heist," and the recurring Officer Hoyne on "My Name Is Earl."

Upcoming projects:
Gardell steps out of the passenger seat of supporting roles and behind the wheel as Mike Biggs on the new CBS sitcom "Mike & Molly." Running against the youth-obsessed culture and easy sitcom glibness, the show aims instead for the heart, following the lives and romance of two working-class people who meet at Overeaters Anonymous.
On the call that changed his life:
"I got an audition with Chuck Lorre and Mark Roberts for 'Mike & Molly,' " says Gardell of the "Two and a Half Men" producing team. "I went in there honestly thinking, 'If I get in front of these guys, maybe they'll bring me in for a recurring part or a guest-starring part later down the line.' " Unbeknownst to him, Lorre—producer of such sitcoms as "Roseanne," "Dharma & Greg," and "The Big Bang Theory"—had something else in mind. "I got on a plane to Houston to perform my standup at the Laugh Spot," Gardell continues. "And on Friday before the show, Chuck Lorre's office called and said, 'Chuck Lorre would like to speak with you.' He said, 'I think you're my guy, I think you're perfect for this, I think you're the Gleason of this generation, and I want you to come in and test for the show.' It's that phone call in Hollywood that you don't think is ever going to happen. It was surreal."
Career impact:
Gardell says acting and standup, which he's been doing for 22 years, have gone hand-in-hand his entire career, so the boost he gets from "Mike & Molly" will dovetail easily with his other passion. "I just did a one-hour special for Comedy Central that's going to come out in February," he says. "So if it keeps rolling, it should allow me to stay home and do standup at my leisure, which would make it fun again." But if two decades on the road has taught him anything, it's humility. "I have a joke with the guard at the guard gate," Gardell says. "He zaps my pass, and I always say, 'Still good?,' and he says, 'Still good!' I go in there grateful every day. I've been beat up enough to know that this is a once-in-a-lifetime thing."
—Ben Rock
Dot Marie JonesWhere you've seen her before:
Where haven't you seen her? Dot Marie Jones most recently made headlines when she was cast on Fox's "Glee" as Coach Shannon Beiste (pronounced "beast"), a role created for her as a foil to Jane Lynch's snarky Sue Sylvester. But Jones has a long list of credits playing the "muscular woman" type, with roles on "Hawthorne," "Prison Break," "Lizzie McGuire," and Ryan Murphy's "Nip/Tuck." Being typecast, however, doesn't faze her. "I was probably in an orange jumpsuit six times in the past three years," she jokes. "If it's paying my bills, let them bring it." After three episodes of "Nip/Tuck," Jones landed the role of a transgender man on Murphy's "Pretty/Handsome," the "Glee" co-creator's pilot for FX. "I went from 5-foot-6 to 6-foot-1 in eighth grade, so I was always tall and always bigger, and people always looked and stared at me," Jones says. "It's kind of what Coach Beiste is going through in the first episode: being looked at like she's a freak and people messing with her."
Upcoming projects:
Jones has five episodes of "Glee" booked and is ready for the media onslaught that comes with being on the ratings juggernaut. "It's pretty amazing when you see it. And then to live it, it's beyond my wildest dreams," she says. "I'm afraid I'm going to wake up." Can "Glee" handle two snarky coaches? "Oh, heck yeah," Jones says. "Coach Beiste is almost someone to put Jane in her place, but then I try to be tough but have a soft, vulnerable side, and she thinks she's going to take control. I know she has some emotional stuff going on from growing up big—kind of like my real life—but I don't think there's any soft spots on Coach Beiste that have come up." In 2011's "Bad Teacher," with Cameron Diaz, Eric Stonestreet, Jason Segel, and Molly Shannon, Jones goes out on a limb and plays a gym trainer who sells steroids. "Yeah, that was a stretch," she jokes.
Dressing the part:
Jones had zero acting experience when a friend and fellow bodybuilder—Shirley Eson of "American Gladiators"—suggested that she audition for "Knights and Warriors," a 1992 series that was casting athletic women. After sailing through the agility tests, Jones got a call to come back the next day for a cold read. "I asked what I should wear, since I'd never auditioned or did any theater," she recalls. The casting director "said to wear my best warrior outfit. So I got a sweatshirt and cut it up, and I had some zebra-print workout pants that I wore—this was 1991—and I went in thinking, 'What the hell is this cold read? Are we reading in a freezer or something?' I had no idea what that meant." Twenty-six episodes later, Jones had an agent—whom she's still with—and booked a "muscular woman" role on "Full House."
Giving thanks:
Jones, who studied criminology at Fresno State, which she attended on a track scholarship as a shot-putter, keeps it simple and is grateful for the work. "I cannot believe it's been 19 years since I did 'Knights and Warriors,' " she says. And when lightning doesn't strike—like when "Pretty/Handsome" wasn't picked up—she keeps things in perspective: "It was really sad, but then I thought that something would happen with it or something better would come along. If it weren't for 'Pretty/Handsome,' I wouldn't be on 'Glee' right now. If that was a steppingstone for me to get to 'Glee,' then by God I'll take it. There's 5,000 women who would take my spot in one minute, and I know that. I'm so thankful for what I'm doing."
—Lesley Goldberg


James WolkWhere you've seen him before:
James Wolk starred as Brad Cohen, a teacher with Tourette's syndrome, in the 2008 Hallmark Hall of Fame telefilm "Front of the Class," a role he landed during an impromptu trip to Los Angeles. "Before I got it, the casting director said I wasn't doing Tourette's right," Wolk recalls. "I left the audition, Googled Brad Cohen when he was on 'Oprah,' and I watched him. I went back and auditioned for the producers and got the part that day."
Upcoming projects:
At 25, Wolk found himself front and center as a likable con man on Fox's short-lived freshman drama "Lone Star," a role he would not have scored had he not opted to remain in L.A. after securing representation following "Front of the Class." After that telepic, he began studying with actor Brad Henke, whom Wolk met on a pilot, and booked the feature film "You Again," with Kristen Bell, Betty White, Sigourney Weaver, Jamie Lee Curtis, and Victor Garber. After completing his work on "You Again," Wolk gave his undivided attention to "Lone Star." "[My character is] multidimensional, he's charismatic but has a dark side, and he's leading these interesting double lives," says Wolk, who tapped into "embellished stories" his father used to tell him about trips out West as inspiration to play the ambiguous character.
Breaking in:
By age 10, Wolk was drawn to acting. "I remember watching Dean Martin, Jerry Lewis, and Elvis movies—these crazy old movies that had all this entertainment and energy in them—and being drawn to that," he says. "My parents put me in front of that sort of stuff, and I was very attracted to it and wanted to be part of that energy." Wolk credits his high school musical director with pushing him into acting and recalls landing his first role—Johnny Casino in "Grease"—as a freshman. "Freshmen didn't get parts," he says. "But I got Johnny Casino, and I taught everyone how to do the hand jive. I could do the hand jive right now," he jokes. "I got that in my back pocket." After studying acting at the University of Michigan for four years, Wolk headed to New York, where he learned to take charge at auditions: "My worst audition was auditioning for a musical in New York, and I shouldn't have been, because I'm not a Broadway singer. It was for a tenor and I was a bass. I went in and tried to hit these notes, and when I commit, I commit. So I just went for it. I was screaming at the top of my lungs like a lunatic, and at the end of the audition they gave me an impromptu monologue. I made the craziest decision ever, to throw a chair across the room, and thought maybe they would think I was acting. It was very funny and very awful."

His philosophy:
Wolk remembers "falling in love with" acting coach Anthony Abeson's approach while in New York. "I had always thought about acting, but it was someone who finally spoke the words that I'd always thought in my head," he says of studying with Abeson. "It's about the energy; it's about reacting—why you say something that you're saying, what are you taking in to say that, what is making you say that—because in real life that is how we speak. Something occurs, and you want to chase that or affect that. That's what we spoke about in the class. It just made it so tangible, so simple. Instead of this magical thing, it became this very tangible thing that I could feel and touch."
—Lesley Goldberg