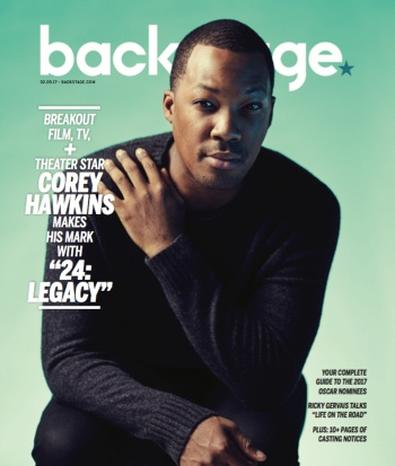 "There's an old saying that [goes] 'If not now, when? And if not me, who?' " says Corey Hawkins. "People don't expect this young black kid to step into a role that Kiefer Sutherland made, [but] I just have no interest in doing anything that's easy or anything that people expect."
From his Juilliard audition, when he forgot his prepared monologue and got in off a YouTube piece he had memorized years before, to his breakout role in "Straight Outta Compton," playing one of the biggest hip-hop icons of all time, and now with his current project as the star of the newest addition to the "24" world, Hawkins knows how to take risks.
But the unexpected often comes with doubt. "With '24: Legacy,' there are a lot of people who are super excited about the show," he says. "But there are a lot of people who are very skeptical."
The pressure of a well-known narrative with a rabid fan base, as Fox's popular real-time military series has, isn't new for the actor. He's taken on roles in established franchises, including "The Walking Dead" and the King Kong reimagining "Kong: Skull Island" (in theaters March 10), and the filmic retelling of '80s hip-hop group N.W.A.'s rise to prominence. Rather than discourage Hawkins, it's precisely this tension that drives him.
When he first auditioned to play Dr. Dre in 2015's "Straight Outta Compton," the actor was so afraid of botching the seminal story that he nearly turned down the opportunity when the offer came in. But Hawkins used that fear and rose to the challenge in a role that would give him his first taste of leading man status. It also served as a preview for "24" creators Evan Katz and Manny Coto, who cast Hawkins based solely off his performance in "Compton."
"On a basic level, he was just a tremendous actor," Coto tells Backstage over the phone. He points to one scene in particular, in which the members of N.W.A. are being harassed by police officers outside their music studio, that sealed the deal for the creative team. "There was a look that Corey flashed in that scene; that energy, that look, that anger made me say, 'This is the guy.' "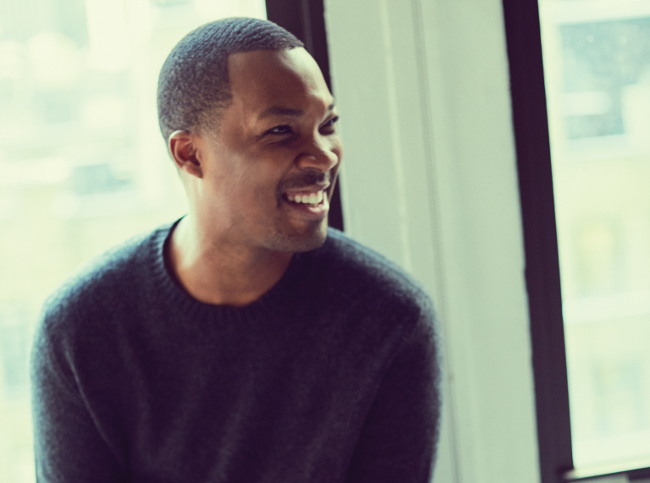 With nothing but his interpretation of Dr. Dre to go on, they offered Hawkins the "24" part via Skype while the actor was filming in Vietnam, one of five locations for "Kong: Skull Island." Already a fan of the original series, Hawkins accepted and immediately enlisted the stunt team and military men on the "Kong" set to help prepare him to play Eric Carter, a former special ops Army ranger living in witness protection after returning from service.
"[The 'Kong' stuntmen] really helped me fall into shape for when I got off the plane," Hawkins says at Soho House in Manhattan's Meatpacking District. "I literally got off the plane and went straight to the network read with the producers—Howard Gordon, Manny Coto, Evan Katz. Like, everybody was there, and it was their first time seeing me reading and hearing me read it. But once we got through that, all the training sort of kicked in, and [the] work, and then the research."
Hawkins brings a genuine curiosity to his deep dives into understanding the characters he plays—"I'm so OCD about prep work and learning lines and stuff," he says—and credits his Juilliard training and its overarching approach to multiple techniques such as Meisner, Stanislavsky, and classical with teaching him to diversify his connection to the craft.
READ: 8 Important Acting Techniques (in Gifs!)
"[Juilliard helped me] figure out whatever it was that I needed in that moment, in that sandbox," he says. "You just use the tool that's available to you, and that [tool], we learned, was just for the 99 percent of the time you're not inspired and having one of those 'actor clarity' moments. Then you have that 1 percent where you're just on it and in it, and then it's just magic. The rest of the time you have to use those tools, and I'm finding that it's different depending on what project it is I'm working on."
Previously, the actor's most substantial TV experience had been on "The Walking Dead," playing Heath on Seasons 6 and 7 of the apocalyptic zombie series. Although it was also a physical show, Hawkins chose to latch onto his "Legacy" character's background as a former soldier and insisted on doing all of his own stunts. "They got me running, running on top of cars, dodging in and out of moving traffic—and that's just the beginning," he says with a laugh. "They got me doing crazy stuff. But I love it."
READ: How to Get Cast on 'The Walking Dead'
Premiering last Sunday, Feb. 5, in the coveted post–Super Bowl slot on Fox, the series picked up as the military man's work follows him home. Terrorist forces are threatening to kill his family and his squad before launching a massive attack on American soil. In true "24" fashion, it's a real-time race against the clock to stop a catastrophe.
While the stunt work is a new addition to Hawkins' résumé, in looking to improve his skill set, he's also strengthening those he already has. Come April, he'll be starring in Broadway's upcoming revival of "Six Degrees of Separation," opposite seven-time Emmy winner Allison Janney and Tony winner John Benjamin Hickey. Written by John Guare and directed by Trip Cullman, Hawkins plays Paul, a man who infiltrates a wealthy New York City couple's life by posing as their son's college friend and Sidney Poitier's offspring. It's a well-suited role for the actor, who named Poitier as his ideal mentor in an interview with Forbes.
"Sidney is just the quintessential representation of what it means to come into a country, to be a foreigner, to be that idea of diversity exemplified. He embodies that success—whatever your idea of success is. His body of work sort of speaks for him," Hawkins says. That a role is a meaningful addition to his larger canon of work is his only requirement for the projects he chooses, and it's a standard he's maintained from the get-go: Even when he was living in Harlem in a tiny apartment, trying to make it as an actor, he remained choosy in the roles he took—much to the objection of his agents.
"But they stuck with me," Hawkins says. "They understood that it wasn't just about the quantity, that it was the quality of what we're trying to build and what I'm interested in," he says. "You read things and they come to you, and if they speak to you at the moment and there's a voice in you that says, 'I don't know, that's risky' or 'That's challenging,' then do it. Run at it and tackle it. And if it's bad, it's bad. You're gonna get over it. I would have been pissed if I didn't take on '24.' I would have been pissed if I didn't take on Dre for ['Straight Outta Compton']; pissed if I didn't do 'Walking Dead.' There's no wrong choice, because whatever you choose, that's meant for you."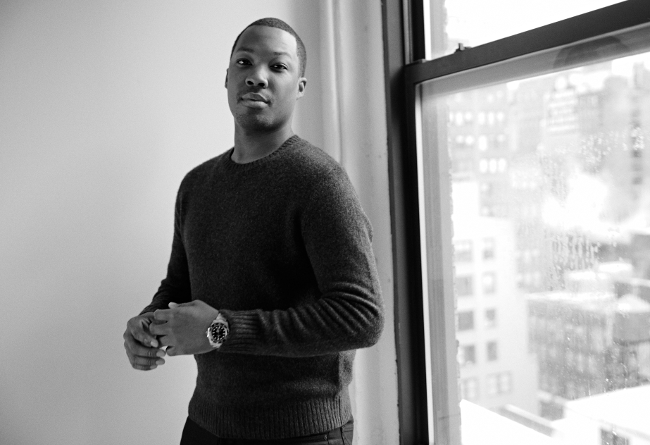 ---
Labor of Love
When Corey Hawkins sat down to speak with Backstage in mid-January, he was reflecting on the previous evening's Golden Globes, when Viola Davis introduced Meryl Streep as she accepted her Lifetime Achievement Award.
"She makes the most heroic characters vulnerable; the most known, familiar; the most despised, relatable," Davis said of the legendary actor. "Her artistry reminds us of the impact of what it means to be an artist, which is to make us feel less alone."
The observation was rousing for a young actor like Hawkins.
"It's that responsibility to tell stories and to allow an audience member to sit with a character, whether uncomfortably or comfortably or whatever it is, for however long, whether [in] theater [or on] film," he says. "It's why you've got to pick projects that you're passionate about. Why you've got to pick things that you like talking about and that you like doing, because when you're working six months on something, you want to make the trip back to talk about whatever it is."
Check out our TV audition listings!