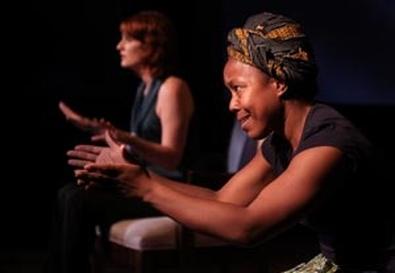 Exploring topics ranging from an unintended consequence of the civil rights struggle to the perils of treating mortal diseases in Africa, "The River Crosses Rivers II," a collection of nine 10-minute plays penned by women of color that's currently running at Ensemble Studio Theatre, creates a mosaic of contemporary life from authorial voices heard all too infrequently on our stages.
"Post Black," one of the evening's two gems, presents the shock and disappointment of Pearl, a 110-year-old African-American woman who realizes that the young black people she encounters in an airport have no respect for what their ancestors suffered so their descendants could have the freedom to be loud and shallow. Carmen DeLavallade delivers a powerful performance in this stinging and surprising piece, written and directed by Regina Taylor. (Ruby Dee alternates performances with DeLavallade.)
The other standout, "Waking Up," consists of monologues spoken by two women, one a privileged American and the other a poor African, about their experiences with breast cancer and their countries' widely dissimilar medical systems. Writer Cori Thomas prevents her play from becoming a political diatribe about the disparity between First and Third World medicine by dramatizing the women's shared humanity as they combat fear and inch toward hope. She is abetted by the simple direction of Tea Alagic and strong performances from Lynnette Freeman as the African woman and Amy Staats as her American counterpart.
Comedy takes center stage in "Skin," written by Naveen Bahar Choudhury and directed by Jamie Richards. Winning performances by Vandit Bhatt and Nitya Vidyasagar as two Bengali students who meet at a college clinic keep this sketchlike piece brisk and watchable.
"Modern Romance," in which a married woman named Tonya fantasizes an affair based on plot elements she gleans from a romance novel, is also little more than a sketch, but playwright Bridgette Wimberly, director Chuck Patterson, and Trish McCall, who plays Tonya, wring humor from its well-worn premise.
Another fantasy, this one dealing with racial reparations, animates "The Settlement," the tale of an African-American woman named Shirley who arrives at the house of Isaac and Rebecca, a white couple, and turns them out with the backing of a tattered handwritten contract. Written by Philana Omorotionmwan and directed by A. Dean Irby, this biting reversal-of-fortunes story has a delicious ending.
A young woman learns to swim after her father dies and in so doing arrives at a deeper understanding of him in "Learning to Swim." Thanks in large part to Ashley Bryant's sympathetic daughter, playwright France-Luce Benson and director Elizabeth Van Dyke find life in a rather commonplace setup.
A compelling performance from Amelia Workman as a mixed-race woman who fears that her future children won't know or appreciate their African-American heritage buoys "One Quarter," written by Christine Jean Chambers and directed by Talvin Wilks.
In "One for the Brothers, a Love Story," written by Pearl Cleage and directed by Woodie King Jr., a woman determines not to forget the homeless man and the young radicals she knew in her youth. However, because her motivation for doing so isn't clear, the play fails to move or illuminate.
Desi Moreno-Penson's "Comida de Puta (F#@king Lousy Food)," a resetting of "Phaedra" in a Bronx bodega, suffers from over-the-top writing that makes supposedly steamy scenes unintentionally funny. Artless staging by director José Zayas provides no relief.
Like most evenings of 10-minute plays, "The River Crosses Rivers II" is a scattershot affair. However, "Post Black" and "Waking Up" elevate what could have been an evening of niche programming into a celebration of universal theater.
Presented by Going to the River 2011 and Ensemble Studio Theatre at Ensemble Studio Theatre, 549 W. 52nd St., NYC. Sept. 17–Oct. 2. Wed.–Sat., 7 p.m.; Sun., 3 p.m. (212) 352-3101, (866) 811-4111, or www.ensemblestudiotheatre.org. Casting by Tom Rowan.