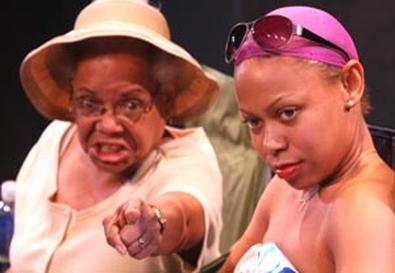 It takes a real love of fleeting moments in the human experience to fashion short plays as generally insightful as these. While created by women playwrights of color, what's alluring about them isn't an obsession with ethnicity. Indeed, the topic of ethnicity is often secondary to more universal—and more beautiful—explorations.
Naveen Bahar Choudhury's absurdist "The Kitchen, or 9½ Minutes of Subcontinental Absurdity," directed by Jamie Richards, begins the evening nicely. Raj (Andrew Guilarte) and Samia (Sakina Jaffrey) are Indian parents of 38-year-old Nina (Yasmin Kazi), who announces she'll bear a child out of wedlock. Infuriated, Samia presses an emergency button on a wall, calling forth a handsome suitor, Salman's Son (Seril James). A "Slumdog Millionaire"–style musical reverie ensues.
Later, Kara Lee Corthron's "Ladybug Gonna Getcha," directed by Pat Golden, doubles the number of cartoon works in the evening. Ladybug (Toks Olagundoye) is an African-American punk rocker circa 1980, with a horrendous Long Island accent and limited talent. Cockroach (Adam Couperthwaite), her white manager, is more interested in Debbie Harry of Blondie, performing just offstage. A hissy fit, some great lines, and a gun take care of all that.
Other pieces, like Ruby Dee's bracing "The Step-Mother," quell all the laughter. Dolores (Mary Hodges) darts in and out of the kitchen, where Momsey (Carmen Delavallade) sits popping bubble wrap. The barely concealed loathing Dolores feels for Momsey infects each syllable of her dialogue. Hodges' performance, therefore, is hard to watch. In fact, exactly what Momsey did to earn such antipathy remains unclear, but watching Dolores castigate her, nearly strip her of her dignity, has astonishing power. That Momsey regains her dignity later is a tribute to how Delavallade finds a measure of hope in her hard-edged, elusive character. Chuck Patterson's direction is brisk—risky, too. All in all, this is promising work.
N.N. Ewing's "Angels in the Parking Lot," about a wife who learns, through a purple-poetry-loving ghost, that her husband cheats on her, is less promising. Awkwardly written, it isn't helped by Seret Scott's scattershot staging.
Most often, though, the directors clarify the writing. Talvin Wilks' work on Lynn Nottage's "Banana Beer Bath," for one, involves no staging—just a woman (Elain Graham) in a chair relating a terror-filled tale of a rape, murder, and the title brew. Clinton Turner Davis' staging of Bridgette Wimberly's "Rally" emphasizes the generation gap between a grandmother and granddaughter by how the characters move. And Holli Harms' blocking of France-Luce Benson's "Risen From the Dough"—about two Haitian sisters, budding restaurateurs who are awaiting a visit from the board of health—is so good that it allows a whole series of small dramatic moments to rise with life.
Presented by the Ensemble Studio Theatre and Going to the River at the Ensemble Studio Theatre, 549 W. 52nd St., NYC. Sept. 11–27. Schedule varies. (212) 352-3101, (866) 811-4111, www.theatermania.com, or www.ensemblestudiotheatre.org. Casting by Destiny Lilly.