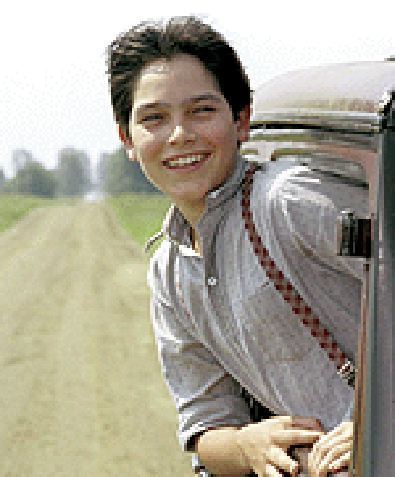 While casting director Debra Zane has held a number of national searches for talent and helped to launch the careers of such actors as Michael Clarke Duncan in The Green Mile, Wes Bentley in American Beauty, and Erika Christensen in Traffic, Zane has never been personally involved in the casting of a complete unknown in a lead role--that is until she cast 13-year-old Tyler Hoechlin opposite Tom Hanks, Paul Newman, and Jude Law in the Sam Mendes-directed gangster film Road to Perdition, one of the most anticipated movie releases this summer.
"In my experience, never in a role of this size [has an unknown been cast]," said Zane. "I think if the role is big enough and it requires an adult and you're not someone who's established, you could find your way into a nice, small role, but I can't imagine you getting a co-lead in a movie. A kid's a different story."
In the case of Road to Perdition, the film's producers--Richard D. Zanuck, Dean Zanuck, and Mendes--were specifically looking for a fresh face to play Hanks' eldest son, who accompanies his mob hit-man father on a blood-filled journey of revenge. As Zane shared, experience was helpful but not necessary. "It just had to be the right kid," she said, "someone who had a resemblance [to Hanks] and who looked like he could be an Irish, scrappy kid in a period drama."
Zane found out that those casting requirements were easier said than found. Along with her casting associate, Terri Taylor, she traveled to New York, Boston, and Chicago to hold open calls for the role. They saw approximately 500 children in each city before returning to their home base in Los Angeles to hold more auditions.
"In every city there were maybe two or three kids that we thought had the potential to be seen by Sam," said Zane. "And at every turn, when we'd show Sam the tapes, there was always something missing."
Back in L.A., Taylor pulled out a couple of headshots from a file she and Zane kept. The pictures were of Tyler and his 11-year-old brother, Tanner. Taylor called the boys' agent, Kimberly Gola, at Amatruda, Benson & Associates to set up an audition with, initially, only Tanner.
As Zane explained, "Right before we started [casting the film], I saw a full-page ad in The New York Times for Guess Kids. It was of this beautiful boy. I tore out the page and brought it to the office and said to Terri, 'I don't know who this kid is, but let's see if he's in L.A. and if he's an actor,' because a lot of times those kids are not actors and they don't live in L.A."
The Guess ad featured Tanner (Tyler has also done print work for Guess), who lives in Corona, Calif., an hour south of L.A. but close enough for Zane to keep Tanner in consideration. When Tanner's agent finally got the call from Zane's office about the Road to Perdition audition, Gola suggested that Zane might also want to see Tyler, who was closer in age to the character breakdown. Zane said, "Let's do it." As the casting director told Back Stage West, "We had nothing to lose. We were basically still at the drawing board."
That's the Kid
Interestingly, Tyler nearly turned down the audition because of his strong religious beliefs. One of the lines he was required to read included, as he put it, "G-O-D damn."
"The lines were not something that I wanted to do because I'm a Christian and they weren't very Christian-like. So I said no," recalled the now 14-year-old Tyler, who in a recent interview with Back Stage West used the word "gosh" frequently but never once took the Lord's name in vain.
However, Tyler accompanied his brother to the audition with Zane, and when Tanner went ahead with his own audition, brotherly competition arose. "I was like, If he's going in, I'm going in. I'm not going to sit here. So I went in and did it," said Tyler.
As Zane recalled, Tyler essentially walked into the room and walked out with the role. She told Back Stage West, "When we got into the room with Tyler and he opened his mouth to say the first thing, Terri gasped and she grabbed my arm. I tried to ignore it, like, Don't make a big deal. Don't let him know that. We interviewed him afterward on tape so we could give Sam a really full sense of who the kid was, because we were very impressed with him. We sent the audition to Sam. He called us up and he said, 'That's the kid.'"
Soon after, Mendes set up a meeting in L.A. with the young unknown. Tyler left the callback with the part promised to him.
Mendes commented, "It's what you hope for--that you will turn on a tape and within two seconds know this is the one. Then you just pray that when you actually meet the actor, he's everything you hoped he would be. The moment Tyler walked into the room, it was clear he had something special, and I defy anyone not to notice it the minute he appears on the screen. He's a very skilled young actor with wisdom in his eyes that belies his years."
100,000 Miles
Like most discovery stories pertaining to actors, Tyler did not exactly come out of nowhere to land the Road to Perdition role. He had been going on auditions for four years before landing this part and had trained since the age of 9. He won his first film role in Family Tree, which screened at the 1999 Cannes Film Festival and starred Robert Forster and Naomi Judd. In 2001 he starred in the independent film Train Quest, which was shot in Romania and has not yet been released.
"I've put 100,000 miles on my car in two and a half years," said Tyler's mother, Lori, who fully supports her children's interests: acting or sports. Apart from acting, Tyler is an avid baseball player, playing shortstop for the Corona Wolverines, ranked No. 1 in its state division. It's his dream to play the sport professionally, and if he had to choose between baseball and acting, he'd be torn.
Tyler began acting in commercials when he was a young child. "Tried," corrected Lori at a recent sit-down interview with Tyler. "He was a momma's boy. It didn't work out."
When Tyler was 9, he and Tanner received invitations in the mail to try out for an acting school. Though Lori was wary of the school's intentions, she allowed her sons to audition and paid the considerable fee for their acceptance into the school.
Noted Lori, "I knew the class was probably a money-maker thing, like a lot of those schools are. In fact, it's not even around anymore. And it was a good outlay of cash in the beginning, but my feeling was, I was home-schooling them at the time and I thought just for them to be able to have that social time with other kids [would be good]. And I did believe in them, and I thought they could do well, just because of how they've acted around adults. I've just always encouraged them to do whatever it is that they want to do."
Tyler's mom does not come across as a stereotypical stage mom. She and her husband have a successful e-commerce business and do not seem to be pushing Tyler (or Tanner), nor their two other children, for financial gain.
Agent Gola said, "His parents are the best parents I have ever worked with. Their dedication is amazing--the parents driving from where they live all the time. They never miss auditions. The whole family is a unit and is really dedicated to what is best for all of them. It's a karmic thing; I think they deserve everything they have."
Gola certainly knows good from bad stage parenting. She used to represent Jena Malone, whose mother battled with Jena's representatives over financial matters, eventually leading the teen actress to seek legal emancipation. "The parenting style between [Malone's mother] and the Hoechlins is so different," said Gola, adding that part of what distinguishes the Hoechlins is their strong religious beliefs.
Asked if the Hoechlins' faith ever conflicts with Gola's pursuit of work for Tyler and Tanner, the agent replied, "What I generally do is, if there is a script that I think is questionable, I will send it to the parents first and tell them to read it and let me know before I pursue it. And there have been times when they've said, 'I don't think so.'"
Lori acknowledged that she and her husband are choosy when it comes to script content. Still, she doesn't see that getting in the way of Tyler's or Tanner's acting. "I've had a lot of people ask me if we had a hard time with the script [for Road to Perdition] being so violent. To me, the movie is not overly violent. It's classy the way they did it. Even with the gory scenes, they didn't stay on it," said Lori.
Her main worry now is not whether her remarkably grounded, well-mannered son will remain true to his Christian faith but whether Tyler will have any privacy once Road to Perdition introduces him to audiences.
"The only thing I'm concerned about is his private life," said Lori. "He's been able to go and do whatever he's pleased, and that changing makes me a little nervous. He's been able to live a normal life and he wants to continue that [Tyler plans to leave home-schooling to attend public high school this fall]. I have mixed feelings. It's exciting to make it big, and at the same time the exposure is more than you want it to be. But Tyler's got a good head on his shoulders, and I think he'll handle it fine."
Like a Pro
Judging by his observations on the set of Road to Perdition, Tom Hanks certainly thinks Tyler will handle fame just fine. Tyler's dedication to acting, combined with his family's strong support, greatly impressed Hanks. The two-time Academy Award-winning actor was particularly startled by the way Tyler balanced the rigors of working like an adult with the simple pleasures of still being a kid.
"His enthusiasm never flagged," Hanks told Back Stage West. "There are moments when the entire movie rests on Tyler's shoulders, and he had to be focused enough and awake enough, and he did it every time. He seemed like he couldn't wait to get out of the makeup chair and onto the set. The smile never left his face. You can work with a lot of kids that almost have to be tricked into showing up and doing their job, and both Tyler and the young Liam [Aiken, who played Hanks' youngest son in the film] were well-oiled professionals, and I don't mean that in a jaded way, whatsoever."
Hanks continued, "I must say, too, that his parents were always on the set. His brother [Tanner] was almost always nearby. If it was only 20 minutes between a shot, he was playing baseball with them. He has a great support structure around him. Oddly enough, he never stopped being a kid, but he never stopped being a professional actor, as well."
Tyler noted that Hanks was probably more nervous on the set of Road to Perdition than he was. "I know Tom said he was kind of intimidated by Paul [Newman]," said the young actor, who concentrated on learning as much as he could from his more experienced co-stars and director Mendes. "I learned a lot from just observing Tom. I learned a lot from Sam about preparing for scenes and staying in character. I watched how Paul would spend so much time on tiny, tiny details that no one else would notice."
Warner Loughlin, Tyler's acting coach, is also impressed by her young pupil's work ethics: "He completely impresses me in that he works like an adult, not like a child. He listens. He makes adjustments very, very easily. He understands the emotional complexity of characters, which is unusual for a kid his age. And he honestly cares. [Acting] is something that he really wants to do. You can tell when it's the kid or the parent who wants it. Tyler wants it and he's got all the support in the world from his mom and dad."
And while many in Hollywood are talking about how Tyler seems to have come from nowhere to snag one of the best roles of the year, his coach reiterated that he worked hard, as he always does, to pull off the job. "It may seem that he came out of nowhere, but he worked really hard for this role. He really did his acting preparation."
Though understandably biased, Loughlin predicted, "I think he is going to be a major star. I think the older he gets the better he gets. I don't even see him going through that awkward stage. This is just the beginning."
Summed up his agent, "Tyler is the most dedicated, determined child I've ever met." BSW