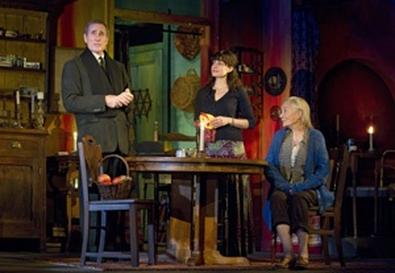 Athol Fugard's 1984 play is inspired by the life and work of South African artist Helen Martins, who began populating her yard in rural New Bethesda with exotic cement animal sculptures after being widowed in middle age, much to the dismay of the conservative locals. Fugard's delicate three-person work has a great deal of talk and very little action. The drama turns on small moments and subtle subtext and requires intimacy. Despite sterling performances from Carla Gugino, Jim Dale, and the luminous Rosemary Harris, it's a bit of a slog to "Mecca" as the show tries to punch its way across the footlights in the Roundabout Theatre Company's too-large American Airlines Theatre.
Dramatic conflict is found in the struggle between young teacher and social worker Elsa Barlow and conservative pastor Marius Byleveld over whether or not the declining Miss Helen should be moved into a nursing home, away from the fantastic environment she has created for herself and possibly destroying this depression-prone woman's will to live. Elsa has driven 12 hours from Capetown on a moment's notice after receiving a suicidal letter from Helen, who doesn't want to leave her home but also can't bring herself to tell that to Marius, a longtime friend. Elsa, who has troubles of her own, sees Marius' move as a bid to restrict Helen's freedom because of his disapproval of her unconventional life and art. Marius sincerely loves Helen and has good reason to be frightened for her welfare living alone in diminished physical circumstances. He thinks that the godless Elsa uses Helen selfishly as a symbol of her unfeminine desire for wanton personal freedom. Ultimately, of course, it's the passive-aggressive Helen, who isn't being entirely honest with anyone, who must assert herself.
Fugard has written two rich female roles in Elsa and Helen, and Gugino and Harris investigate every inch of them, sharing a palpable rapport. As they jostle, fence, connect, and break apart, a complicated and enviable friendship is revealed. Gugino negotiates Elsa's considerable mood swings with great skill, while Harris somehow makes Helen's maddening inability to move forward active. And even though she must summon every fiber of her being to compete with Michael Yeargan's cavernous, ill-judged set, which dwarfs the actors and fails to radiate the necessary wonder, when Helen at last acts, Harris grabs her climactic speech and brings it home with stunning force. The indispensable Dale's formal Marius is a rigorous mixture of selflessness and calculation, particularly moving in his final moments with Helen. Beautifully calibrated and admirably precise, Dale's performance is a reminder of the extraordinary range he possesses as an actor.
As good as these three are, however, Gordon Edelstein's uncertain direction never fuses them into a whole offering the same power that Fugard's 1988 Off-Broadway production did at the much missed Promenade Theatre on the Upper West Side. There I hung on every word and glance; here there are occasional longueurs and a growing sense of impatience with the characters.
Mention must be made of Peter Kaczorowski's gorgeous lighting, which begins with the slanting rays of the afternoon sun and journeys in barely perceptible shadings into twilight and evening. It is as good as the performances are and lends "The Road to Mecca" the kind of enveloping atmosphere not being adequately supplied elsewhere.
Presented by Roundabout Theatre Company at the American Airlines Theatre, 227 W. 42nd St., NYC. Jan. 17–March 4. Tue.–Sat., 8 p.m.; Wed., Sat., and Sun., 2 p.m. (212) 719-1300 or www.roundabouttheatre.org. Casting by Jim Carnahan and Stephen Kopel.