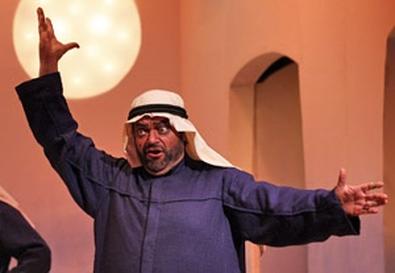 Just because a story is true doesn't mean it's funny—or that you should make a musical out of it. Composer David Krane and lyricist–book writer Stephen Cole had what sounds like a fascinating experience: The two New York denizens of the musical theater world, who had never met before, received emails from a Dubai-based production company inviting them to collaborate on a mammoth tuner to play a soccer stadium in the titular emirate. The resultant epic took them to the Middle East, Bratislava, and London. Along the way they met a cast of weird characters, including an Egyptian producer, his Lebanese girl Friday, an Italian director-choreographer, and a Qatari "artistic consultant," also a movie star in his native land. The final product involved camels, acrobats, flying carpets, and unpaid fees for the authors. That sounds great as an anecdote to share over cocktails, but as a full-length musical it's more than a tad thin.
Using the Bob Hope–Bing Crosby "Road" movies as a rough template for parody, Cole's book is basically a comedy sketch stretched to 90 minutes, and the characters are little more than caricatures. We don't find out much about the writers' stand-ins, Michael and Jeffrey, beyond their description as "two short Jews" in the introductory song. Michael does mention that he's gay, and Jeffrey has a collection of Woody Allen–ish eccentricities, including a fear of leaving New York and an overbearing mother, but that's about it as far as development goes. The supporting clowns are walking Arab stereotypes. These shortcomings could be forgiven if the material were at least funny or offered some witty satire on cultural clashes or the art of putting on a musical, but Cole has settled for tired disastrous-show gags that were done much better in "The Producers." In addition, Cole's lyrics are pedestrian (rhyming "RADA" with "Prada" during the London scenes is as inventive as they get). Krane does offer a catchy tune here and there—"Aspire," the title song for the show-within-a-show, is still going through my head—but too many of the numbers employ variations on "exotic" Middle East themes. You know, the kind that snake charmers in cartoons use.
At least director Phillip George maintains a spry pace and there are cute gimmicks in the sets, costumes, and puppets, designed by Michael Bottari and Ronald Case. The five-person cast is a game bunch. James Beaman gives Michael a spry élan, and Keith Gerchak lends nerdy charm to Jeffrey. Sarah Stiles manages to milk genuine laughs from her multiple roles, especially the wide-eyed Nazirah, the production team's eager assistant. Bill Nolte and Bruce Warren display fine singing voices and comic chops in a variety of parts. But even with a willing and able cast, "The Road to Qatar!" does not earn its exclamation point.
Presented by the York Theatre Company at the Theatre at St. Peter's, 619 Lexington Ave., NYC. Feb. 3–27. Tue., 7 p.m.; Wed.–Sat., 8 p.m.; Sat. and Sun., 2:30 p.m. (212) 935-5820 or www.yorktheatre.org. Casting by Geoff Josselson.