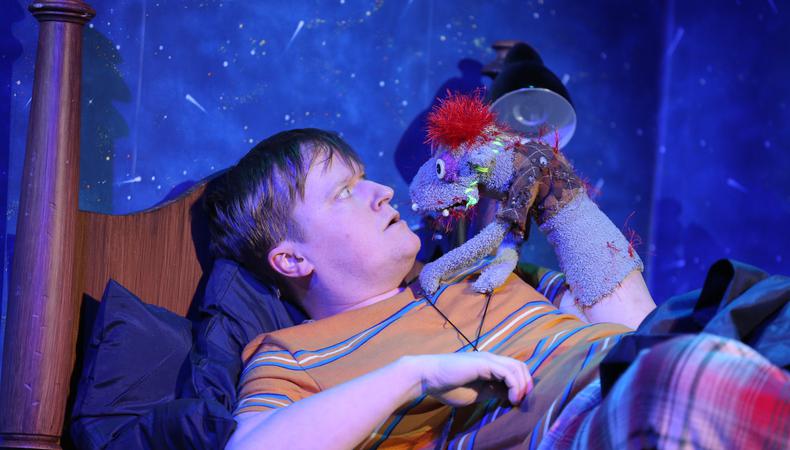 If you walk down 45th Street on any given night this Broadway season, you might hear strange sounds emitting from the Booth Theatre. "Hand to God," a new play by Robert Askins, centers on the antics of a foul-mouthed sock puppet and has audiences shrieking, guffawing, gasping, and roaring in unison. Those noises, if the fanatic feedback from critics and young audiences is to be believed, represent the sound of the commercial American theater's resurrection.
Askins' electrifying parable of repression centers on Jason, a timid boy in a small Christian town who creates a hand puppet named Tyrone as an outlet for his creativity, only to unleash a deranged personality all its own. The puppet is so demonically irreverent it makes the residents of "Avenue Q" look like Teletubbies.
Initial inspiration came from Askins' upbringing in Cypress, Texas, where his mother once ran a Christian puppet ministry. Not long after his father passed away, he picked up a copy of "True West" and realized Sam Shepard had written two characters who really served as a divided self. "I'd always wanted to do something with the puppet ministry, and my father's death preoccupied me for a long time," remembers Askins.
As those ideas floated "in the soup of the mind," he worked with the company at NYC's Ensemble Studio Theatre, getting to know its actors' specific strengths. Steven Boyer and Geneva Carr, he says, demonstrated an ability to "elevate things that were not necessarily the greatest pieces of literature ever constructed." One night during a party with the company, something clicked: The characters that would become Jason and his mother were right in front of him.
"I feel like if you can watch the right way as a playwright, the actors' abilities become a part of your creative imagination," Askins says of the company system. "I went home that night and wrote the prologue of the play. It took 10 days to a first draft. Then we spent five years rewriting, even to the point where we had our first preview and put in a new ending that afternoon!"
The cast's flexibility, director Moritz von Stuelpnagel says, comes from an approach to collaboration that is fearless and familial. "The relationships in the play are incredibly rich because the relationships offstage are incredibly rich." Boyer and Carr in particular, having played their characters since 2011 at EST and then in an MCC production, now take the Broadway stage with an intense amount of trust in their portrayals. If, like Shepard, the characters in "Hand to God" at first embodied voices in Askins' head, the actors now have what von Stuelpnagel calls "their own personal investment in the human beings they created."
That trust extends to the rehearsal process, which both playwright and director describe as refreshingly honest. "When we're polite we think we're being generous, but that doesn't make for dynamic theater," explains von Stuelpnagel. Askins uses language to motivate and inspire physical action; tiptoeing politely doesn't really fly in a play that includes as much stage violence as puppetry. "Rob believes language should be muscular. When we look to the actors we often ask them, 'What impulses are you feeling and how can we harness that? What language can we give you to make it explosive in some way?' " the director says.
Explosiveness, of course, is what Askins' writing is all about. The repression that his actors combat, that his characters suffer through, symbolizes the same tentativeness that plagues today's model of American commercial theater. "My tone gets fairly aggressive because I was raised in the church," says Askins, "so fire and brimstone are always in my voice."
It's that voice that has audiences of "Hand to God" jolting out of their seats and out of their comfort zones. The play holds up a mirror to our truest selves, which may explain why so many of its disciples are spreading the gospel.
Inspired by this post? Check out our Broadway audition listings!