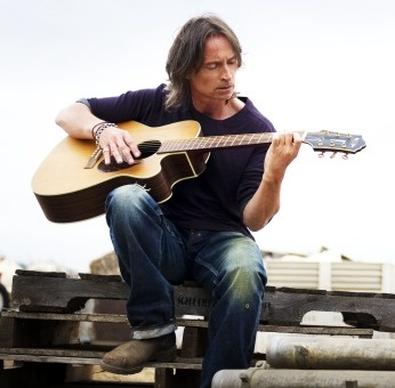 A bare-bones plot outline of "California Solo" does not quite do the film justice. "A former Britpop guitarist struggles with alcohol and immigration while working on a farm in California" gives no clue to the textured film and Robert Carlyle's lead performance as Lachlan. And yet, despite its episodic nature and Carlyle's ingratiating boyish boorishness, "California Solo" is a little too aptly named; without Carlyle, there's not much movie there.
Pulled over for driving drunk, Lachlan finds himself in more trouble than he had originally assumed. Because of a prior arrest for possession of marijuana, he's likely to be deported back to the U.K., which he has assiduously avoided ever since his brother died. The film is a picaresque of Lachlan's legal woes, his tentative, flirtatious friendship with a beautiful young customer at the Los Angeles greenmarket where he sells produce, and his selfish attempts to reconnect with his ex-wife and the teenaged daughter he hasn't seen in years.
Throughout, director Marshall Lewy (who also wrote the script) keeps his camera trained on the beautiful wreck of Carlyle's face. This is an actor who actually looks as if he's lived through—and survived—the excesses of a rock 'n' roll lifestyle, one that he isn't letting his age interfere with. As he guzzles more and more booze, you're both fascinated by his dedication to self-destruction and dying for a vicarious cup of black coffee.
Unfortunately, nothing else about "California Solo" matches its lead's commitment. There are some memorable supporting turns from Kathleen Wilhoite and Alexia Rasmussen as the women in Lachlan's life, but this is a movie about the after effects of brawling and boozing; women don't fit in with the life Lachlan has created for himself as a hard-drinking farm worker.
As we watch scenes of Lachlan returning to his local bar interspersed with discussions in various venues about his legal woes with lawyers, his employer, and his ex-wife, "California Solo" stays stubbornly in first gear. Because its wheels spin in place, Carlyle's performance never gets the chance to soar.
Critic's Score: C+
Directed by Marshall Lewy
Casting by Heidi Levitt and Michael Sanford
Starring Robert Carlyle, Alexia Rasmussen, A Martinez