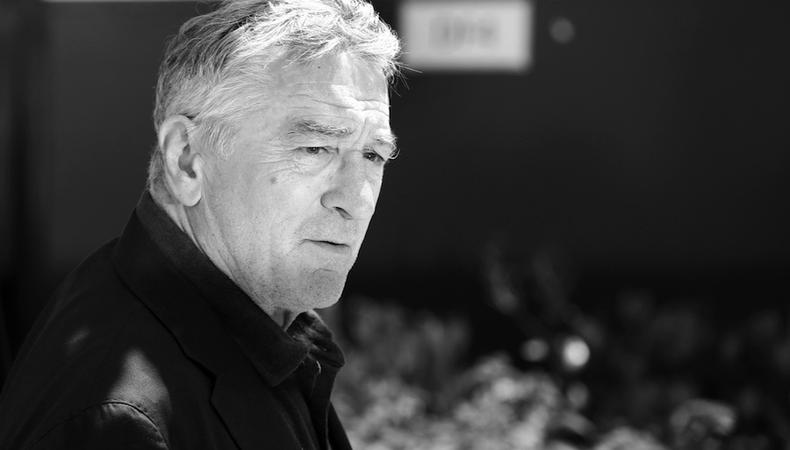 SAG-AFTRA, the nation's union for screen and audio talent, announced that two-time Oscar winner Robert De Niro is the next recipient of its highest honor: the Life Achievement Award. Noting De Niro's presence in American pop culture as an actor, director, philanthropist, and activist, the union will award De Niro during the televised 26th annual Screen Actors Guild Awards.
Calling De Niro "one of the most singular talents of our generation," SAG-AFTRA President Gabrielle Carteris said he "is an actor of extraordinary depth and ability. The characters he creates captivate our imaginations…. [H]e continues to touch our hearts and open our minds to new and exciting worlds of understanding and emotion."
De Niro's résumé is a list of greatest hits in American cinema. Among them are: "Taxi Driver"; "A Bronx Tale," which he also directed; "Mean Streets"; "The Godfather: Part II"; "Goodfellas"; "Cape Fear"; "Raging Bull"; "Casino"; and "Meet the Fockers." He's also formed a fruitful partnership over the years with Martin Scorsese and is starring in the legendary director's newest venture, "The Irishman," which premiered in select theaters Nov. 1 and will begin airing on Netflix Nov. 27. His previous awards recognition, in addition to his Academy wins, include a Golden Globe, the Cecil B. DeMille Award, the GLAAD Excellence in Media Award, a Kennedy Center Honor, and a Presidential Medal of Freedom. He has been nominated for seven Academy Awards, six BAFTAs, four Emmys, and nine Golden Globes, as well as four SAG Awards.
"I have been a member of this union for over 50 years," said De Niro in a statement. "It's an honor to receive this award from SAG-AFTRA."
As a philanthropist and film advocate, De Niro co-founded the Tribeca Film Center in 1989, along with the center's iconic film festival and its institute dedicated to serving filmmakers from underrepresented groups and revitalizing Manhattan's film community.
Although it's only the 26th SAG Award ceremony, the Life Achievement Award has been given for 56 years. According to a press release, the union determines recipients as "a well-established performer who has contributed to improving the image of the acting profession and has a history of active involvement in humanitarian and public service endeavors."
Earlier this year, the honor was awarded to Alan Alda of "M*A*S*H" fame. The 2020 ceremony will be simulcast live on TNT and TBS on Sunday, Jan. 19, at 8 p.m. ET/5 p.m. PT.
The much-watched awards show establishes SAG-AFTRA as one of the nation's most glamorous and better-known labor unions, and its awards serve as reliable precursors to the season's highlight: the Academy Awards. The union has 160,000 members nationwide working in every sector of media entertainment and broadcast journalism. Members participate in the ceremony as voters for creative awards every year.