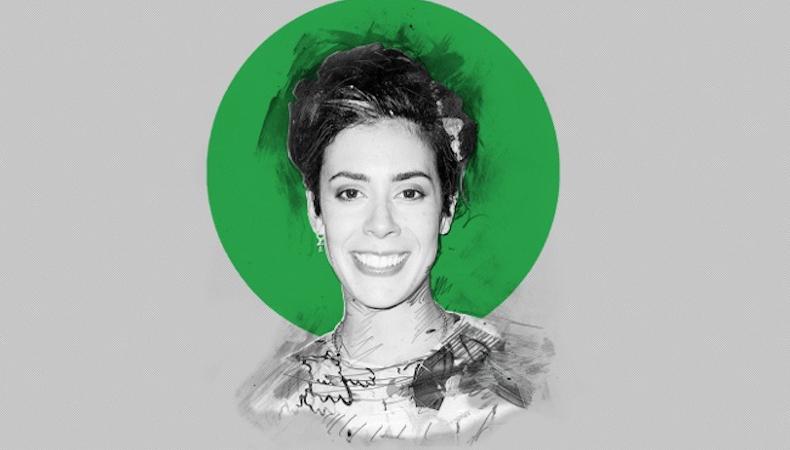 Roberta Colindrez had us all wanting to change our majors to Joan after her performance in the Tony-winning "Fun Home." Now, the Austin, Texas native is raising eyebrows on Amazon's new comedy "I Love Dick" and at the Public Theater as Rosencrantz in "Hamlet." The actor, also known for "Girls," offers her audition prep process, the advice she'd give her younger self, and what actors hoping to move to NYC should do.
READ: The 100 Musicals of 'Fun Home'
What have 'I Love Dick' and 'Hamlet' added to your acting skills?
It's interesting to be able to jump from something that is so experimental and so new and is extremely...not standard to something that's concrete. I mean, you can experiment with what kind of production you want to have of "Hamlet," but it's something that at this point is as old as time. And so to go from something so structured, something you learn in school, to something that you completely have to create adds a layer of risk for me as an actor.
How do you usually prepare for an audition?
By reading the materials over and over again, so that I have it in my body language—what the words mean, what the words are, what the scene is. When you do the scene over and over again, it becomes natural for you to react a certain way. It becomes obvious that that's the thing you would say next in response to whatever the other person says. So I try to establish a kind of natural way of delivering the line. Because then in the audition room...the person reading with you will deliver the line in a completely different way.
What advice would you give actors relocating to New York City?
Be realistic. It's an expensive city. It's a real exciting city. You're going to want to spend a lot of money and meet a lot of people. Just learn how to pregame—honestly, though, learn how to pregame. And be open to things. More than anything, I would say go see theater. Go see Off-Broadway stuff. Get on the discount list for tickets. Even if you know it's going to be bad, go see it and learn how to distinguish between what you want to be a part of, what you really want to see, and what you don't.
How did you get your Equity and SAG-AFTRA cards?
I got my Equity card because I had to do "Fun Home." I actually was always like, I'm not going to be in any of the unions! I'm not going to have any representation! I'm going to do this on my own! That didn't work out. So my rep encouraged me to join—Equity for "Fun Home" and SAG for "Girls."
READ: How to Join SAG-AFTRA
What advice would you give your younger self?
Don't wear that. [Laughs] What advice would I give my younger self? Wow, where do I start? I think it would be, think about yourself in 10 years and what you would be saying to yourself then versus now. Be yourself. Also, don't fucking wear that shirt.
What's your audition horror story?
I'm not going to say the project, but I had someone that I deeply, deeply admired, who in my head just kind of opened the door for a lot of the kinds of roles that I would want to play and what kinds of people I would see on stage. And he came to see me in "Fun Home" and approached me afterward and complimented my performance, and the next day I got an audition notice from my manager telling me he really wants me in the room, the director's going to be in there, the producer's going to be there, you are going to be great. I'd never auditioned for a musical before, and I was really nervous. I went in there and I completely blew it. I completely trashed it, to the point where I—and my friend happened to be the person playing the guitar for the auditions—I said, "You know what, guys, I'm just going to go ahead and go," like in the middle of the audition. I felt bad for everyone, [so I thought] I'm going to go ahead and get out. And everybody kind of looked at me and said, "Yeah." That one was a standout.
What was your most memorable survival job?
I was a janitor at a church on the Upper West Side. It was fucking awesome. By which I mean awful. I worked like 10 hours a week and I was ignored by everyone, and I just picked up a lot of bubblegum and trash, and a lot of dried chocolate off seats—we're going to assume it was chocolate for my benefit. But it was memorable because I got to see a lot of theater, and I knew that it wasn't necessarily what I wanted to do, but it was OK. It was [an] LGBTQ-friendly church. [Another was] working for free as a P.A. for my friend whenever he would do film projects. He was the first person I [met] on the train. He was a total stranger, and I just, like, stayed in touch with him for an entire year.... I see this guy who looks like an actor, like a fucking walking headshot. He eventually introduced me to my now-manager. New York, man.
Have you ever used Backstage in the past?
Have I ever used Backstage? Oh, hell yeah, I've used Backstage. When I first moved to the city, if you ask anybody, "How did you find out about this audition?" Like, Backstage, man. Backstage is basically like the newsletter that everyone knows about and has to be aware of, especially when you are starting out. I pretty much exclusively used Backstage. It's like when you say, "Do you have any Kleenex?" What you mean is, "Do you have any tissues?"—not specifically Kleenex. Do you know what's going on in theater? Yeah, read Backstage.
Looking for your next gig? Check out Backstage's TV audition listings!