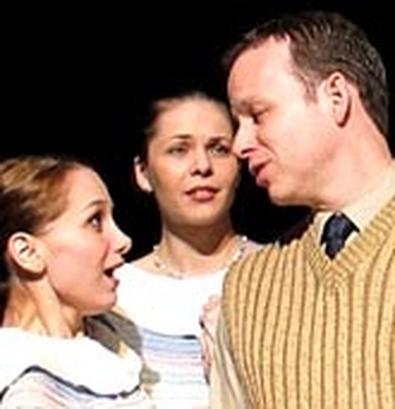 Jerome Kern's melodious 1933 ode to Paris fashion might seem an odd choice for the modest means of producer Mel Miller's enterprising company. How, for instance, could they pull off the fashion-show centerpiece? And how would Kern's especially lush melodies fare with only keyboard accompaniment, even when provided by seasoned music director James Stenborg?
Well enough, as it happens. With frequent director Thomas Sabella-Mills at the helm, this concert staging gives a good idea of what the show — as opposed to the more familiar and heavily revised movie versions — must have been like.
College football hero John (Heath Calvert) visits his sweet old Aunt Minnie (Diane Findlay), a couturier, in Paris. When the latter expires (shortly after warbling "Yesterdays"), John inherits her business, which she ran under the name Roberta. His nascent romance with aristocratic Russian shop assistant Stephanie (Marni Raab) is undermined by his opportunist American girlfriend (Jenny Neale) and a man-hungry vamp (Jaclyn Huberman).
Curiously, ostensible leading man John doesn't get to sing as much as his bandleader pal Huck (the likable James Donegan in young Bob Hope's original role). Kern assigned Huck the romantic "You're Devastating," and Musicals Tonight! further allows him the lyrical "Lovely to Look At" (written for the 1935 film and used as the title of the 1952 remake), neither of which seems an ideal fit.
Raab is the cast standout, projecting precisely the right poise and innate regality. She makes warhorse "Smoke Gets in Your Eyes" sound fresh, delivering Otto Harbach's lyric with real dramatic point. Dynamo Huberman's Kaye Ballard grin and broad Slavic accent enliven Harbach's ho-hum book, and her "I'll Be Hard to Handle" is a campy highlight. William McCauley as a wealthy lord is also first-rate.
That fashion show, incidentally, is merely suggested off stage, but the front-and-center goings-on make for a pleasantly diverting two hours plus.
Presented by Musicals Tonight!
at the McGinn/Cazale Theatre, 2162 Broadway, NYC.
March 4-16. Tue.-Sat., 7:30 p.m.; Wed. and Fri., 2 p.m.; Sun., 3 p.m.
(212) 868-4444 or www.smarttix.com.
Casting by Stephen DeAngelis.