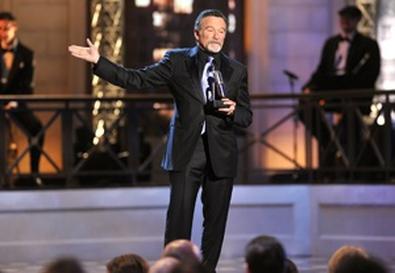 After being honored with the "Stand-Up Icon" Award at the second annual Comedy Awards on Saturday in New York, comedian Robin Williams spoke to the press and was asked if he plans to act on Broadway again, following his stint on the Great White Way last year in "Bengal Tiger at the Baghdad Zoo." Williams said, "I don't know. 'Freud the Musical'?" Then he sang his own improvised lyrics: "If it's not one thing, it's your mother…"

But then the legendary comic and Academy Award-winning actor talked sincerely about his time on stage.

"Last year about this time I was doing the play, and it was a great experience," he said, "and I really got in a New York state of mind, being on Broadway. But it really was tough. It's a gig. They think that when you're doing a play you can do all kinds of other stuff. Bullshit. It's the play. You're doing the play. It was really great to be there, but I'd have to be in another incredible play to come back. It's tough fucking work, but an honor."

Williams, who previously performed on Broadway in his 2002 "Live on Broadway" stand-up special, said it was especially exciting to be in New York at the same time that comic Chris Rock was making his Broadway debut in "The Motherf**ker with the Hat." "Oh God, he's great," Williams said of Rock. "Check it out whenever guys like that take a shot."

When the Comedy Awards airs this weekend, Williams will be back in L.A. filming "The Look of Love" with Annette Bening and Ed Harris. But he said he enjoys spending time at New York comedy clubs like the Comic Strip and the Comedy Cellar while in town, watching two of his favorites – multiple Comedy Award winner Louis C.K. and nominee Patton Oswalt – perform live on stage.

"You see these guys in a small venue, it's like seeing jazz," he said. "I've been hanging out with Mort Sahl, and he talks about hanging out with all these jazz musicians. Before tweets and before iPhones, when you saw it, that was a momentary thing. In the old days, when I saw Richard Pryor perform at the Comedy Store, getting ready for his 'Live on the Sunset Strip,' it was live and it was for a hundred people. It's something you'll never forget. He did a routine one night about God coming back to pick up his kid. It was amazing, and he never did it again."

Watch the Comedy Awards on Sunday, May 6 on Comedy Central, and check BackStage.com for the complete list of winners and nominees.