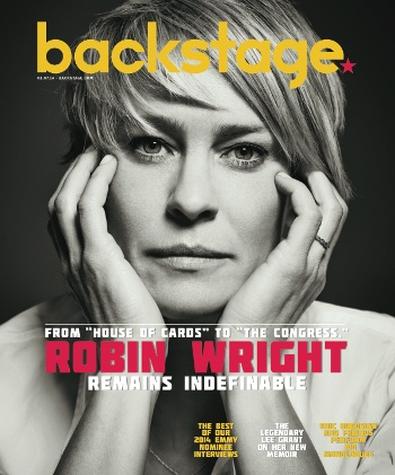 Three years ago, Robin Wright's career provided the perfect template for the character Robin Wright in Ari Folman's trippy, semianimated film "The Congress." But that was B.C.—Before Claire, the icy wife of Kevin Spacey's master political maneuverer Frank Underwood on Netflix's "House of Cards." Now Wright is known for something other than Princess Buttercup in "The Princess Bride" or Jenny in "Forrest Gump," while the fictional Robin Wright of "The Congress" remains in stasis, having somewhat capriciously sabotaged her career.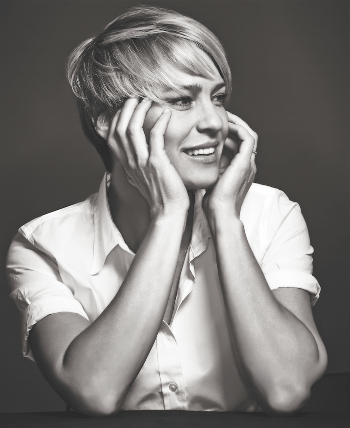 That Robin Wright is somewhat bullied into signing over her image to a mammoth studio; after her every expression and gesture are captured, the studio will own (and do whatever they like with) her likeness and she will be prevented from ever again performing anywhere in the world—including karaoke stages. The studio just wants a Princess Buttercup they can slot into whatever schlock they're shilling; "Robin Wright" just wants to care for her ailing son. With dwindling career prospects and several brutally honest speeches from her agent (Harvey Keitel), she eventually signs. Twenty years later, the contract is up and she's having serious second thoughts.
The original source material features an attorney rather than an actor, but Folman ("Waltz With Bashir") always wanted to make it a Hollywood tale. "He said, 'I want to contemporize it and make it about this industry we're in. And I would like you to do it,' " Wright says. "Because I had the perfect template. My career was that very thing. People do recognize me and remember me from two films, primarily. He just said it was a great gift for him and the storyline, to be able to use someone who's not an actress who's been on every magazine cover to play a character who wasn't on every magazine cover and in every film."
Playing a version of oneself comes at a cost, however—in this case, one that both Folman and Wright were aware of from the beginning. "He said, 'You're going to be scrutinized and compartmentalized,' " Wright says. "We've had to defuse a lot of this in the press. There's nothing autobiographical in any shape or form other than I was in two [iconic] movies and I have two kids. [Reporters are] like, 'Has your agent ever spoken to you like that?' I was like, 'I would never have that kind of fucking agent. What are you talking about?' "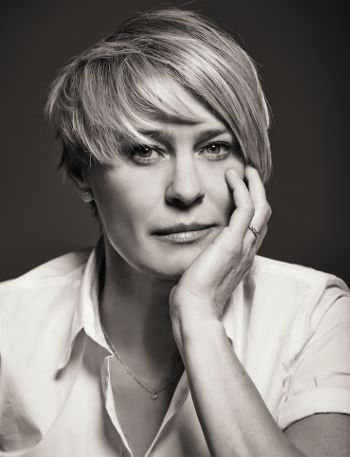 Allowing for that kind of public projection was the only qualm Wright had about doing the film, though she's game to do her part in reminding seemingly intelligent people that not everything passing before their eyes on a movie screen is fact. "I knew it was going to be part of my duty upon its release to go out and say, 'Nope, nope, it's not actually me. It's me playing a character with my likeness, in a sense,' " she says with a trace of weariness. "Which is kind of what the movie is about, right? It's a cautionary tale, is the way I looked at it. 'Did you do this because you're basically slapping the hand of Hollywood?' No!"
While "Robin Wright" may have glimpsed a future in which her career prospects narrow down to nothing, the real Wright has only seen her career explode in the three years since filming "The Congress." In addition to her very fine work in last year's otherwise forgettable, tawdry "Adore," Wright is currently on movie screens opposite the late Philip Seymour Hoffman in "A Most Wanted Man"—"I was just so excited to finally get to work with Phil," she says. "He was one of our greats. Brando, Daniel Day-Lewis, him. Right? There are very few of those. Very few"—and will return to Netflix sometime in 2015 for the third season of "House of Cards," for which she recently received her second Emmy nomination as leading actress in a drama (a world away from her three consecutive nods at the Daytime Emmys in the 1980s for outstanding ingenue during her stint on "Santa Barbara").
As Claire Underwood, Wright can stop an opponent cold with just a glance—no wonder Spacey says of Wright, "I'm fortunate to get to work every day with the most powerful woman on television—and certainly in Washington. She makes me laugh all the time and then, in an instant, can frighten the hell out of me. Her talent is brilliant and razor-sharp. Her Claire is a character for the ages."
Claire is so restrained, so contained that one gets the sense that she doesn't have to expend any energy to decimate her enemies; she could do it with just a flick of her wrist, like a Washington witch. And Wright often advocates for Claire to speak even less, relying instead on "the look of intention." The key to playing a woman who says everything by saying nothing? "People laugh, but it's true: The minute I put on a pair of Spanx, it's like—" Wright snaps her fingers. " 'There she is, baby!' That's all it took. I'd never worn Spanx before in my life!"
They've only just begun filming the third season, but Wright isn't worried about the show maintaining its momentum. "Bless [showrunner] Beau Willimon's heart!" she says. "A lot riding on that man. High expectations. No one more competent than him in this genre. I call him Mr. Verbosity because he loves to talk and write. A lot. Which is great because he's also a collaborator in the sense that he's malleable. That's not a derogatory term—he's inclusive."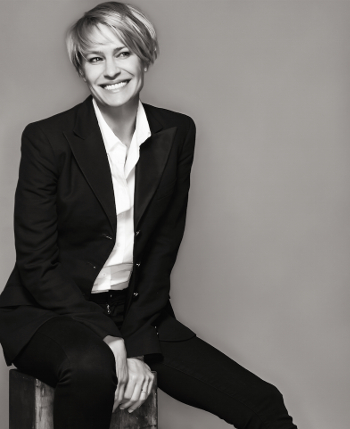 He's also very present, staying on set for the entire season to answer questions, exchange ideas, and clarify intentions. That last quality is crucial for a show as twisty as "House of Cards," especially when Willimon sets up so much very early in every season, only to cash in on it episodes later. "He's bringing you down the line," Wright says. " 'Remember where we're going, so just know that it's not going to be empty, this choice.' It's going to connect and it will be a conduit to something bigger and more revealing. It's very formulated."
Wright will soon be adept at clarifying intentions herself. After directing an episode of "House of Cards" last season, she's poised to direct another in the third season, as well as a possible upcoming film.
"Can I do that instead of act?" Wright says with a wry laugh. "Maybe I'm a control freak. You want to paint that picture and it's your picture, your vision. And I love working with a team. It feels like home, building something together. Because it's not that you're not building as an actor, but it's a much more isolating experience, being an actor, and I just love the communal collaboration. It's a movement, it's the same concept as a movement."
How very un–Claire Underwood—but how exquisitely Wright.
Inspired by this post? Check out our audition listings!