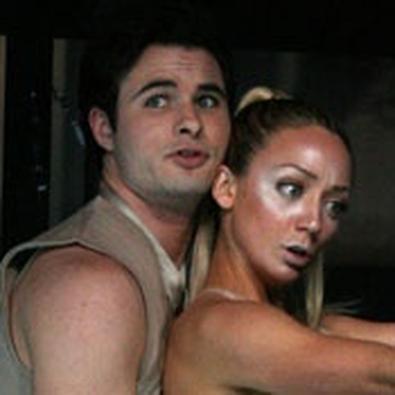 Forget the robots you know -- the ones that walk stiffly and speak in a cold, hollow voice. David Largman Murray's robots, at least the ones in the year 6000, are fashion icons, beautiful, sexy, and completely self-interested. Also, they are quite funny, as is much of this 85-minute fantasy piece, directed with gusto by Emily Weisberg. But what elevates the 22-year-old Murray's world premiere is that below the comedic surface is an intelligent metaphor for the American obsession with looking young and other superficial issues. The ensemble creates a uniformed feel for the robot personality, which contrasts nicely with the few human characters, heightening the humor and adding tension through the simple but compelling story.
In this reality, robots are in charge and humans are second-class citizens. The story is introduced by Shoe Horn (Elizabeth Maxwell), who, like her electronic counterparts, has an arbitrary name, a trashy lingerie outfit, and the looks of a model. In a play-within-a-play, Shoe Horn, Nintendo 64 (Sarah Scott), and Morse Code (Daniel Vincent Gordh) perform nightly the American History of the World, which presents political and pop culture facts, though in wrong and funny ways. The humans are Joe (Steven Connell) and Sammie (Ida Darvish). Joe wants to be a robot, but humans are unable to fool their electronic counterparts because of their smell. Joe learns that robot Knee Pad (Greg Crooks) can remove humans' scents, but it would require Joe to leave Sammie and enter a world of uncaring machines.
Murray's funniest moments come from the fact that the robots, though advanced, are not intelligent. Their speech is vapid, and they are interested only in sex and looking good. The comparisons to today's society are obvious and compelling. There are no weak performances, but the standouts are Maxwell and Connell as the dominating robot and weak-willed human. Maxwell's sultry stares and fashion runway strut, combined with her sharp-toned, snide voice, are mesmerizing. Connell, who fumbles and mumbles, is the polar opposite, which cements Murray's vision.
Weisberg's quick pace never allows for a lull in the action, despite numerous scene changes. The production's feel is created by Leah Piehl's 1980s-style costumes, Jacob Mitchell's rainbow neon lights, and the techno club sound design by Rani de Leon.
Presented by and at the Powerhouse Theatre,
3116 Second St., Santa Monica.
Fri. 8 p.m., Sat. 8 & 10:30 p.m., Sun. 7 p.m. (Dark Sat. 10:30 p.m. Mar. 15.) Feb. 16-Mar. 15. (310) 396-3680, ext. 3.
www.powerhousetheatre.com.