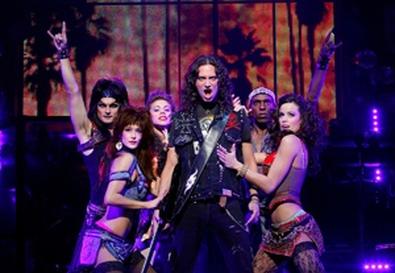 Prior to its Broadway run, this boisterous jukebox musical originated in Los Angeles in 2005, in a smaller-scale staging at Hollywood's King King nightclub. The show is set on the Sunset Strip in the late 1980s, where heavy-metal rock music, outlandish hairdos and attire, and blinding neon lights dominated the scene. It's therefore quite fitting that this campy extravaganza has made a homecoming to the City of Angels.
The euphoric audience reaction during the opening-night performance of the national touring edition attests to the show's popularity. Nabbing five Tony nominations last year, and soon headed for a film adaptation helmed by Adam Shankman ("Hairspray"), this juggernaut appears to be unstoppable. So how does it measure up as a piece of entertainment? The answer largely depends on the tolerance of your eardrums for more than two hours of high-decibel assault, your familiarity with inaudible song lyrics, and your general affinity for rock concerts. Chris D'Arienzo's book isn't so much a narrative as a series of over-the-top gags barely holding the high-octane musical segments together, featuring songs by Journey, Styx, Pat Benatar, and many more. Not since "Mamma Mia!" has there been such shameless shoehorning of well-known songs into story.
Director Kristin Hanggi pulls out all stops to keep the energy at a fever pitch, highlighted by choreographer Kelly Devine's hyperkinetic MTV-style dance numbers, while maintaining an atmosphere of goofy fun. Hanggi elicits spirited comic performances. Reprising his Broadway role, Constantine Maroulis radiates charm and good humor in the lead romantic role of Drew, a wannabe rock star who falls for Sherrie (the superb Rebecca Faulkenberry), the small-town girl who comes to Tinseltown seeking her big acting break. Their rocky romance is played out against the backdrop of the grungy rock club where they work. Not much else happens beyond the machinations of two villains to take over the club—amusingly played by Bret Tuomi, as the father, and Travis Walker, as his flamboyant son who doth protest too much, "I'm German, not gay!" Patrick Lewallen evokes plenty of laughs as a zany narrator, and Teresa Stanley sizzles as a red-hot-momma belter.
Beowulf Boritt's set and Jason Lyons' lighting are a serendipitous match, creating a highly evocative mood. Gregory Gale's costumes and Tom Watson's hair and wig designs are likewise superbly conceived.
Presented by Broadway/LA at the Pantages Theatre. Feb. 15–27.Tue.–Fri., 8 p.m.; Sat., 2 & 8 p.m.; Sun., 1 & 6:30 p.m. (800) 982-2787. www.broadwayla.org.