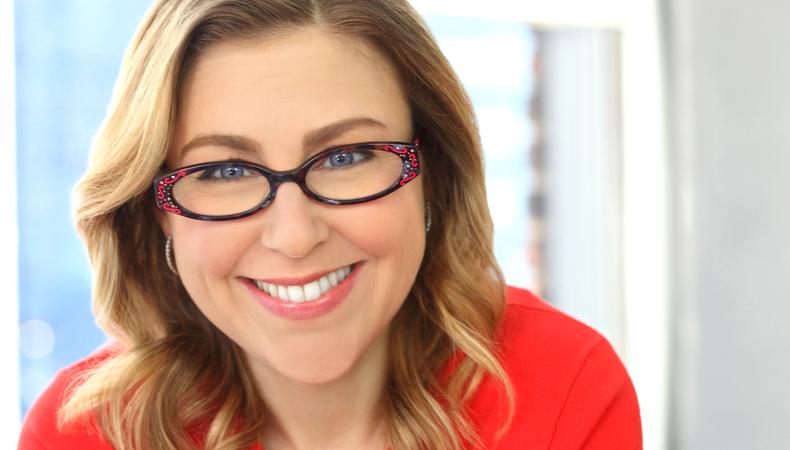 This month, I caught up with busy feature animation director Ash Brannon ("Surf's Up," co-director "Toy Story 2," and the upcoming "Rock Dog") about voicing roles, the importance of improv, and more!
Jen: How did you get started in animation?
Ash: I was an animation fan from childhood. By the time I was 10, I knew I wanted to be an animator. I attended the CalArts Character Animation program and the timing was fortunate: At the time, there was a resurgence in feature animation. I landed a summer internship at Disney and worked on "The Little Mermaid."
Jen: What was the first recording session you attended and who was the actor?
Ash: Pixar was making "A Bug's Life" and they were recording Dave Foley. John Lasseter kindly let me come down to watch a session and see how the process worked.
Jen: What do you recall from watching Dave Foley? He's a genius!
Ash: His improv skills. It was the beginning of cracking something open for me that I really enjoy: directing actors for animation and incorporating the improv process. It became a key component for me in terms of getting the best material to go back to the studio and animate.
Jen: I meet actors every day who tell me how much they want to voice an animated role. And I always tell them that if you could just watch an actor in the recording booth you would see how much work it really is! Other than improv skills, what are some other key strengths that you think actors need to have a career in animation?
Ash: It's a very tough job. The norm for recording actors for animation is to have them record their lines solo. Even if it's a scene with other characters, they're on the stage alone, recording their lines. If they are lucky they will have someone, maybe a PA, or perhaps the director, reading the other lines. It takes a tremendous amount of imagination and all you have in front of you is a music stand and your lines. No costume, no set, no other actors— none of those things that help actors, that help you get into character are present. The other big challenge is that you are without the benefit of your facial expressions, your gestures, because all we are going to record is your voice. Everything has to go into your voice work. That's the sum of your performance.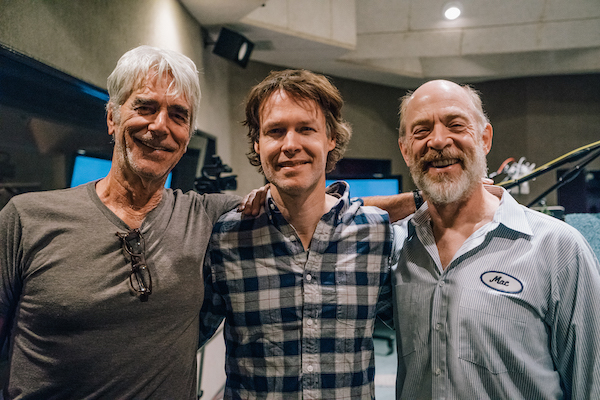 Sam Elliott, Ash Brannon, and J.K. Simmons recording "Rock Dog." Photo: Richard Zhang.
Jen: What was the most exciting recording session you directed?
Ash: My style is kind of the exception to the rule. I like to have actors record together. There's a scene in "Surf's Up" where Shia LaBeouf and Jeff Bridges are trying to work together to make a surfboard. The dad keeps taking over and the son can't prove himself. My method was to have them not feel like they had to read every word on the script, rather to get the intention right. After a few traditional reads, we had them step away from the microphones and we got some boom mikes up and set up a piece of plywood and we had them act out the scene. We wanted a sense of realism to the performances. We didn't want the lines to feel like they were being read off the paper. They really got into it! We did four takes, then went back to editorial and cut a beautiful scene. It's my favorite scene in the movie.
Jen: What's your best advice for actors when prepping for an audition?
Ash: Set the tone depending on what you're going for. TV animation tends toward a more exaggerated sounding voice performance, but that wouldn't work for features, which tend to go for a more natural style of voice acting. Do your research and know what they are looking for tonally. Modulate your performance.
Jen: What are your three tips for actors to know before they go to their first recording session?
Ash: Bring variety to every take to give us better choices. Askquestions that will help you imagine yourself in the setting. How far are you from another character when you are talking? That will influence how you voice the line. And, when necessary, get physical with the performance. Is your character throwing something? Running and out of breath? All those nuances really bring the performances to life.
Jen: I'm so proud of our cast! What can we look forward to when "Rock Dog" comes out?
Ash: I got my dream cast: Sam Elliott, J.K. Simmons, Eddie Izzard, Luke Wilson, Mae Whitman, Jorge Garcia, Lewis Black, Kenan Thompson, Matt Dillon. Despite the smaller budget we never skimped on hiring the best actors for the job. Today there are more and more opportunities for actors to be involved in quality lower budget animated features.
Jen Rudin is an award-winning casting director and author of "Confessions of a Casting Director: Help Actors Land Any Role with Secrets from Inside the Audition Room." (Harper Collins/It Books, 2013). Visit www.jenrudin.com and follow @RudinJen.
Check out our voiceover audition listings!